Matthew Lillard makes a fairly brief appearance opposite George Clooney in Alexander Payne's Oscar-nominated "The Descendants. But the actor calls his latest role, behind the camera, "probably the highlight of my career."
Lillard makes his directorial debut with "Fat Kid Rules the World," which premieres at SXSW on Friday.
Inspired by an assignment to record an audio book, he found K.L. Going's young adult novel "Fat Kid Rules the World" nearly a decade ago. Last year, Whitewater Films granted him the micro-budget to shoot a film version of the story of a overweight teen and his unlikely friendship with a punk rocker.
Also read: Oscar Voters Like 'The Descendants,' But Do They Love It?
Lillard, who prior to "The Descendants" was perhaps best known for playing Shaggy in 2002's "Scooby-Doo," will attend the festival with and his young star, Jacob Wyscocki, who played the title character in last year's indie film, "Terri." TheWrap caught up with Lillard upon his return to L.A. from his first audience preview of the film in Vancouver.
We're here to discuss your directorial debut, but let's deal for a second with the now notorious ad lib in "The Descendants," where your philandering character admits to committing a certain transgression not once, but twice. Clooney claims it was his idea?
Yeah, I will go to the grave saying it was my ad lib and not Clooney's. He would like to dispute that claim, but I'll say it again, he's got a lot going for him, so he should at least give me the line.
You found your debut directing material when you were reading it as an audio book?
It was nine years ago, and my manager at the time kept trying to get answer out of me, a yes or no. Finally she said, "it's about an obese teenager and punk rock music," and I said yes.
Also read: SXSW Coverage on TheWrap
And after 20 pages of reading it, I walked outside and called that manager and said, "You have to get me the rights to this book. I want to direct this movie."
I had just done "Scooby Doo," and I thought, I'll make this little independent movie, fine. I'll spend $10 million, and it'll be easy .
Now here I am nine years later, and we've made it for less than a million. It's been a real challenge, but probably the highlight of my career.
What caught your interest so quickly?
The book's fantastic, and I just felt like the story itself was the story of how every kid in America feels in high school. For me, I found when I was 13 years old that acting was the one thing I was good at, the one thing I was accepted at, and it changed my life.
And for this kid, the lead character Troy Bilings, he finds punk rock music and it changes his life. I just felt it was so relatable for every kid who feels like an outcast. Which is 90 percent of the world, right?
And he finds it through your other main character, a would-be musician named Marcus?
In the early scenes of the movie we have Troy alone and lost in the world, about to jump in front of a bus, and this punk rock guitar savant stops him, basically saves his life. This punk rock street urchin and this fat kid start a band; the street urchin kid sees in the fat kid a free meal and a place to stay. Troy sees a friend, gets to just connect to somebody, and no matter how shallow, it's enough to change his life.
As the story goes on, we figure out if its gonna be a real thing or not.
You went for a certain era of punk that was what you grew up with, yes? A bit more mainstream than today's punk?And thus the good fortune of getting Pearl Jam's Mike McCready to oversee and supply much of your music.
I grew up with bands like Social Distortion and [early-'80s Southern California group] D.I., that old-school '80s rock, instead of that hardcore, kind of screaming, thrashy punk of right now .
Marcus says at one point, "You have to check out this one band…," and we were lucky enough to score X's "The Hungry Wolf" as kind of the primary, grandfather-of- punk-rock song he has to play in that moment.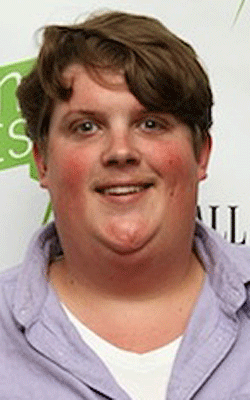 You've called Troy "our hero," but you purposely didn't aim for the traditional coming-of-age touchstones and plot points.
A great thing throughout the book that was important to me was that we don't go down that quintessential Hollywood path. I will say that the kind of filmmaker Alexander Payne is, that a lot of people including myself aspire to be, tries to avoid all the trappings of a traditional Hollywood s
tory. We never answer the question of, say, if you're skinny will life get better? Or will he get the girl? So no, he does not get the girl.
But he does find a kind of kinship with others?
He kind of denies his journey for the first half of the movie. It's not until he goes and experiences a punk club in the middle of a pit full of people like him does he realize he's not a freak of nature, and that there's something in that world that keeps him going.
Meanwhile, Marcus is trying to get him out of the pit and onto the stage behind a drum kit?
In fact, the end of the movie is very interesting on that, and it's going to be a talking point. because the whole movie builds up to their first performance live. And going back to avoiding all kinds of Hollywood trappings, I kind of leave that question for the audience to wonder about as they get taken off into the night with a Mike McCready special [soundtrackjavascript:submit_mid('sp_ch_all') tune]. We don't tie it all up in a pretty bow.
You took a shot at Sundance, but isn't the SXSW festival, which is largely a music scene, pretty ideal for your premiere showing?
We could not be more excited to be premiering at SXSW. Like every indie filmmaker in the world, we were excited at the possibility to get into Sundance. When that didn't happen, SXSW opened their arms and said, "Come here."
You shot the movie with an almost Dogme-Style austerity, to emphasize the performances?
For me it was about the acting. If you don't have great performances in this film then the film will never resonate and will disappear.
So, you'll be dazzling the film buyers with klieg lights and fireworks on the streets of Austin?
We're on the down low. Look, we're obviously looking for distribution and the right place for the movie to land. The last thing we want to be is some over hyped movie. We want to be the movie somebody finds and is inspired by and believes in and gives us a chance.
You tested some of this out with a short version and found your lead actor when he was one of four overweight kids who auditioned for the part?
Jason is an incredible kid and performer. We showed the movie last night to a bunch of kids at Vancouver Film School, where I teach. And Billy Campbell, who plays the dad in the movie and hadn't seen it before, walked over and had tears running down his face.
That's because of Jacob and his ability to open his eyes and let people in. I'm really excited to see what happens this week at SXSW for him.