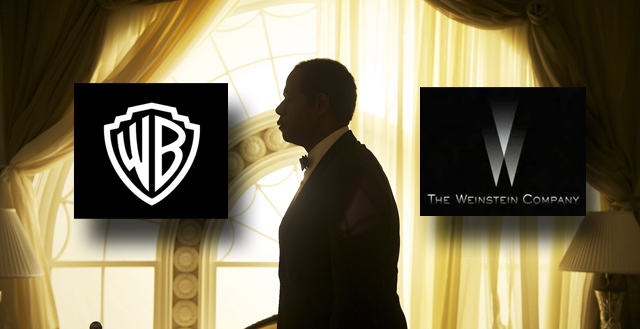 Warner Bros. accused the Weinstein Co. of "reckless disregard" for the rules and suggested the company wanted a special "Weinstein exception" for its own releases in a legal letter regarding the disputed title of "The Butler" released on Friday.
"TWC has chosen to proceed in reckless disregard of the rules, apparently relying on a self-spun 'Weinstein exception' to the rules whenever and wherever those rules do not solely favor TWC," Warner attorney John W. Spiegel wrote in a letter sent on Thursday, July 4.
The Motion Picture Association of America blocked the Weinstein Co. from using the title "The Butler" after Warner Bros. filed a complaint to delay the release of the film, set for Aug. 16. The studio is protesting because the film uses the same title as a 1916 short owned by Warner Bros.
Also read: Weinstein Lawyer David Boies Seeks a Temporary Restraining Order Against 'Butler' Fine
The Weinstein Co. must pay $25,000 a day if it persists in using the title in any of its marketing materials, according to the ruling.
The letter sent on July 4 was addressed to lawyer David Boies who is representing the Weinstein Co. in its ongoing dispute with Warner Bros. In a letter to Warner this week, Boies said that he would file a temporary restraining order against the fine, possibly on Friday.
The film, directed by "Precious" filmmaker Lee Daniels, stars Forest Whitaker as an African-American butler who worked in the White House.
Also read: 10 New Titles for 'The Butler' With Forest Whitaker and Oprah Winfrey
Here's the full letter:
July 4, 2013



David Boies, Esq.

Boies, Schiller & Flexner LLP

333 Main Street

Armonk, NY 10504







Re:The Weinstein Company/The Butler





Dear Mr. Boies:



We represent Warner Bros. Pictures (WBP) and Warner Bros. Family Entertainment (collectively, "Warner"). I write in response to your July 3, 2013 letter on behalf of The Weinstein Company's (TWC). TWC's cries of unfairness and its threats to sue Warner are unproductive and unwarranted responses to a situation that TWC alone has created.



Your letter conspicuously omits to discuss the actual course of events in this case. That is no oversight, of course, because TWC has flagrantly and repeatedly violated the rules of the Title Registration Bureau (TRB) of the Motion Picture Association of America, Inc. (MPAA). For many years, TWC (including its affiliates and its predecessor in interest, Miramax Film Corporation) has subscribed to the TRB rules and procedures. The TRB functions as the central registration bureau for its subscribers' film titles of U.S. theatrical motion pictures. TWC is a voluntary subscriber to the TRB. In other words, TWC chooses to avail itself of the many services and benefits the TRB provides. In exchange, TWC, like anyone else who voluntarily elects to participate in the TRB process, agrees to be bound by the TRB's rules and procedures. Over the years, however, TWC and its principals have operated in the TRB process with breathtaking hypocrisy. They have used the TRB rules and procedures to extract concessions from, and initiate arbitration against, other subscriber companies in order to advance TWC's own interests. See, e.g., Phoenix Pictures/Miramax-Dimension Arbitration (Oct. 5, 1999) (awarding the Weinstein-controlled Miramax relief against Phoenix's release of "Got To Be You"); New Line Productions/Miramax-Dimension Arbitration (Dec. 17, 2003) (awarding the Weinstein-controlled Miramax relief against New Line's "Curse of the Mask"). At the same time, TWC has flouted those same rules if and when they have happened to conflict with TWC's interests.



As TWC is well aware, TRB subscribers must register each and every one of their film titles and cannot use a title for which they do not have the rights under the TRB rules. See TRB Rules 3.1 and 5.1.2. Pursuant to TRB Rule 3.7.2.2, each subscriber may designate up to five hundred (500) titles as "Permanent Original Releases." WBP chose to add its title, "The Butler," to this list in May of 2010. Where, as here, a subscriber submits a title for registration that is identical to the title of a Permanent Original Release, TRB Rule 4.4.2.2 clearly provides that registration will be denied unless a waiver is obtained from the subscriber with the protected title. If a waiver is not obtained, the subscriber seeking to register the identical title can instead register a variation of that title. If the subscriber with the similar permanently protected title protests, the subscriber seeking to use the similar title can request an arbitration, and a panel of arbitrators then decides, based on numerous factors, including equitable considerations, whether or not there is "harmful conflict" between the titles, such that the party seeking to use the permanently protected title should be precluded from doing so.



These are the rules and procedures — among many others — which have been in place for decades, with which TWC is intimately familiar, and which TWC has invoked many times for its own benefit. And yet, as it has also done several times in the past, TWC has chosen to proceed in reckless disregard of the rules, apparently relying on a self-spun "Weinstein exception" to the rules whenever and wherever those rules do not solely favor TWC.



TWC's violation of the rules in this case include the following:



(1)TWC began promoting its film in September 2012, two months before TWC even attempted to register the title with the TRB;

(2)TWC attempted unsuccessfully to register the title in November 2012, and continued to use the title without authorization for eight months after its registration was denied

(3)TWC delayed for four months seeking a waiver from WBP, during which time TWC continued to make unauthorized use of the title;

(4)TWC failed to timely register a similar title, that Warner would likely not have protested and, even had the matter gone to arbitration, would likely have resulted in TWC's being able to use the similar title; and

(5) TWC continued to use the title for months after Warner declined to grant a waiver.



In light of the severity of TWC's transgressions, it is unsurprising that the arbitrators ruled as they did. Indeed there was ample precedent for their ruling, including TWC's own disturbing pattern and practice of flagrant TRB rules violations. For example, in 1997, the Weinstein-controlled Miramax released the motion picture "Scream" without having cleared the title in conformance with TRB rules. After the subscriber who protested Miramax's unauthorized use sought arbitration, the panel, as the panel did in this case, enjoined Miramax from any further use of the title; prohibited Miramax from using the word "scream" in any form; awarded damages and attorneys' fees to the opposing party; and ordered monetary sanctions for any prospective violations of the arbitration award. Similarly egregious violations of the TRB rules by your clients in connection with the motion pictures "Il Postino" ("The Postman") and "Control" resulted in the imposition of similar injunctions and sanctions.



When viewed in light of the complete factual background, TWC could not reasonably have expected the arbitration in this matter to yield any result other than the arbitrators' ruling. On the contrary, given TWC's extensive experience with the TRB and intimate knowledge of the rules, it is truly astounding that TWC chose once again to flout the rules, especially when there were so many opportunities for TWC itself to obviate the harm that TWC now claims. Had TWC timely sought to register the title and timely sought a waiver from Warner, there would have been ample opportunity for TWC to register a clearly similar title if Warner denied the waiver. TWC could have registered any number of alternative titles featuring the word "Butler." In fact, TWC registered the title "Lee Daniels' The Butler," which Warner did not protest and which TWC could easily have used. Instead, TWC insisted on continuing to use an unregistered, uncleared, protested title, giving Warner no choice but to bring an arbitration against TWC, not only to defend Warner's own rights in this case but to defend the integrity of the TRB rules and procedures.



I also note that, as your client is well aware and contrary to what you have written in your correspondence, Warner never agreed that TWC could copy Warner's protected title. TWC attempted to make this argument at the arbitration hearing and it was soundly rejected by the arbitrators. The evidence was clear and unambiguous that Warner expressly rejected TWC's request for a waiver — including at least twice in writing — and that TWC continued to use the title in willful disregard of Warner's rights and in violation of the TRB rules.



In light of the complete background, it is obvious that the accusations your letter makes are both baseless and fruitless, and that TWC is trying to twist this dispute into something it is not. Warner is in no respect trying "to restrict the marketing and distribution" of TWC's motion picture. The fact that TWC is now using a campaign of misinformation about those rules and procedures to gin up publicity for the film is not lost on anyone. Indeed, the New York Times noted just yesterday that TWC is following its well-worn path of creating "well-publicized controversies" on the eve of a film's release. http://artsbeat.blogs.nytimes.com/2013/07/03/its-weinstein-vs-warner-brothers-over-use-of-the-title-the-butler/.



TWC's attempt to re-litigate a case it lost in arbitration – whether in the press or in court – will never succeed. The TRB rules make it abundantly clear that TRB arbitration is the sole and exclusive remedy for resolving any and all title disputes. The courts do not allow parties like TWC to "sit idle through an arbitration procedure" and then collaterally attack that process in a lawsuit "when the result turns out to be adverse." Marino v. Writers Guild of America, East, Inc., 992 F.2d 1480, 1484 (9th Cir. 1993). Your suggestion that the TRB rules that TWC voluntarily elected to subscribe to violate the antitrust laws is specious. See Guichard v. Mandalay Pictures, 2005 WL 2007883, at *4 (N.D. Cal. Aug. 22, 2005) (rejecting claim that TRB rules violated antitrust laws); Guichard v. Universal City Studios, 2007 WL 1750216, at *7 (N.D. Cal. June 15, 2007) (rejecting analogous claim that TRB rules were unfair business practices). And, your insinuation that there is some irreparable injury in TWC being subject to sanctions of $25,000 per day for continuing to flout the rules is meritless. If TWC believes that sanction is unwarranted, TWC can make that argument to the arbitration panel or in the appeal process that TWC has voluntarily decided to avail itself of. In all events, the idea that a sanction of $25,000 per day will cause some catastrophic harm to a corporation with the immense resources of TWC and the Weinsteins is self-evidently absurd. TWC's litigation threats are just more hollow posturing by a party that does not have the facts, law or equity on its side. Let me assure you that Warner will vigorously defend any attempt by TWC to circumvent rules and procedures to which it has voluntarily subscribed and to which it is indisputably bound. It should go without saying that we expect TWC to preserve all relevant documents.



The foregoing is not a complete recitation of all of the facts and law pertaining to this matter, nor a waiver of any of Warner's rights, remedies, defenses and positions, all of which are expressly reserved.



Very truly yours,







John W. Spiegel