Whether Walt Disney intended to use Hollywood as a model for his beloved theme parks or not, walking into the newly opened Cars Land at California Adventure Park's 12-acre attraction one would think it was his plan all along.
Cars Land is based on Disney/Pixar's 2006 animated film "Cars." The children's movie featured two automobiles: the super sleek red sports car, Lightning McQueen articulated by Owen Wilson, and Mater, a sassy-mouthed beat up truck voiced by blue collar comedian Larry the Cable Guy, and they are the stars in these parts.
The unlikely motorized duo's quest to save a once-thriving town from disappearing along a vanishing stretch of the legendary Route 66 is the focus of the film, and Cars Land is nothing short of walking into this Hollywood set; Imagineers didn't allow any details to escape their attention in Disney's newest attraction.
Standing at the main entrance of Radiator Springs, the first thing you'll notice is Cadillac Range, the imposing 125-foot red stone monolith jutting skyward in the background.
As your gaze marvels at the site of the horizon punctured by rose-colored rock formations normally found in the dessert, the sound of thousands of excited little voices screaming, "There's Mater!" will quickly make you realize your are standing in the middle of Anaheim.
A stroll down this imaginary town's bustling main street is reminiscent of the small tourist stops that sprang up alongside Route 66, but have long disappeared as progress established permanent detours through parts of the once-busy cross-country road.
The shops and restaurants lining the meticulous entry to this land are dedicated to the nostalgic era when roads were the key system of travel; Fillmore's Taste In has a colorful hippy style paint job; Sarge's Surplus Hut is a metal barracks swathed in army green, and the food at the various dining options is ample and simple.
At Radiator Springs Curios, which resembles a shrine to Route 66, visitors can purchase an array of kitschy souvenirs that will help them recall this wistful time in our country's highway history.
The Cozy Cone Motel is everything but a motel. It's a collection of window-service food stands in the shape of bright orange traffic cones. Try the Chili "Cone" Queso, it's chili served in an edible bread cone and topped with cheese and Fritos. (My favorite food-related innovation were the beverages served in the ubiquitous orange street cones.)
Flo's V8 Cafe has a 300-seat counter where old-fashion comfort food like pies and pork loin are served. There are spectacular 360-degree views of the mountain range from Flo's, and guests can enjoy a rest stop in the shade among the old-school gas pumps before heading to the main attraction directly behind the restaurant: Radiator Spring Racers.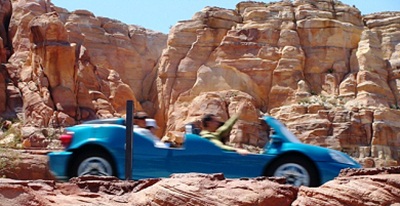 This is where the Happiest Place on Earth gets, well, racier. Cut into the stone surroundings is a race track where two almost full-size race cars zoom over and under rock arches, taking tight turns, and giving riders a trip through several "Cars" movie moments at an adrenaline-inducing pace. If you feel the need for speed, the two-lane race course is the place for you!
The other two rides at Cars Land are Mater's Junkyard Jamboree, a fast and furious version of the tea cup ride at neighboring Disneyland, and Luigi's Flying Tires, a more gentle ride on giant floating tires good for the entire family.
Visiting Cars Land on a Sunday this summer, and over a month after it opened to the public, did not result in less crowds or shorter lines for the rides. Radiator Spring Racers' Fast-Pass option ran out of available passes for the entire day by 10 a.m. that morning. And waiting in the un-shaded stand-by line was a blistering 150 minutes.
When you do go, make an effort to stay until dusk in Cars Land, that's when Radiator Springs lights up in a musical neon lighting ceremony, and the town's neon signs begin to buzz in a cacophony of electric color.
Intentional or not, the sparkle of Tinsel Town and the magic of movies converge at Cars Land — Disney's newest addition to the lands of imagination Walt himself would certainly be proud of.