The world premiere of "21 Jump Street" will serve as one of the centerpieces of the 2012 South by Southwest Film Conference and Festival, SXSW organizers announced on Wednesday.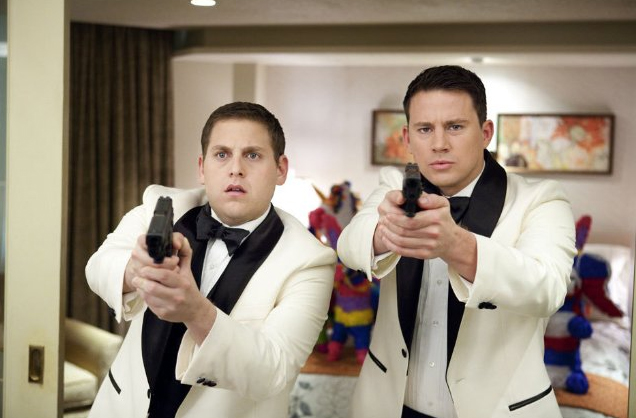 The new film, based on the late-'80s television show that launched Johnny Depp's career, stars Jonah Hill and Channing Tatum as youthful cops who go undercover in a local high school. It was directed by Phil Lord and Christopher Miller, and will screen at SXSW on Monday, March 12.
Also read: Johnny Depp Set for '21 Jump Street' Movie Cameo
Other films at the festival, which runs from March 9 through March 17, will include the music documentary "Big Easy Express," with Mumford & Sons, Edward Sharpe & the Magnetic Zeros and Old Crow Medicine Show; Jay and Mark Duplass' "Do-Deca-Pantathalon," about two brothers competing in their own version of the Olympics; Patrick Forbes' documentary "Wikileaks: Secrets & Lies"; and William Friedkin's violent black comedy "Killer Joe," with Matthew McConaughey and Emile Hirsch.
Also included are a number of music-related films, including Kevin Macdonald's Bob Marley documentary "Marley," Joe Berlinger's Paul Simon doc "Under African Skies" and Marc Evans' glam-rock-spiked "Hunky Dory."
Also read: Joss Whedon's 'Cabin in the Woods' to Open South by Southwest
And the martial arts epic "The Raid," a Sony Pictures Classics release that won raves at Sundance, will be joined on the "Festival Favorites" lineup by Bobcat Goldthwait's "God Bless America" and Jessica Yu's water-crisis documentary "Last Call at the Oasis."
SXSW previously announced its opening-night film, "The Cabin in the Woods," a horror movie co-written by Joss Whedon.
Overall, 130 feature films will screen at the festival, which received a record 5,243 submissions. Of those films, 65 are world premieres and 51 come from first-time filmmakers.
Additional information about the lineup can be found at www.sxsw.com/film.
The SXSW lineup, with short films and features in the Midnighters section to be announced on February 8:
NARRATIVE FEATURE COMPETITION
Eight films, each of them a world premiere.
"Booster"
Directed by Matt Ruskin, starring Nico Stone, Adam DuPaul and Seymour Cassel.
"Eden"
Directed by Megan Griffiths, starring Jamie Chung, Matt O'Leary and Beau Bridges.
"Gayby"
Directed by Jonathan Lisecki, starring Jenn Harris and Matthew Wilkas.
"Gimme the Loot"
Directed by Adam Leon, starring Tashiana Washington and Ty Hickson.
"Los Chidos"
Directed by Omar Rodriguez Lopez, starring Kim Stodel and María De Jesús.
"Pilgrim Song"
Directed by Martha Stephens, starring Timothy Morton and Bryan Marshall.
"Starlet"
Directed by Sean Baker, starring Dree Hemingway and Besedka Johnson.
"The Taiwan Oyster"
Directed by Mark Jarrett, starring Billy Harvey, Jeff Palmiotti and Leonora Lim.
DOCUMENTARY FEATURE COMPETITION
Eight films, each a world premiere.
"Bay of All Saints"
Directed by Annie Eastman
"Beware of Mr. Baker"
Directed by Jay Bulger
"The Central Park Effect"
Directed by Jeffrey Kimball
"Jeff"
Directed by Chris James Thompson
"Seeking Asian Female"
Directed by Debbie Lum
"The Sheik and I"
Directed by Caveh Zahedi
"The Source"
Directed by Jodi Wille and Maria Demopoulos
"Welcome to the Machine"
Directed by Avi Zev Weider
HEADLINERS
Red carpet events and gala premieres
"21 Jump Street"
Directed by Phil Lord & Christopher Miller, starring Jonah Hill, Channing Tatum and Brie Larson.
"Big Easy Express"
Directed by Emmet Malloy, featuring Mumford & Songs, Edward Sharpe & the Magnetic Zeros and Old Crow Medicine Show.
"The Cabin in the Woods"
Directed by Drew Goodard, starring Kristen Connolly, Fran Kranz, Anna Hutchison and Chris Hemsworth.
"Decoding Deepak"
Directed by Gotham Chopra, featuring Deepak Chopra
"Girls"
Directed by Lena Dunham, starring Lena Dunham and Allison Williams (HBO series)
"The Hunter"
Directed by Daniel Nettheim, starring Willem Dafoe, Frances O'Connor and Sam Neill.
"Killer Joe"
Directed by William Friedkin, starring Matthew McConaughey, Emile Hirsch, Gina Gershon, Juno Temple and Thomas Haden Church.
"Marley"
Directed by Kevin Macdonald, featuring Bob Marley.
NARRATIVE SPOTLIGHT
Narrative features receiving world, North American or U.S. premieres
"The Babymakers"
Directed by Jay Chandrasekhar, starring Paul Schneider and Olivia Munn.
"Crazy Eyes"
Directed by Adam Sherman, starring Lukas Haas and Madeline Zima.
"Do-Deca-Pentathalon"
Directed by Jay Duplass and Mark Duplass, starring Mark Kelly, Steve Zissis and Elton LeBlanc.
"Fat Kid Rules the World"
Directed by Matthew Lillard, starring Jacob Wysocki, Matt O'Leary and Billy Campbell.
"frankie go boom"
Directed by Jordan Roberts, starring Charlie Hunnam, Chris O'Dowd, Lizzy Caplin and Ron Perlman.
"Hunky Dory"
Directed by Marc Evans, starring Minnie Driver and Aneurin Barnard.
"In Our Nature"
Directed by Brian Savelson, starring Zach Gilford, Jena Malone, John Slattery and Gabrielle Union.
"Keyhole"
Directed by Guy Maddin, starring Isabella Rossellini, Jason Patric and Udo Kier.
"See Girl Run"
Directed by Nate Meyer, starring Robin Tunney and Adam Scott.
"Small Apartments"
Directed by Jonas Akerlund, starring Matt Lucas, Billy Crystal and James Caan.
"Somebody Up There Likes Me"
Directed by Bob Byington, starring Kevin Poulson and Nick Offerman.
DOCUMENTARY SPOTLIGHT
Doc features receiving world, North American or U.S. premieres
"Celebrity"
Directed by Kevin Mazur, featuring Jennifer Aniston, Sarah Jessica Parker and Elton John.
"America's Parking Lot"
Directed by Jonny Mars, featuring the Dallas Cowboys.
"The Announcement"
Directed by Nelson George, featuring Earvin "Magic" Johnson.
"Beauty Is Embarrassing"
Directed by Neil Berkeley, featuring Wayne White.
"Brooklyn Castle"
Directed by Katie Dellamaggiore.
"Code of the West"
Directed by Rebecca Richman Cohen.
"Degenerate Art: The Art and Culture of Glass Pipes"
Directed by M. Slinger.
"Girl Model"
Directed by A. Sabin and David Redmon
"Gregory Crewson: Brief Encounters"
Directed by Ben Shapiro, featuring Gregory Crewdson
"Just Like Being There"
Directed by Scout Shannon, featuring Daniel Danger and Jay Ryan.
"Scarlet Road"
Directed by Catherine Scott, featuring Rachel Wotton.
"Trash Dance"
Directed by Andrew Garrison.
"Waiting for Lightning"
Directed by Jacob Rosenberg, featuring Danny Way
"Wikileaks: Secrets & Lies"
Directed by Patrick Forbes
"WONDER WOMEN! The Untold Story of American Superheroines"
Directed by Kristy Guevara-Flanagan.
EMERGING VISIONS
Documentary and narrative films demonstrating innovation and creativity
"Black Pond"
Directed by Tom Kingsley and Will Sharpe, starring Chris Langham and Simon Amstell.
"Dollhouse"
Directed by Kirsten Sheridan, starring Seana Kerslake and Johnny Ward.
"Eating Alabama"
Directed by Andrew Beck Grace (documentary).
"Electrick Children"
Directed by Rebecca Thomas, starring Julia Garner, Rory Culkin, Liam Aiken and Billy Zane.
"Extracted"
Directed by Nir Paniry, starring Sasha Roiz and Dominic Bogart.
"Francine"
Directed by Brian M. Cassidy and Melanie Shatzk, starring Melissa Leo and Keith Leonard.
"Funeral Kings"
Directed by Kevin Mcmanus, and Matthew Mcmanus, starring Dylan Hartigan and Alex Maizus.
"Hard Labor"
Directed by Juliana Rojas and Marco Dutra, starring Helena Albergaria and Marat Descartes.
"La Camioneta – The Journey of One American School Bus"
Directed by Mark Kendall (documentary).
"The Last Fall"
Directed by Matthew A. Cherry, starring Lance Gross and Nicole Beharie.
"Leave Me Like You Found Me"
Directed by Adele Romanski, starring Megan Boone and David Nordstrom.
"PAVILION"
Directed by Tim Sutton, starring Max Schaffner and Zach Cali.
"Sun Don't Shine"
Directed by Amy Seimetz, starring Kate Lyn Sheil and Kentucker Audley.
"Sunset Stories"
Directed by Silas Howard and Ernesto Foronda, starring Monique Curnen, Sung Kang and Joshua Leonard.
"Tchoupitoulas"
Directed by Bill Ross and Turner Ross (documentary).
"Thale"
Directed by Aleksander L. Nordaas, starring Silje Reinåmo and Jon Sigve Skard.
"Wildness"
Directed by Wu Tsang
"WOLF"
Directed by Ya'ke Smith, starring Irma P. Hall, and Mikala Gibson.
24 BEATS PER SECOND
Music-related films, mostly documentaries
"Amor Cronico"
Directed by Jorge Perugorria, featuring Cucu Diamantes.
"Bad Brains: Band in DC"
Directed by Mandy Stein and Benjamen Logan, featuring the Bad Brains.
"Charles Bradley: Soul of America"
Directed by Poull Brien, featuring Charles Bradley.
"Daylight Savings"
Directed by Dave Boyle, featuring Goh Nakamura.
"Grandma Lo-fi: The Basement Tapes of Sigrídur Níelsdóttir"
Directed by Kristín Björk Kristjánsdóttir, featuring Sigrídur Níelsdóttir.
"Paul Williams Still Alive"
Directed by Stephen Kessler, featuring Paul Williams.
"Rock 'N' Roll Exposed: The Photography of Bob Gruen"
Directed by Don Letts, featuring Bob Gruen, Iggy Pop, Debbie Harry, Yoko Ono, Alice Cooper and Billie Joe Armstrong.
"Sunset Strip"
Directed by Hans Fjellestad.
"Under African Skies"
Directed by Joe Berlinger, featuring Paul Simon.
"Uprising: Hip Hop & The LA Riots"
Directed by Mark Ford.
SX GLOBAL
International premieres, interactive documentaries and shorts.
"BIJUKA"
Directed by Ashtar Sayed, starring Arti Rautela and Amit Purohit.
"Crulic – The Path to Beyond"
Directed by Anca Damian, featuring Crulic.
"Cubaton – El Medico Story"
Directed by Daniel Fridell, featuring El Medico.
"Her Master's Voice"
Directed by Nina Conti.
"ITALY LOVE IT OR LEAVE IT"
Directed by Gustav Hofer and Luca Ragazzi.
"Mustafa's Sweet Dreams"
Directed by Angelos Abazoglou.
"Pompeya"
Directed by Tamae Garateguy, starring José Luciano González and Joel Drut.
"¡Vivan las Antipodas!"
Directed by Victor Kossakovsky
FESTIVAL FAVORITES
Selected films from previous festivals
"Beast"
Directed by Christoffer Boe, starring Nicolas Bro and Marijana Jankovic.
"The Comedy"
Directed by Rick Alverson, starring Tim Heidecker and Eric Wareheim.
"Dreams of a Life"
Directed by Carol Morley.
"God Bless America"
Directed by Bobcat Goldthwait, starring Joel Murray and Tara Lynne Barr.
"The Imposter"
Directed by Bart Layton.
"Indie Game: The Movie"
Directed by Lisanne Pajot and James Swirsky.
"KID-THING"
Directed by David Zellner, starring Sydney Aguirre and Susan Tyrrell.
"Last Call at the Oasis"
Directed by Jessica Yu (documentary).
"Lovely Molly"
Directed by Eduardo Sanchez, starring Gretchen Lodge, Johnny Lewis and Alexandra Holden.
"The Raid"
Directed by Gareth Huw Evans, starring Iko Uwais and Joe Taslim.
"WE ARE LEGION: The Story of the Hacktivists"
Directed by Brian Knappenberger.
SPECIAL EVENTS
An Evening With Sacred Bones Records
Directed by Jacqueline Castel
An evening of original and curated programming of music videos, short films, works in progress, and a screening of the film "Twelve Dark Noons"
"Bernie"
Directed by Richard Linklater, starring Jack Black, Shirley MacLaine and Matthew McConaughey.
"Big Star: Nothing Can Hurt Me"
Directed by Drew Denicola, work-in-progress documentary.
"Casa de mi Padre"
Directed by Matt Piedmont, starring Will Ferrell, Gael García Vernal and Diego Luna.
"Girl Walk // All Day"
Directed by Jacob Krupnick, starring Anne Marsen, John Doyle, Daisuke Omiya and the music of Girl Talk.
"Re:Generation"
Directed by Amir Bar Lev.
"Renga"
Directed by Adam Russell and John Sear; the first viable example of a standalone interactive experience capable of running in commercial movie theaters.
"The Oyster Princess" (1919) with original live score by Bee vs. Moth
Directed by Ernst Lubitsch.