There's big stuff on the horizon at the 64th Cannes Film Festival: Sunday will bring competition screenings of "The Artist," which has been acquired (but not quite confirmed) by the Weinstein Company, and of "The Kid With a Bike" from the Belgian arthouse faves the Dardenne brothers, while Monday will finally lift the veil on Terrence Malick's "The Tree of Life."
But Friday's competition screenings, "Polisse" and "Habemus Papam" ("We Need a Pope") weren't as high-profile as the films that screened on Wednesday and Thursday, "Midnight in Paris" and "Sleeping Beauty" and "We Need to Talk About Kevin." So lots of attention turned to deal-making in the marketplace, while critics continued to mull over the virtues of those earlier films and hipsters turned their attention to shindigs like the (BELVEDERE)RED party, which supported the AIDS charity initiative with a concert from '80s popsters Duran Duran (above; Getty Images photo by Ian Gavan).
Also read: Cannes Reviews: Of Gods and Women
For instance, you can add the Los Angeles Times' Kenneth Turan to the roster of supporters of Lynne Ramsay's film "We Need to Talk About Kevin," which premiered on Thursday to mixed (though largely positive) reaction. "A tragedy in multiple keys, difficult to watch but impossible to turn away from, 'Kevin' reinforces Ramsay's reputation as a director in complete control of all aspects of the medium," he wrote.
Turan also talked to Ramsay about the film, and about her approach to the story of a mother's complicated relationship with a son who goes on a murderous rampage at his high school. "It's one of the last taboo subjects," said Ramsay. "You're meant to instantly love your baby from the moment he's born, but what if you don't?"
The director also explained why it's been almost a decade since her last film, "Morvern Callar": because she spent years trying to get a film version of "The Lovely Bones" off the ground, before "Peter Jackson started sniffing around" and she left the project: "I thought I was writing something darn decent and I felt a bit betrayed at the end."
With the projects announced at Cannes in recent days including new films from Lee Daniels and Martin Scorsese, and films featuring Matthew McConaughey and Jack Black and Colin Firth, you might think little attention would be paid to a press conference by a little-known Norwegian actor named Ryan Wiik (little-known in these parts, at any rate), who's planning to turn a 10-year-old Norwegian series of books, "Morgan Kane," into an action-adventure franchise he's describing as "the James Bond of Westerns."
But that announcement got almost 500 words in the New York Times – not because Melena Ryzik and her editors are fascinated by the prospect of a series of films about Teddy Roosevelt's bodyguard, but because the announcement illustrated what she said is a Cannes truism: you'll get more attention if you make it on board a yacht.
"[T]he company's founders, all entertainment industry veterans, thought they could make a mark with their wood-paneled yacht, complete with private chef whipping up hors d'oeuvres for visitors," Ryzik wrote, simultaneously summing up her story and helping make it come true.
Stephanie Zacharek, meanwhile, had another Cannes trend story: the place, it turns out, is full of criminals. (And not just the folks who are in the Marche du Film trying to sell rights to films that will likely never be made.) "Thieves and pickpockets abound," she said, "and some of the stories I've heard in the past few days — first-hand from the victims themselves no less — are enough to make this Cannes first-timer want to call up Amazon and express-order one of those hideous Rick Steves money belts that grannies wear on holiday."
Alarmist, given a total lack of facts and/or figures? Hardly, because Zacharek summoned up three anonymous examples of thefts she heard about from people she talked to.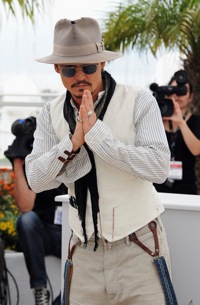 In addition to thieves and pickpockets, apparently we can also include hijackers to the roster of nefarious Cannes-goers. At least that's what Dana Harris said: "The Cannes Film Festival was temporarily hijacked Friday by the market premiere for 'Unlawful Killing,'" she wrote of the documentary about the death of Princess Diana and Dodi Al-Fayed, which TheWrap wrote about before Cannes began.
Lessons from the screening, Harris added, include "this movie is a hot TMZ-flavored mess … but the presentation itself works to undermine the message." And as for the film's photo of Diana in the back of the wrecked car, which has prompted outrage and controversy in some circles, she agrees with director Keith Allen: "if you hadn't been told about the Diana photo in advance, you might not have noticed it was there at all." (For the record: I wasn't told about it in advance when I saw the film two weeks ago, and I didn't notice.)
Also read: Royals Caused Princess Diana's Death, 'Killing' Doc Says (Exclusive)
Meanwhile, a big dilemma faced Cannes journalists on Saturday morning, said Jeff Wells: "Do [we] have the character and resolve to 'just say no' to this morning's 8:30 a.m. screening of 'Pirates of the Caribbean: On Stranger Tides?'" His conclusion: probably not.
And sure enough, he was at the Debussy Theatre bright and early, and he made it through "all two hours and 17 minutes worth," after which he grudgingly announced that the film was "more like the first one and therefore more tolerable," even though "I mostly hated the first one."
And with a gala out-of-competition screening taking place later in the day, it looks as if something else – i.e., a big American tentpole blockbuster-to-be – may be the weekend's real Cannes hijacker.