The Comic-Con party calendar continues to swell. This weekend, downtown San Diego boasts all the hallmarks of the corporately lubricated cocktail of stars, buzz projects and "Hollywood-playing-an-away-game" vibe that propelled Sundance to the prime place for entertainment
marketing in years past. Comic-Con's party circuit lit up on Thursday night.
Comcast's G4 cable network is to Comic-Con as the Sundance Channel is to Sundance — and proved it with Thursday night's hot-ticket kickoff party.
G4 and Lucasfilm co-hosted "GPhoria Strikes Back," a celebration of the 30th anniversary of "The Empire Strikes Back." Joss Whedon, Olivia Munn, Aisha Tyler and J.J. Abrams came to pay tribute. Newlyweds Seth Green and Clare Grant got an especially hearty welcome to San Diego (left, photo by Getty Images).
A second red carpet inside the Hard Rock Hotel had gamers borrowing the musical spirit from another creative confab, South by Southwest. Videogame Marvel v. Capcom 3 took over the outdoor bar for a mini-concert from Outkast rapper Big Boi. "Green Hornet" star Seth Rogen (right, photo by Getty Images) semi-hid himself under a cap while Kelly Hu and Adrien Curry soaked in the outdoor soiree across from the convention center. Lucky guests got to test-drive the latest installment in the fighting franchise almost a year before the game's scheduled spring 2011 launch.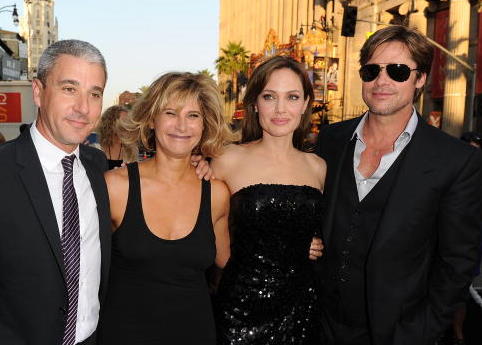 Before hitting the 405 south toward San Diego, a few marquee events lit up the early part of this week. In Hollywood, Brad Pitt joined partner Angelina Jolie at the premiere of her action movie "Salt" at Grauman's Chinese Theatre on Monday. The power couple joined Columbia Pictures co-president Matt Tolmach and Sony Pictures co-chairman Amy Pascal on the red carpet (left, photo by Getty Images).
(Make sure to read TheWrap editor-in-chief Sharon Waxman's sit-down conversation with Pascal on the eve of the "Salt" premiere.)
As Sony executives hung with Brangelina, VH1 was honoring young do-gooders a few blocks away at Monday's live broadcast of the Do Something Awards. After the credits rolled on performances by Natasha Bedingfield and Travie McCoy, the talent headed to La Vida for
an after-party. "The Twilight Saga: Eclipse" player BooBoo Stewart and his sister, Fivel Stewart, were among the revelers.
Amy Smart, Chelsea Handler and Erika Christensen joined Susan Sarandon (right, with actress daughter Eva Amurri; photo by WireImage) as she unveiled the permanent outpost of her NYC-based elite ping-pong club SPiN New York at the Mondrian on Tuesday night.
Handler planted herself at Sarandon's table all night after the two had taped Handler's E! show on the Westside hours earlier. Meanwhile, "Entourage" creator Doug Ellin hung with his show's star Jerry Ferrara. At the poolside tables, ping-pong pro Wally Green took turns humiliating guests by beating all comers — using his cell phone as a paddle. The NYC-based outfit previously made a "racquet" with a "coming soon" event during Oscar week that drew Jamie Foxx at the same hotel and nightlife destination.
Back at Comic-Con, the parties will continue all weekend in San Diego.
On Friday night, John Oliver will host the inaugural TV.com NOW Awards, a user-generated award show letting fans celebrate the most buzzed-about television and entertainment moments of this very moment. Host TV.com, CBS' answer to Hulu.com, will stream the festivities across CBS-owned digital properties. Daniel Dae Kim, LL Cool J and cast members from corporate cousin CBS's super -hot "The Big Bang Theory" are expected at Petco Park, the downtown stadium where baseball's San Diego Padres play.