A week after the 12/12/12 concert — and one night after the canceled L.A. premiere of the Weinstein Company's "Django Unchained" in the wake of the Newtown, Conn., tragedy — Harvey and Bob Weinstein. along with Samsung, rolled out a different party on Wednesday night. A west coast echo to the Madison Square Garden event.
(At left: Two Weinstein collaborators of the season meet: Chris Tucker "Silver Linings Playbook's" Chris Tucker and new director, for "Quartet," Dustin Hoffman.)
Unfortunately for the west coasters, though, the only Rolling Stone, Kanye, or McCartney-Nirvana tunes came via replays of last week's concert playing on screens in the arrival tunnel at Smashbox Studios.
On 12/19/12 in West Hollywood, live music only came from Rita Ora, a Jay-Z protégé best known for perhaps dating Rob Kardashian and a personal (non-DJ) appearance by Paul Oakenfold.
"When I was a kid, I grew up in Brooklyn, and then I moved to Queens — city housing — and the one place that we got to go to the beach was Rockaway," Weinstein said from a small riser inside the soundstage.
"I decided to do the concert when I was watching television and I saw that Rockaway didn't exist. I would do it for Los Angeles in a second," Weinstein (pictured, with Emile Hirsch) said.
While billed as a Weinstein/Samsung holiday party, the party was tilted towards the latter, who also provided all the phones that Jimmy Fallon, the cast of "The Sopranos." Stephen Colbert handled the celebrity phone bank during the live concert.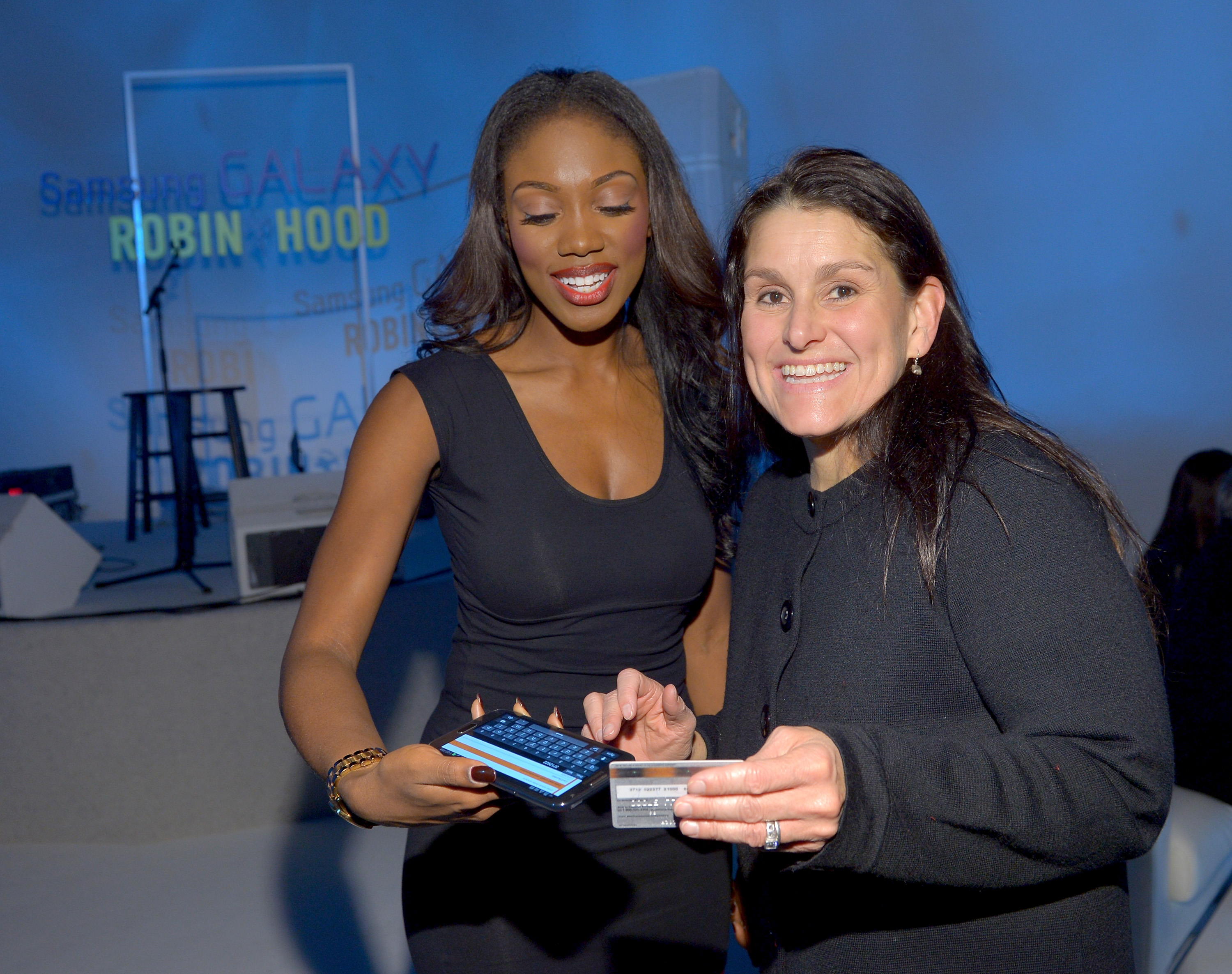 Amidst a sea of guests taking self-shots on the mega-phone/small-tablet Galaxy Note 2 (as seen in the ubiquitous Lebron James ads), Weinstein praised his partner. "They came through for a lot of money, and even more importantly, a lot of support. They're great with technology and even better with people."
(Pictured: "Django Unchained's" executive producer Shannon McIntosh has her plastic unholstered and is ready to donate.)
Gwyneth Paltrow, Brian Williams, Jeff Zucker, Clear Channel's John Sykes and Jeffrey Immelt sit with Harvey on the Robin Hood Foundation Board;the group that produced the 12/12/12 concert and Wednesday night's event.
Holiday Party Season: The 4th Quarter
Audi got an early jump on the Aspen scene, rolling a huddle of talent and influencers in their new Allroad to a snowy soiree in the mountains.
(Above right: Michael Polish, Kate Bosworth, Matthew Morrison, James Van Der Beek and Kimberly Brook at Audi's Aspen Holiday Party.)
From Christmas Day until New Year's Day (just two days before the Oscar nominations voting deadline), there are official Academy screenings of late releases "Zero Dark Thirty," "Hyde Park on Hudson," "Promised Land," Amour" and others for voters in Aspen.
Also ahead of the curve, presumed eggnog sommelier Padma Lakshmi (left) was separating yolks in Soho at Santa's "Quirkshop" this week, a pop-up of Quirky.com's online gadgetorium timed to absolve last-minute gifters.
What About Us?
The same week that "X Factor," "The Voice," and even "Survivor" crowned new champions, VH1's "Divas" special aggressively recruited ex-"American Idols."
Performers included Kelly Clarkson (original "Idol" champion, 2002), Jordin Sparks (champion, 2007) and host/performer Adam Lambert (right), who blessed Monster DNA headphones for auction for VH1's Save the Music Charity backstage at the Shrine on Sunday.
In the run-up to his hosting gig, VH1 gave Lambert the "Behind the Music" treatment last month.