Second week of L.A. DocuWeeks program includes three documentaries that re-enact events, including 9/11 and a concentration-camp concert
Week two in DocuWeeks' three-week run in Los Angeles brings new films about a concert in a Nazi concentration camp, an unjust prison sentence given to a Lakota Sioux medicine man and a company that lost two-thirds of its workforce on September 11.
It also raises a question: To re-enact, or not to re-enact?
The three films mentioned – Doug Shultz's "Defiant Requiem," Jennifer Jessum's "Holy Man: The USA vs. Douglas White" and Danielle Gardner's "Out of the Clear Blue Sky" (left) – all rely at times on staged re-creations of events.
The three films make up half of this week's six-film slate of DocuWeeks films, and will run twice a day for the next week at Laemmle's NoHo 7 multiplex in North Hollywood.
Also read: DocuWeeks Shrugs Off Academy's Death Threats, Opens With Ethel Kennedy Doc
The technique of re-enactment is far from unusual: "Man on Wire," which won the Academy Award as the best documentary of 2008, relied heavily on stylish and shadowy re-staged footage. The short doc that won the Oscar in 2005, "Mighty Times: The Children's March," received even more criticism for re-enactments that, said Berkleley journalism professor and documentary filmmaker Jon Else, constituted "fraud" because they were not clearly labeled as such.
In the Los Angeles Times' DocuWeeks reviews on Friday, critics Gary Goldstein and Betsy Sharkey singled out the re-enactments in all three new DocuWeeks films – and in two of the three cases, their verdict was not favorable.
In "Defiant Requiem," wrote Sharkey, the film's re-enacted scenes depicting a 1944 concert at the Terezin concentration camp are "unfortunate" and strike the only "seriously false note" in a film she otherwise praised.
(In an interview for the International Documentary Association website, director Shultz said he tried to use "a restrained kind of dramatization … without going over the top.")
Goldstein wrote that the re-enactments in "Out of the Clear Blue Sky" were "frankly dispensable," while calling the film itself "powerful" and "deftly constructed."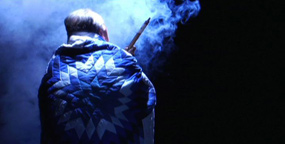 But the restaged scenes in "Holy Man" (right) struck him as being "uncommonly effective."
The only movie of the three that I've seen is "Out of the Clear Blue Sky," and I agree with Goldstein. Although there is no attempt to deceive the viewer into thinking that the re-enacted footage is real, it is undeniably distracting.
The technique is all the more annoying because the film's real footage, and particularly the interviews with employees and family members of the ravaged Cantor Fitzgerald investment firm, paint a gripping story of a company that lost 658 employees — every single person who went to work in the firm's World Trade Center offices — in the 9/11 attacks.
In the end, it is the faces and the tears of the survivors you remember from the film, not the re-staged footage of emergency meetings and conference calls.
UPDATE (Saturday 8/18): I've now seen both "Holy Man" and "Defiant Requiem," and I'd say that the re-enactments in both films are problematic, although understandable given that much of the action happened before the filmmakers were present.
In "Defiant Requiem," for instance, the scenes that use actors to play concentration-camp inmates are for the most part less striking and far less powerful than drawings, animation based on sketches from Terezin and memories of survivors.
And "Holy Man," to its detriment, is dominated by re-enactments – of Lakota religious ceremonies, of Douglas White's trial and of past abuses of Native Americans, among others. The restaged footage is often clunky and melodramatic, making the film an example of a devastating and important story poorly told.
Still, the use of re-enactments in half of this week's DocuWeeks offerings is a sign that the technique is another item in the documentarian's tooklit, albeit an occasionally controversial one.
"Critics argue that the use of re-enactments suggest a callous disregard on the part of a filmmaker for what is true. I don't agree," wrote documentary filmmaker Errol Morris, who used the technique in his 1988 classic "The Thin Blue Line," which is generally acclaimed as one of the finest docs of the last three decades.
In a two-part story for the New York Times in 2008, Morris was matter-of-fact:
"Some re-enactments serve the truth, others subvert it. There is no mode of expression, no technique of production that will instantly produce truth or falsehood … The engine of uncovering truth is not some special lens or even the unadorned human eye; it is unadorned human reason."
In addition to "Out of the Clear Blue Sky," "Holy Man" and "Defiant Requiem," this week's DocuWeeks films in Los Angeles are "Drought" ("Cuates de Australia"), Everardo Gonzalez's unsparing, stark and beautifully photographed look at the residents of a northeastern Mexico town who embark an an annual pilgrimage when drought hits their area, and the winner of the Best Documentary award at the Los Angeles Film Festival; "This Magic Life," Nelson Cheng's chronicle of three aspiring magicians; and "Ricky on Leacock," Jane Weiner's film about her former teacher, pioneering documentarian Richard Leacock.