Hollywood is finally embracing the Los Angeles Film Festival.
Studios once reluctant to showcase top films at LAFF, which officially opens on Thursday night in downtown L.A. after a pre-festival screening of "Man of Steel" on Wednesday night, have begun to see its value as a low-pressure showcase for movies with awards aspirations.
The turnaround comes after careful wooing by festival organizers and successful debuts of films including "The Kids Are Alright," "Animal Kingdom" and "A Better Life," all of which went on to earn Oscar nominations. Those films helped overcome studio resistance to the festival and bring talent such as Woody Allen for "To Rome With Love" last year.
The festival has been hampered by timing in the past. It falls in a no-man's land between the Cannes Film Festival in May and the high-profile trio of festivals that kick off awards season in late August and early September. The city's other big mainstream fim festival, AFI, follows in November.
LAFF director Stephanie Allain credits outreach begun by former director Rebecca Yeldham with helping turn around perception about the festival produced by Film Independent, which also puts on the Film Independent Spirit Awards.
"Rebecca started it, and I've continued reaching out to the industry and to studios to welcome and support the festival, because it's our festival," Allain told TheWrap this week. "People have been responsive, and a lot of good has come of it."
Also read: Pedro Almodovar's Kinky Comedy 'I'm So Excited!' to Launch L.A. Film Fest
Her pitch? "In the summer in L.A., you have the eyes of the industry on you. Why not premiere a film that has an actor in it that you might want considered for awards? If you wait for the fall it gets crazy with all the awards movies and with people trying to catch up with all their screeners. And at places like Sundance there's so much pressure to be taking meetings. This is a quieter time where you can be noticed."
LAFF draws close to 100,000 people to the L.A. Live campus downtown.
Artistic director David Ansen cites the 2010 opening-night film, "The Kids Are All Right," which received four Oscar nominations, including Best Picture, as an example of a film that got a significant awards bump from an LAFF premiere, along with "A Better Life" for actor Demian Bichir.
He said Sony Classics execs told him that Jacki Weaver's Oscar nom for "Animal Kingdom" was due far more to LAFF than to any of the film's other festival bookings.
"I feel a real sea change between the way we were viewed by the industry in my first years by the industry and how things are now," said Ansen, who has been with the festival for three years. "I think they see the benefits much more than they did in the old days."
Also read: 'The Way, Way Back,' 'The Spectacular Now' to Highlight L.A. Film Fest
On the non-indie side, studios have increasingly been using the festival for high-profile premieres that are part of LAFF even if they're not indicative of the rest of the programming.
Big events in recent years include a massive premiere of "The Twilight Saga: Eclipse" at the Nokia Theater, as well as premieres of "Despicable Me" and "The Avengers."
"Last year helped our profile with the industry," Ansen added, "It helped to get Woody Allen to come, and it helped to get 'Magic Mike.' And it helped to see [2011's opening-night film] 'Bernie' getting picked up out of the festival and becoming a big indie hit."
This year, Sony Classics, which distributed "To Rome With Love" and "Animal Kingdom," is back with the opening-night film, Pedro Almodovar's "I'm So Excited!," as well as with "Wadjda" (left) and "The Patience Stone."
The closing-night film is "The Way, Way Back" (left) from Fox Searchlight, while the Weinstein Co. is represented with the Sundance hit "Fruitvale Station," among others.
And on the major-studio side, Warner Bros. is staging what might be called a festival-adjacent screening of "Man of Steel" the night before the official kickoff, while Pixar is holding a LAFF screening of "Monsters University" the night after its official Los Angeles premiere next Monday.
"We try to complement the indies with studio movies," said Allain. "That's why we have 'Man of Steel' and then 'I'm So Excited.' This is L.A."
The festival is showcasing a number of films that have been well-received at previous festivals, including the narrative features "Ain't Them Bodies Saints," "Crystal Fairy," "The Spectacular Now" (right) and "Short Term 12" and the documentaries "The Crash Reel," "Inequality for All" and "The Act of Killing" (photo at top).
"I am not of the philosophy that if it's not a premiere we won't show it," said Ansen. "That's doing a disservice to our audience, because not everybody is lucky enough to go to Sundance and Toronto. But we do insist that all films in our competitive sections are premieres."
LAFF has also given gala screenings to "Fruitvale Station," the documentary "Levitated Mass" – about a notable installation at LACMA, where Film Independent does its screening series – and the Nicholas Winding Refn film "Only God Forgives," which stirred up a hornet's nest of controversy at Cannes.
"We're deliberately eclectic," said Ansen. "It's everything from challenging European art films to really interesting genre movies."
Both Ansen and Allain said they did not set out to pursue any specific themes in their programming – but as the festival was being assembled over the past six months, patterns began to emerge.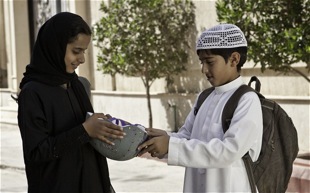 One theme this year, Ansen said, was the number of films directed by women from the Middle East, and concerning the plight of women in Islamic societies. Sony Classics' "Wadjda," for instance (left), is the first film shot entirely in Saudi Arabia, and is directed by a woman, Haifaa Mansour and centers on a young girl who simply wants to buy and ride a bicycle, an activity once off-limits for females.
Another entry, Nahid Persson Sarvestani's "My Stolen Revolution," follows the documentary filmmaker as she assembles her friends who were student activists in Iran in the late 1970s, when the revolution arrived.
"With the global collective so easily accessed, everybody is experiencing what is going on around the planet at the same time," said Allain. "Filmmakers are experiencing the world and turing that into art – there tend to be commonalities, So often themes emerge."
On Wednesday morning, Allain said she noticed an offscreen theme emerge in late-night talks on Tuesday with the 40-plus filmmakers who attended the festival's annual pre-fest retreat at Skywalker Ranch in Northern California.
"What I noticed last night is that there's an energy out there that has to do with emerging distribution platforms and changing technology," she said. "I wouldn't call it the Wild West, but there's an energy and hope.
"Last night everybody was bragging about how little their movies cost."
LAFF has worked to involve the movie industry in the festival's educational side – in a programs of conversations and workshops that this year include a talk between guest artistic director David O. Russell and director Spike Jonze; a comedy workshop with Maya Rudolph; a film-music evening with composer Gustavo Santaolalla; a conversation between writer-director David Mamet and magician-actor Ricky Jay; a panel of women editors moderated by Mary Sweeney that will include a taped introduction by Martin Scorsese's longtime editor Thelma Schoonmaker; and a celebration of costume designers done in collaboration with the Motion Picture Academy.
"We're trying to bring in the industry by shining a spotlight on the people who work behind the scenes in the industry," she said.
One particularly intriguing event will take place on Monday, when the acclaimed Greek director Costa-Gavras (right), who is responsible for a string of politically-charged films that include "Z," "State of Siege" and "Missing," will show his most recent film, "Capital," and then sit for an interview conducted by "Zero Dark Thirty" and "The Hurt Locker" screenwriter Mark Boal.
Ansen said the pairing came about once the festival decided to screen the 80-year-old director's "Capital."
"We thought, Let's bring him out here and do something special with him. As we were casting around for ideas, I thought of Mark, who I'd gotten to know when he and Kathryn Bigelow were part of a festival trip to Havana two years ago. It seemed like a provocative and interesting combination.
"That's one of the advantages of being in L.A. – you can call on this pool of talent."