Is the independent film business still a good business? It is, as long as you make smart choices, and have a library.
That's what four indie film producers and distributors said Friday during the closing panel at TheGrill@Tribeca, TheWrap's inaugural conference on independent filmmaking. Finding innovative ways to leverage libraries of content, they said, is a major part of it.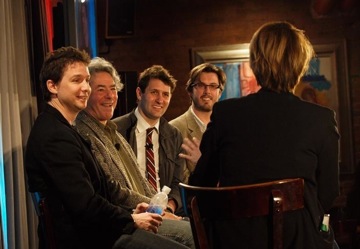 Moderated by the site's Editor-in-Chief Sharon Waxman, the panel comprised John Penotti, co-president of GreeneStreet Films; Lorber Media chief Richard Lorber; David Fenkel, co-founder of Oscilloscope Laboratories; and Ben Browning, co-founder of Wayfare Entertainment.
(From left with Waxman: Penotti, Lorber, Fenkel and Browning; photograph by Susan May Tell)
"We've never had a bad DVD year between Netflix, Amazon and iTunes," said Fenkel, whose Oscilloscope is Beastie Boy Adam Yauch's three-year-old film and distribution company.
Also read: Transmedia — the Future of Storytelling, and end of Lame Movie Tie-Ins
"It's a treacherous time for new companies starting up without a strong library," Lorber added, noting his company's revenues are up 60 percent this year — 40 percent of that coming from its DVD business.
Penotti said it comes down to managing risk.
"We've moved with risk capital is willing to go," Penotti said. He said GreeneStreet — currently producing the Farrelly Brothers' "Movie 43" — adjusted its approach with the film, which he described as an update to the "Kentucky Fried Movie," comprised of 17 short films.
"We were much more conservative in investing," Penotti said. "We went in knowing we wouldn't fund it completely. We said we'd take the first million and make three of the shorts." "We weren't going to lose $10 million, but we could lose $1 million," he said. (Hugh Jackman and Kate Winslet star in one of the first short films, Penotti said, "so we knew we had something.")
Also read: Harvey Weinstein: We Have to Build a Model That's Beyond Oscar
Ultimately, the studio came on to fully fund the $6 million film. "We would've never thought about making a movie without having a full budget available," Penotti joked. Now, "We're trading against Peter Farrelly's back end."
Browning said decisions must be made on a project-by-project basis.
"'Sanctum' — $30 million movie, which was big for us – did $90 million worldwide," Browning said, of the recent James Cameron-produced 3D action film. "When we started, it had no distribution. When you're in business with the greatest filmmaker in the world, you have a pretty good idea."
"You don't always have to compete with the studios," Fenkel said. "'Black Swan' started at, what, four theaters? It's a really smart model."
Despite their success, the indie business is, of course, still challenging. Before Fenkel started his company, his wife joked, "Why would anyone sell you their film since you're so new?" he said. "And I see her every day."
TheGrill@Tribeca:
Harvey Weinstein: We Have to Build a Model That's Beyond Oscar
Indie Film Streamers: Neflix's Turn to TV Leaves Us an Opening
Step 1 to Making a Low-Budget Film: Eliminate People With Walkie Talkies
Transmedia: The Future of Storytelling — and End of Lame Movie Tie-Ins
The Indie Movie Business Is Still a Good Business … If