"It's an awesome, crazy mess of a movie," said one viewer after second surprise screening of Paul Thomas Anderson's "The Master"
Paul Thomas Anderson's "The Master" added another last-minute sneak preview screening on Thursday night in Chicago — and just as viewers did after its surprise sneak in Los Angeles, the Windy City audience members declared themselves both impressed and baffled by the 70mm film.
Unlike the surprise Aug. 3 West Coast screening — after a showing of Stanley Kubrick's "The Shining" at the Aero in Santa Monica — the Chicago screening at the Music Box Theatre was advertised a day in advance.
The theater sold out in two hours.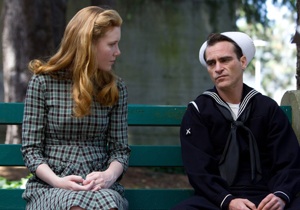 The film is Anderson's look at a charismatic writer (Philip Seymour Hoffman) who starts his own religion, and the drifter (Joaquin Phoenix) who becomes his chief aide. Amy Adams also stars.
Also read: 'The Master': Paul Thomas Anderson Reaches Out to Scientologist Tom Cruise (Exclusive)
Either inspired by or loosely based on the story of L. Ron Hubbard and Scientology, the film has stirred up controversy because of the connection to that religion – and its release date was moved up to Sept. 14 after the Tom Cruise/Katie Holmes divorce drew additional attention to Scientology.
The Chicago screening was billed as a work-in-progress, though that designation was almost certainly semantics designed to allow the Venice Film Festival to claim that it's showing the film's world premiere, and the Toronto Film Festival to claim its North American premiere.
"The Master" has already been rated R by the MPAA, indicating that it is indeed finished. It did, however, screen in Chicago without final end credits.
Also read: Paul Thomas Anderson's 'The Master' Trailer Debuts with Creepy Joaquin Phoenix and Crazy Music
The scattershot rollout of "The Master" is unusual, with Anderson himself reportedly setting up the Aero screening at the last minute. The Chicago date, a benefit for Martin Scorsese's Film Foundation, came after Time Out Chicago critic Ben Kenigsberg ran an article urging Anderson and the Weinstein Company to bring the film to what he said was the city's only 70mm-equipped theater, the Music Box.
After the Los Angeles screening, reactions were for the most part highly positive, though some described the film as challenging and uncommercial. On Thursday night and Friday morning, Twitter lit up with reactions from Chicago viewers – and for the most part, they agreed that "The Master" is beautiful and impressive … but they need more time to think about it.
At Movieline, Patrick McGavin compared the film to Orson Welles' "The Lady From Shanghai," and called it "another of Anderson's brittle and audacious portraits of wounded masculinity and sexual panic." He did, however, like the film's first half better than its second, which he said was "less audacious and more problematic."
The crowd, McGavin said, was muted at the end of the 137-minute film, which didn't conclude until nearly 1 a.m.
But the first batch of reactions on Twitter were hardly muted.
"'The Master' is one awesome, crazy mess of a movie," summarized @DrNeptune. "Can't wait for a second viewing!"
(Matt Singer compiled a large number of tweets at indieWIRE.)
Other reactions included "profound and captivating, a real game-changer" (@Dsalazar2013), "electrifying cinema, aggressively cryptic storytelling" (@thekingbulletin), "a tad sloppy, but it's beyond inspired" (@joshbrunsting), "gorgeous piece of film" (@Music_Defined), "a bit of an enigma with detachment & intensity that I need to process over time" (@instantjim) and "characters in 'The Master' way more satisfied than the audience" (@TheLinusLee).
Ignatiy Vishnevetsky (@vishnevetsky) went a different route and called it "the greatest Pants Movie of our time." Then he clarified: "You really need 70mm to appreciate all the trouser textures and high waists."
But the consensus of all the quick, first-impression reviews is that quick, first-impression reviews of this film are pointless.
"One more thing about 'The Master': It's comically resistant to insta-reaction," tweeted Scott Tobias (@scott_tobias). "A lot of strands in old Duder's head right now."
Or, as @rayamartin summed it up, "It is way too damn late for me to have an opinion. It was a movie, that's for sure."