Critics who complain about his favorable depiction of Hugo Chavez and other Latin American leaders are spreading "mythologies," director Oliver Stone said Friday night after a Santa Monica screening of his film "South of the Border."
Stone participated in a Q&A session at Laemmle's Monica 4-Plex after the screening, which was picketed by protesters who felt that his documentary's positive look at anti-imperialist leaders in Venezuela, Bolivia, Argentina and other countries overlooked the economic ills and repressive policies of countries like Chavez's Venezuela.
Actress Maria Conchita Alonso, who earlier in the week told theWrap that Stone's depiction of Chavez was "all lies," led a protest outside the theater before the screening. A counter-protest by Chavez supporters also took place, clogging the sidewalks outside the Laemmle and prompting increased security and a police presence at the theater, where the screening went off without incident.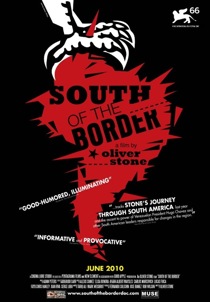 Afterwards, Stone took part in a Q&A session along with his film's producer, Fernando Sulichin; Ricardo Moreno, president of the Simon Bolivar Association of Los Angeles; and Miguel Tinker Salas, a professor of history and Latin American studies at Pomona College.
The director called his film "an introduction to a region, and a historical moment that is very significant … There are six or seven countries unified in their desire for independence from [the United States]."
"South of the Border" takes particular aim at the policies of the George W. Bush administration, during which most of it was filmed, and of the International Monetary Fund, which Stone said is largely controlled by the United States. The presidents he filmed in interviews and more informal settings – many of whom were persuaded to do the film by Chavez, who occupies by far the most screen time – are generally working-class and socialist-leaning, and have been vilified by some U.S. media outlets as being anti-American.
"I really am stunned, and I don't understand the negativity toward [Chavez] in the American press," said Stone.
While most of the questions were supportive of Stone and the film, the first questioner brought up many of the issues raised by critics of Chavez, asking Stone why he omitted the facts that "Chavez changed the constitution to declare himself 'president for life'"; that Venezuela currently holds 28 political prisoners; that the government has nationalized many industries, including the grocery industry; and that mainstream press outlets have been shut down.
When moderator Margaret Prescod of KPFK radio scolded the questioner for asking too many questions, Stone quickly cut her off.
"No," he said, "I think it's good that we get it all out. These are … mythologies, and I want to deal with them."
He turned the microphone over to Tinker Salas, who said that the Venezuelan constitution was changed not by Chavez but in a full election by the people of Venezuela, not to make Chavez "president for life" but to end term limits; that the grocery industry was nationalized because of "problems with the question of food sovereignity"; that the government restored public rather than private control of the airwaves, and that the Daily Journal was shut down not by the government but "for internal reasons."
This is a democratically run country," insisted Stone. "Do not believe their stories."
The director also lashed out at the mainstream media in both the United States and Latin America for its embrace of conservative talking-points. "'President for life' is the kid of terminology the right wing uses," he said. "These are buzzwords to get the American people going."
Among the other points that Stone covered in the Q&A session:
He supports a system that in the film he calls "benign capitalism," as opposed to "predatory capitalism": "I do believe, still, in market economies, because they do redistribute the wealth."
He finds Latin American people surprisingly accepting of Americans: "We have trashed their countries for so long, in Central and South America, but they do not hold a grudge."
He thinks Chavez is "too macho" for Americans, but refreshing for a politician: "He's a man who doesn't have a filter on his mouth … But I loved him as a person."
He finds many of the socialist-leaning leaders in Latin America a welcome change after the candidates who routinely are elected in the United States: "Every time, we get the educated elite. We get some guy from Harvard or Yale. Even Obama is from Harvard, and I'm sick of it."
He does hold out more hope for Barack Obama than he did for George W. Bush (who he termed "a moron" and "a criminal who should be on trial for a number of things"), but he thinks the current president probably got a rude awakening once he was elected: "I think somebody took him out to the woodshed when he won and said, 'You think you're running the country, but you're not … It's the system.'"
And he's working on two more documentaries that will no doubt draw their own criticism: one is another film based on interviews with Fidel Castro, and the other is "a 10-hour documentary called 'The Secret History of the United States.'"