Against the backdrop of the continuing Gulf of Mexico oil-spill disaster, Pierce Brosnan, Amy Smart and Cheryl Tiegs took the stage at Global Green's 2010 Millennium Awards Saturday night at the Sheraton Fairmont in Santa Monica.
The environmental organization's president-CEO, Matt Petersen (left, thanking Tiegs for attending; photo courtesy of Michael Caulfield), wore a suit made from recycled cassette tapes. He asked the crowd to pull out
their cell phones and make a cash donation via text message on the spot to support the gulf clean-up. (Someone accidentally texted in $27,138, sparking a momentary eruption of enthusiasm in the room. Nonetheless, the stunt pulled in $25,000 in minutes.)
Continuing "Avatar's" not just global – but intergalactic – broadcast of the climate control message, the film's Michelle Rodriguez hit the gala and spent time with Rhona Mitra, who stars in ABC's "The Gates." (Photo at right courtesy of Charley Gallay)
Smart took the mic to speak about the Gulf, while Brosnan hit on the ban against whaling, a cause whose profile continues to rise in Hollywood through the Animal Planet series "Whale Wars."
Earlier in the day, Cartoon Network continued its push into live-action, launching the mystery/adventure series "Unnatural History" with an outdoor African bazaar-themed bash with tribal drummers, alligators, porcupines and a red carpet that looked like an outdoor museum. "Unnatural History" cast members Kevin G. Schmidt, Jordan Gavaris and Italia Ricci (left; photo courtesy of WireImage) did a meet-and-greet with a 15-foot python at the world premiere on the Warners lot.
The festivities weren't just for celebs like Michael "Big Mike" Lynche ("American Idol") and Malcolm David Kelley; local Boys and Girls Club members also joined in the party.
On the eve of Sunday night's season premiere, "True Blood's" Sam Trammell, Chris Bauer and Nelsan Ellis joined castmates for a celebration at H-Lounge. The show's Carrie Preston and her husband, "Lost" alum Michael Emerson, had crossover fans of both shows excited about the convergence.
"Lost" mini-spoiler alert (if that's even possible for a completed show): Emerson told TheWrap that he remained outside the church and separated from the rest of the cast in "Lost's" final sequence because he "still had some issues to process" and was not fully "ready" yet.
Skyy sponsored the VIP cabanas for the cross-genre gathering.
After scoring MTV's highest series-premiere ratings in more than two years on June 6, Jareb Dauplaise, Paul Iacono, Amber Lancaster, creator-showrunner David Katzenberg and the cast of "The Hard Times of R.J. Berger" were ready to celebrate. (Yes, their premiere beat last December's "Jersey Shore" debut.)
The talent-smart marketing execs and Hollywood's default ambassadors in the 702, Tao Las Vegas' Mike Snedegar and Deb Grimmell, quickly lined up a celebratory trip to Las Vegas for a bash at Lavo in the Venetian on Friday night, complete with a high school locker-themed cake. (Pictured above right: Iacono, Katzenberg, Dauplaise, co-stars Kara Taitz, Jayson Blair, Lancaster and creator-showrunner Seth Grahame-Smith.) The real test comes Monday night as "Berger" drops in to its regular 10 p.m. timeslot without the special "Movie Awards" lead-in.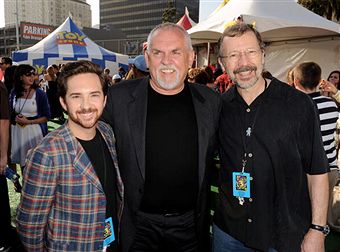 Finally, on Sunday, street closures from two events choked off a lot of the city, making it hard to get to a trio of events.
Disney and Pixar closed down Hollywood Boulevard for a daytime premiere of "Toy Story 3." John Morris (who voices Andy), left, and John Ratzenberger (Hamm) joined Disney Animation and Pixar president Ed Catmull at a carnival-themed after-party at Hollywood High School (photo by Kevin Winter/Getty Images).
Meanwhile, amidst the closure of most of West Hollywood for the Gay Pride festivities, Fred Segal Melrose hosted the Fortunate Sun soccer tournament (on parking lot turf) that had a surprisingly competitive parallel to the ongoing World Cup: Players were sent off for poor sportsmanship and Wilmer Valderrama was "heading in" goals.
Over in Brentwood, David Duchovny, Olivia Munn, Joel McHale, Cheryl Hines and Jason Reitman hit the Elisabeth Glaser Pediatric AIDS celebrity picnic outside the Wadsworth Theater. Celebs like Tea Leoni (at right with her daughter; photo courtesy of Michael Buckner) and Jamie Pressly decorated denim at the 77kids by American Eagle booth before watching Jesse McCartney perform a mini-set.