Universal Pictures is in preliminary talks to sell its arthouse division Focus Features with interested buyers including billionaires Tom and Alec Gores, TheWrap has learned.
The studio is seeking $300 million for the specialty film division, according to individuals with knowledge of the studio's intentions.
But the studio would first need the agreement of its new owner, Comcast, which is not expected to take the company reigns before February.
Two knowledgeable individuals said that the Gores brothers pictured left and right) had made an offer for Focus.
"We often receive interest in Focus Features, which is an attractive asset. But we are not in active negotiations to sell Focus," a spokesperson for Universal told TheWrap.
A spokesperson for the Gores declined to comment. Another individual with knowledge of the situation said that other new buyers are in the mix too. Relativity had been in negotations to buy Focus Features but walked away from the table about six weeks ago over the price.
Despite public statements to the contrary, Universal has quietly been seeking to sell the studio, which has taken a lower profile in the studio's mix since the departure of former studio co-chairman David Linde more than a year ago.
Current studio chairman Adam Fogelson is known to be less devoted to the division that had been Linde's domain. It is also a time when independent film has faced tough times at the box office, and when the studio may feel pressed to use those resources elsewhere.
Read also: Universal Rejects Bid by Media Rights Capital to Buy Focus Features
In the meantime, Universal may feel under some pressure to change its bottom line quickly. Comcast recently unveiled the new executive line-up at NBC, and pointedly said no changes were imminent at Universal for the moment.
But Universal Studios President Ron Meyer is under pressure to show significant improvement in the performance of his division in the next six months.
Read also: NBC's New Management: Key Roles for Greenblatt, Harbert, Hammer, Zalaznick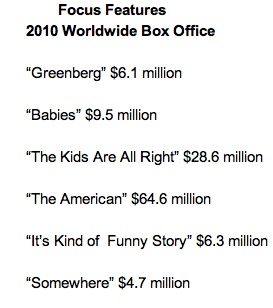 Focus Features has on average annual revenues between $50 to $60 million, according to a knowledgeable insider.
Earlier this year, Universal rejected overtures from Media Rights Capital, the film finance and production company of Mordecai Wiczyk and Asif Satchu, to buy Focus. At the time, the reported price – which most analysts said was illogically inflated – was $500 million.
But even at $300 million, and with a serious awards contender in "The Kids are All Right," Focus may be a difficult sell at a challenging time for arthouse film.
Previous plays by the brothers for Overture and Miramax earlier this year have been exercises in failed courtship. Billionaires Tom and Alec Gores — 147 and 220 on Forbes' richest Americans list, respectively — have made a fortune taking distressed properties and transforming them into moneymakers.
Alec is best known for purchasing the Learning Company and turning it around in 75 days. He owns the Gores Group, while Tom owns the investment company Platinum Equity.
Though they are newcomers to the movie business, younger brother Sam Gores owns the talent agency Paradigm.
News of the talks was first reported by the Los Angeles Times.
Universal has not formally sought to sell Focus, but the company, run by James Schamus and Andrew Karpen, has been in transition with the sale of NBC-Universal to Comcast.
Though "The Kids Are All Right" is considered an awards contender, other recent films such as "It's Kind of a Funny Story" and "Greenberg" failed to make much of a box office impact. For the year, Focus has racked up approximately $120 million worldwide at the box office.