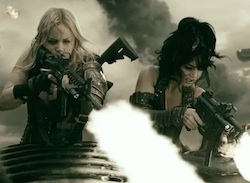 One of the pleasant surprises of Comic-Con 2010 was "Sucker Punch," an all-new story from "Watchmen" and "300" director Zack Snyder.
The footage looked fantastic, and though it wasn't very comprehensible, it impressed the Comic-Con crowd for its stylized action, World War (not clear which one, though that B-25 bomber wasn't introduced until 1941) aesthetic and scorching girl-power hotness.
On Monday, a day after Comic-Con concluded, Warner Bros. finally got its trailer together — almost certainly to get writers like me to post links like this to keep it in the news cycle:
Watch the "Sucker Punch" trailer here!
(We'd embed it, but it's not yet available on YouTube).
Well played, Warner Brothers, well played.