The 2013 Cannes Film Festival began with high hopes for a strong and deep lineup of films, struggled through days in which even the best films were in danger of being washed away by the storms, and then ended when a jury led by the ultimate mainstream filmmaker made some daring and non-mainstream choices.
Summing up the 12 days on the Croisette is difficult if not impossible, but we figure it's time to take a minimalist approach to an expansive topic.
So here are five words that capture Cannes, 2013.
1. Sex.
Even before the Palme d'Or went to Adbellatif Kechiche's graphic story of a relationship between two teenage girls, "Blue is the Warmest Color" (left), this was a Cannes where issues of sexuality and gender roles took center stage.
Also read: Cannes: Lesbian Drama 'Blue Is the Warmest Color' Wins Palme d'Or
With a main competition slate that included only one film from a woman director, following a year without any, the old complaints about Cannes' almost exclusively male tilt resurfaced. Then special honoree Jerry Lewis gave a press conference in which he reiterated his long-standing belief that women should not do broad comedy – and when asked to name his favorite female comics, he dismissively named Burt Reynolds and Cary Grant.
Meanwhile, directors Francis Ozon and James Gray made movies – "Young & Beautiful" and "The Immigrant," respectively – about women pushed or forced into prostitution. And in an interview with the Hollywood Reporter, Ozon said that women understand his film better than men do, "because it's a fantasy of many women to do prostitution … You speak with many women, you speak with shrinks, everybody knows that. Well, maybe not Americans!"
The remarks stirred up some controversy ("Always enjoyable to see a man say, 'See, here's how women think,' without a trace of irony," tweeted critic Josh Spiegel), with the feminist group FEMEN saying it would like to award Ozon the "2013 Golden palm of assholes" and even French politicians condemning his remarks. Ozon ended up claiming, "Obviously I wasn't talking about women in general, just the characters in my film."
Roman Polanski, meanwhile, used his own Cannes press conference to suggest that the fight for gender equality is "purely idiotic," and that birth control pills are responsible for "masculinizing" women.
And up on the screens, where the real focus at Cannes is supposed to be, were two of the most sexually explicit films ever to screen at the festival. "Blue Is the Warmest Color" reportedly has graphic and extended sex scenes between young actresses Adele and Lea Seydoux, while Alain Guiraudie's Un Certain Regard entry "Stranger by the Lake" is by all reports an equally explicit film about gay male sex.
The former won the Palme d'Or, and the latter won the Best Director prize at Un Certain Regard – proving that at this year's Cannes, sex sells and it gets you critical respect.
2. Bling.
Sofia Coppola's "The Bling Ring," which opened the Un Certain Regard section, was hardly the only Cannes film to deal with the lure of shiny baubles. The film that opened the entire festival the night before Coppola's, after all, was Baz Luhrman's "The Great Gatsby," a 3D extravaganza that relished the conspicuous consumption that its title character undertook as he tried to win back the girl of his dreams.
The one film in competition directed by a woman, Valeria Bruni Tedeschi's "A Castle in Italy," was also a look at the travails of the one percent, but its devotion to the problems of the privileged drew more scorn than approval. "I'm glad I saw 'A Castle in Italy,'" tweeted Guy Lodge. "It really brought back the heartbreak of selling my own priceless Brueghel. We've all been there."
And Steven Soderbergh's "Behind the Candelabra" was a wry look at Liberace, the man who probably qualifies as the blingiest entertainer in the history of blingy entertainers.
Meanwhile, Hollywood bought some big-ticket bling of its own at the annual AmFAR Gala, a Cannes tradition in which the moneyed elite shell out big bucks to raise money for the Cinema Against AIDS charity. The gala raised a record $25 million, with an Andy Warhol print of Elizabeth Taylor going for $776,000, a piece of art from Damien Hirst landing $1.03 million, a collection of clothes from top designers going for $1.29 million and three seats on a Virgin Galactic space flight with Leonardo DiCaprio bringing in more than $3 million.
Plus, one lucky guest nabbed the Bulgari watch off Adrien Brody's wrist for the bargain-basement price of $116,000.
(That may not all be the kind of stuff you'd find in Paris Hilton's closet in "The Bling Ring," but Gatsby might spring for some of it if he was still around and still trying to impress Daisy.)
And then there were the jewelry thieves who made off with a couple of hauls from hotel rooms during the festival, proving that the folks offscreen are just as eager for glitz as the ones onscreen.
3. Water.
It fell from the sky for most of the first week, in a steady downpour that turned the conversation from the movies to the weather and led to complaints like this one from Jeff Wells: "one of the most unpleasant film festivals I've ever attended … from a meteorological perspective. Constant rain showers, cool gusty winds, dampness, occasional downpours, lost umbrellas, sweaters, damp socks … just awful."
Of course, Movies.com's Erik Davis did put it in perspective: "Rain in Cannes? Please. I'll take it over having to walk half a mile in a blizzard at Sundance to see a midnight screening at the Library."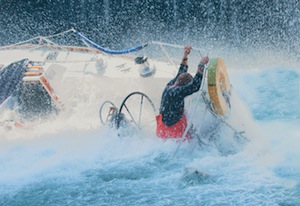 But water was also omnipresent in one of the more intriguing and well-received films to screen at the festival: J.C. Chandor's "All Is Lost," which takes place entirely at sea on a sailboat manned only by Robert Redford, who barely speaks as he spends the entire movie trying to survive the elements.
Screening out of competition, the movie was not only a triumphant change-of-pace for Chandor, whose debut was the talky economic-crisis drama "Margin Call," but it seems destined to put Redford in the thick of the Oscar Best Actor race – perhaps alongside his Cannes colleague Oscar Isaac ("Inside Llewyn Davis"). Michael Douglas would be in the mix, too, for "Behind the Candelabra," except that his movie is from HBO and he'll have to settle for winning an Emmy.
4. Breakouts.
Cannes is often more about established auteurs than new faces, but this year's festival did manage to place a few newcomers in the international spotlight.
One is Oscar Isaac (right), who plays the title character in "Inside Llewyn Davis," a job that requires him to both act and be a creditable folk singer performing songs in their entirety onscreen. At a Cannes press conference, the Coen brothers admitted that they didn't think their movie could be made because they didn't think anybody could meet the demands of the role – but when they saw Isaac (whose past roles include a chauffeur in "Drive" and "Fartman" in "Lenny the Wonder Dog"), they knew that it would be possible.
The 19-year-old French actress Adele Exarchopoulos, who stars in "Blue Is the Warmest Color," is another of the festival's breakout stars, with the added bonus that she's now officially a Palme d'Or winner, too. Steven Spielberg's jury took the unprecedented step of giving the Palme not just to director Abdellatif Kechiche, but to stars Exarchopoulos and Lea Seydoux – a way of getting around the Cannes rule that says the Palme winner can't also be given any acting awards.
And you should probably put "Fruitvale Station" director Ryan Coogler on the breakout list as well. His debut film already won plaudits at Sundance, where it won the audience and jury prizes, but adding an Un Certain Regard berth and the Avenir Prize from that section's jury gives him cachet on an international level.
5. TV.
According to reports, Steven Soderbergh didn't want his HBO movie "Behind the Candelabra" (left) to screen in competition, but was persuaded by the festival's Thierry Fremaux to accept a berth there.
And it's certainly a sign of changing times that the director of the world's premiere film festival goes the extra mile to put a made-for-television movie in its most prestigious section.
Certainly, some of that was due to the fact that it was Soderbergh, who won the Palme d'Or for his first film, "sex, lies and videotape," 24 years ago. But the rest of the fest also had a strong TV presence.
Jane Campion, currently in the Emmy race as the director of the Sundance Channel miniseries "Top of the Lake," was president of the Cinefondation and Short Film Juries.
"Drive" and "Only God Forgives" director Nicolas Winding Refn said that TV is "sometimes much more satisfying" than film. Alec Baldwin, who appears in James Toback's documentary "Seduced and Abandoned," worked the Croisette and talked about how rewarding television work is, and how "I wonder if I'll ever make another movie again."
The Toback film was picked up at Cannes – not by Weinstein or IFC, but by HBO, which had a strong presence at the festival. The cable network brought Stephen Frears' documentary "Muhammad Ali's Greatest Fight," which screened out of competition.
"I don't see anybody talking about movies the way they talk about TV right now," Soderbergh said at the "Behind the Candelabra" press conference.
One naysayer was perhaps an unlikely one: Jerry Lewis, who at his own press conference cracked, "Never watch television if you can help it."
Even at Cannes, they clearly aren't listening to Jerry.