Most of us went to high schools where the marching band, on a good day, could make it through the national anthem on key. (Where I went, the band was notorious for breaking into the Ewoks' "Yub Nub" song from "Return of the Jedi" during football time-outs.)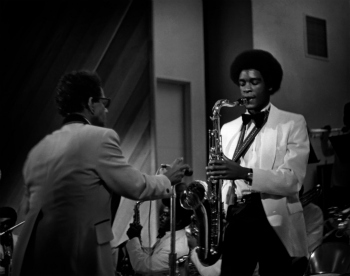 But students at the predominantly black Kashmere High School in Houston in the 1970s were lucky enough to witness genius — the Kashmere Stage Band, an extraordinary group of young musicians under the tutelage of musician and composer Conrad O. "Prof" Johnson.
While white schools had stage bands that played a mealy-mouthed, old-fashioned brand of jazz, Prof Johnson's kids were playing funk, and they were playing it exceptionally well.
No less exceptional is the new documentary "Thunder Soul." While most docs are lucky to have one fascinating story to tell, this one has two — the creation and rampant success of the Kashmere Stage Band during its Nixon-era heyday, and the reunion of its members in 2008 to play a concert to honor Johnson, who was in his 90s.
The first time you hear the band's signature theme "Kashmere," composed by Johnson, it's a revelation. This doesn't sound like a high school band; this is funk at its purest – irresistible rhythms combined with a horn section you can feel in your reproductive organs.
And the miracle of the Kashmere Stage Band isn't just that it played a different style of music and that it did it with aplomb, it's that Johnson took a bunch of teens and drummed discipline and respect into them with a loving teaching style.
As the former students get ready for the reunion concert, with many of them picking up their instruments for the first time in decades, one Kashmere alum after another talks about their reverence for Johnson, how valuable he was to them as both a teacher and as a father figure, and how their lives were changed for the better after their experience with the band.
"Thunder Soul" charts the group's rise — after it won nationals in 1972, it was invited to perform in Europe and in Japan — as well as its specific place in pop culture history, inheriting its parents' victories in the civil rights movement of the 1960s and enjoying what would one of the greatest eras both for music and for hair. (The interviewees reminisce about James Brown and afros with equal nostalgia.)
This is a life-changing-teacher movie along the lines of "To Sir, With Love" or "Mr. Holland's Opus," with the notable difference of being a true story. If you can get over some of the redundancies (when the Kashmere alums are interviewed about what it was like to return to the band room and see their old chums, their answers are all pretty much the same), this is a movie that captures the pure joy of soul music at its most vibrant and vital.
Budget cuts and educational bureaucracy eventually put an end to the Kashmere Stage Band, but musical archivists and hip-hop DJs discovered the band's old recordings and brought their sound to a new millennium. (The reunited band members, we are told at the end, are still available for gigs.) And "Thunder Soul" — in an era when arts education is frequently on the chopping block — reminds us of the impact that great music can have on both the listener and the performer.