Tim Hetherington, who was killed in Libya while covering the uprising against Moammar Gaddafi, was a classic photojournalist who eagerly embraced and adapted to the new media landscape. He was a photographer, and a filmmaker, and an editor, and cinematographer, and a heck of a nice guy.
But the crucial designation, and the one that Hetherington would probably consider the most important, was this: he was a journalist.
Also read: 'Restrepo' Filmmaker Tim Hetherington Killed in Libya (Updated)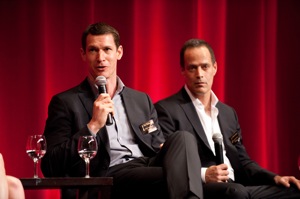 Hetherington's photojournalism from conflict zones around the world (Liberia, Afghanistan, Libya), and the Oscar-nominated movie he co-directed with Sebastian Junger, "Restrepo," was the work of a man who told TheWrap "our job is to report" in an interview last year. (AMPAS photo: Hetherington, left, and Junger)
"When people wanted his work to take a side, Tim would say, 'No, we're journalists,'" said Sara Terry, a photojournalist and filmmaker who met Hetherington when they both had work in the "Moving Walls" photo exhibit in New York in 2005.
"He always said, 'People make changes. We tell stories.'"
Telling the story of the ordinary soldier in Afghanistan was what led Hetherington to make "Restrepo," in which he and Junger lived with a battle company on and off for a year, and deliberately stayed away from political statements or even outside interviews that would tell viewers anything but what the soldiers experienced.
"I'm an image maker, and I think I understand visual narratives," he told TheWrap. "And in some ways, video can communicate the intensity of what combat is like better than any other medium."
Hetherington was drawn to arenas of conflict, but, said Terry, "he wasn't a bang-bang boy, he wasn't in it for the adrenaline rush. He knew where he was, had his feet on the ground and had a lovely, clear sensibility that always showed the human side of the story."
At times, he did so at great risk to himself. "I can count on a single hand the times when I thought, I could have been killed," he said in a 2010 interview with Anne Thompson at Thompson on Hollywood. "Really, a situation where you think, this is it, I've gone too far now, my family's going to be so angry with me, they're going to be so upset, what have I done? And definitely in Afghanistan I had a situation like that.
"And to come out of that and to try and digest that, it's a difficult thing."
TheWrap encountered Hetherington several times over the course of awards season, from an early interview in his publicist's office to red carpets at the DGA Awards and the Oscars, where he and Junger seemed thoroughly bemused by the star power but thankful that it might cast a little more light on the story they were telling.
But the undercurrent was clear when they stopped to talk: Hollywood is big and bright and crazy, but we're really just working journalists.
In the wake of the Oscar nomination, said Terry, Hetherington was exploring other opportunities that could have taken him out of war zones.
"He was talking to people about what he was going to do next, and he wasn't going to be a conflict photographer forever," she said.
"That's the hardest thing about this: we've lost a really insightful commenter on the human condition, without seeing where he was going to go from here."
(Photo by Matt Petit/AMPAS)