The Toronto International Film Festival tried something new on its opening night Thursday: Instead of kicking off with a Canadian-made film unlikely to be seen south of the 49th parallel, they went with a major studio Hollywood action flick starring Bruce Willis.
And TIFF's Day One ended after midnight with another would-be action hit: "Dredd 3D," Lionsgate's latest entry in the "Judge Dredd" franchise – which was considerably delayed from its 11:59 p.m. start time because the North American premiere of "On the Road," which also happened to be the first red-carpet appearance of Kristen Stewart since her recent tabloid messiness.
But first there was "Looper." Though it was an unusual opener for Toronto, the film isn't entirely out of place at a film festival, because it's the rare action film that requires audiences to bring their thinking caps, not just their thirst for high-octane carnage.
A brainy and kinetic sci-fi thriller, Rian Johnson's film stars Joseph Gordon-Levitt as Joseph Simmons, a hit man who kills anonymous subjects sent to him from the future, and Bruce Willis as the 30-years-older Simmons, who's been sent back from the future to be eliminated.
Because it's about time travel, "Looper" deals with the typical conundrums and what-ifs, with Gordon-Levitt at one point sending a message to his older self by cutting a few words into his arm, which suddenly appear to Willis as scars. But while it demands attention and Johnson deliberately keeps viewers off balance, it never gets bogged down in the minutiae of time travel; the film moves too fast to dot all the is and cross all the ts, and it's better for that.
At a press conference the afternoon of the premiere, Gordon-Levitt and Willis were bombarded with silly time-travel questions: "If you could travel to any other time, when would it be?" "If you could go back in time and see your younger self, what would you tell him?" "If you could travel back to the highlight of your film career, what would it be?"
(These came from three different reporters, not a single person with a one-track mind.)
The two actors answered dutifully if unenthusiastically (Gordon-Levitt would go to the future because he's an optimist, and Willis would tell his younger self to not take himself so seriously), but were more engaged talking about the challenges of playing different versions of the same people – which is to say, Bruce Willis acted like Bruce Willis and Gordon-Levitt acted like a younger version of Bruce Willis.
For Gordon-Levitt, that meant heavy makeup, audio recordings from old Willis movies on his iPod, and dinners spent observing the older actor. For Willis, it meant letting go of the nagging thought that the whole concept was ridiculous.
"The idea of acting opposite somebody who's playing a younger version of you is just impossible," he said. "But at some point you just have to surrender to it.
"I mean, a good science-fiction movie is a kind of magic trick. And I was surprised when I saw this movie, to see that our magic trick worked."
Sony will release "Looper" on Sept. 28, whereupon its box-office returns will certainly mop the floor with any other TIFF opener in recent years. The festival used to stick with films from Canadian directors that were little seen outside of Canada ("Passchendaele," "Fugitive Pieces," "The Journals of Knud Rasmussen" and "Score! A Hockey Musical" among them), though last year they went rock 'n' roll with Davis Guggenheim's U2 documentary "From the Sky Down."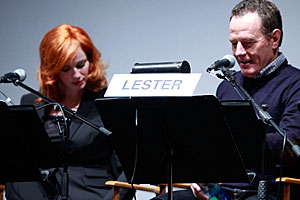 "Looper" drew a packed and enthusiastic crowd to the huge Roy Thomson Hall, officially kicking off the festival. At the same time, a few miles north, Jason Reitman guided Bryan Cranston, Christina Hendricks and others in a live reading of the "American Beauty" script.
Like Reitman's well-received readings at the Los Angeles County Museum of Art, this one went over like gangbusters – even Mae Whitman, who read the part played in the film by Thora Birch, tweeted afterward, "Reading American Beauty with @bryancranston and the rest of the gang was too good and real. Thank you @JasonReitman."
But the reading also started late and ended almost half an hour past its allotted time slot, which delayed the "On the Road" premiere in the same theater, the Ryerson.
Director Walter Salles' Jack Kerouac adaptation has been trimmed and re-edited since it drew mixed reviews at Cannes, and it played very well in front of an audience that had to wait an extra hour for the movie to start because of what festival director Piers Handling said were "technical difficulties," but which certainly had something to do with the fact that Reitman's audience didn't even exit the theater until well after "On the Road" was supposed to have started.
That delay meant that Kristen Stewart's first red-carpet walk since her dalliance with "Snow White and the Huntsman" director Rupert Sanders became public was probably longer than she'd anticipated; Stewart and co-stars Kirsten Dunst and Garret Hedlund worked the photo and interview lines and signed autographs for almost an hour while the theater was being emptied and prepped.
Stewart held up remarkably well for someone who's been periodically looking glum on red carpets for years — and after changing from heels to black high-top sneakers, she gamely fielded a gushing question from a fan and a seemingly irksome one from Handling in the post-film, post-midnight Q&A.
Handling mentioned how the role was a brave and daring one for her, an obvious reference to the fact that Stewart has a couple of nude scenes in the film, and asked her if it was difficult.
"No," said a plainly exasperated Stewart quickly. "It was difficult for other people, I guess."
She looked down, shook her head, let out a pffft sound, and then began rambling, barely audibly, about how actors who do nude scenes sometimes say that it didn't feel like it was them doing it, but that for her "I wasn't someone else at all."
Warming to the question, she admitted that the role was a huge departure for her, and that the real question was how do you portray that character, a young woman who endures neglect and humiliation because she's madly in love with Hedlund's character. "How do you handle that?" she asked. "She's a bottomless pit, that's the answer."
As for the film itself, "On the Road" is reportedly tighter and trimmer than the version that screened at Cannes, and at times it captures the careening, manic energy of Kerouac's seminal novel. But as earlier reviewers noted, that book is all but unfilmable, and voiceovers in Kerouac's language can't always compensate for an often deliberately aimless narrative that doubles back, repeats itself and bogs down by the time our heroes make it to Mexico late in the movie.
Still, as Salles said, "On the Road" is all about the journey – and at least in Toronto, the audience was happy to go along for that ride.
Friday night's TIFF premieres are a formidable lot indeed, including Ben Affleck's "Argo," Paul Thomas Anderson's "The Master," Derek Cianfrance's "The Place Beyond the Pines," Sally Potter's "Ginger and Rosa," Noah Baumbach's "Frances Ha," Harmony Korine's "Spring Breakers," Snoop Dogg's – sorry, Snoop Lion's – "Reincarnated," Sarah Polley's "Stories We Tell" and Martin McDonagh's "Seven Psychopaths."