Barry Levinson's upcoming movie about the Gotti family just got a little more, well, familial: Kelly Preston has signed on to play opposite her husband, John Travolta, the movie's producer announced Wednesday.
Travolta will play "Dapper Don" John Gotti. Preston will play his wife, Victoria Gotti.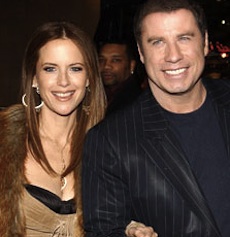 Their daughter will play … their daughter. Ella Bleu Travolta has the role of Angel Gotti.
"Gotti: Three Generations" also stars Joe Pesci as Gotti lieutenant Angelo Ruggiero. Lindsay Lohan has signed on to play Kim Gotti, the wife of John Gotti, Jr.
Actor-writer Leo Rossi wrote the screenplay. Marc Fiore is producing, Fay Devlin, Michael Froch, Rob Logozio, Marty Ingels, Anson Downes, Linda Favila are executive producers.
Nick Cassavetes originally was set to direct, but he dropped out because of scheduling issues.
The movie focuses on the head of the Gambino crime family, and his relationship with his son, John Gotti Jr., who became a "made man" when he was 24.
ICM is handling worldwide sales.