Maybe "The Hobbit" will live up to expectations and become the movie that rocks Comic-Con when its footage is previewed on Saturday.
Or maybe it'll be "The Twilight Saga: Breaking Dawn – Part II," the last installment in a franchise that has certainly raised the temperature in Hall H at the San Diego Convention Center a few times before.
Or Quentin Tarantino with new footage from "Django Unchained." Or a dark-horse candidate like Sam Raimi's "Oz the Great and Powerful" or Neill Blomkamp's "District 9" follow-up "Elysium."
Also read: Comic Con 2012: 'Twilight,' 'Breaking Bad,' 'The Hobbit' and 20 Reasons to Go
Whatever movies get the crowd talking will be following in a long Comic-Con tradition. While the event began in 1970 as a celebration of, well, comics, it has morphed over the years into a celebration of the comic world that also doubles as a potent marketing tool for movie studios.
In that world of comic aficionados and fantasy freaks and the cutting edge of the avant nerd, movies can have a glorious launch. Of course, the Comic-Con buzz doesn't always translate to commercial success – sometimes, what happens in Hall H stays in Hall H.
Also read: Comic-Con: What 'Walking Dead' Boss Glen Mazzara Is Reading
But when it happens (particularly in that cavernous 6,500-seat room), it can be a moment to remember.
Here are some of those moments from the last decade at Comic-Con:
1. It's "Twilight" time for your anonymity, Rob and Kristen and Taylor
When the first installment in the "Twilight" saga came to Comic-Con in 2008, the books were known but the film's stars had yet to experience the adulation they've seen pretty much every day since then.
The screaming, shrieking and swooning started when Robert Pattinson, Kristen Stewart and Taylor Lautner walked onstage and didn't stop for much of the presentation. (In fact, it was still going when they've returned to Comic-Con through 2011, above.) "It's kind of the first time I've seen any of them, so I didn't really expect it," Pattinson said of the avid fans. "It just baffles me."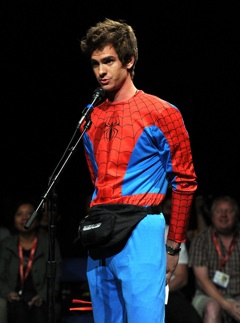 It also brought something of a new demographic to Comic-Con: women who weren't dressed like Princess Leia.
2. Meet the new Spider Men
Andrew Garfield made quite an entrance at Comic-Con last year: The British actor walked down the aisle of Hall H in a cheap Spider-Man costume and acted as if he were just another obsessed fan who wanted to ask a question of the filmmakers. But after a minute he dropped the American accent and took off his hood, to reveal that he was indeed the guy who'd inherited the role from Tobey Maguire.
"I needed Spidey in my life when I was a kid, and he gave me hope," said Garfield to the fans. " … I think that we all wish we had the courage to stick up for ourselves more, to stick up for a loved one more, or even a stranger you see being mistreated, and Peter Parker has inspired me to feel stronger."
Also read: Comic-Con's Andrew Garfield: 'Spider-Man Saved My Life'
Still, in a way Garfield was upstaged a bit by the film's chief villain, Welsh actor Rhys Ifans. Backstage, Ifans got in something of a spat with a security guard – and after he shoved her, he was detained by the police.
The brouhaha led to a lot more publicity for Ifans and "The Amazing Spider-Man" – and if nothing else, it burnished the bad-guy credentials of an actor best known for playing the goofy but harmless roommate in "Notting Hill."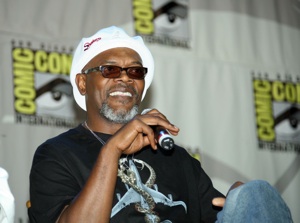 3. Those motherf***ing snakes on that motherf***ing plane
Long before Comic-Con, "Snakes on a Plane" was an internet sensation. Based just on the title and the presence of Samuel L. Jackson in a leading role, fans ran wild online, cranking out video parodies, persuading New Line not to change the title to the significantly more prosaic "Pacific Air Flight 121" and insisting that Jackson's character should have a moment in which he snapped and said, "I've had it with those motherfucking snakes on this motherfucking plane!"
So when Jackson showed up at Comic-Con along with director David Ellis, co-star Kenan Thompson, snake wrangler Jules Sylvester and a 20-foot anaconda, the result was one of the wildest, most raucous and most enthusiastic scenes to ever take place in Hall H.
There were lengthy clips from the film and live snakes and a reel of very funny fan-made internet parodies. And, yes, Jackson said that line.
You can say what you want about the movie, which drew lukewarm reviews and disappointing box-office figures. For one afternoon, in one hall at Comic-Con, "Snakes on a Plane" was unquestionably the greatest motherf***ing movie ever made.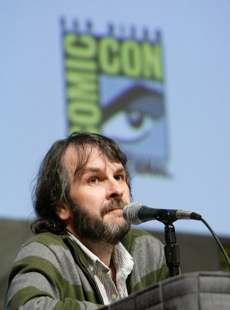 4. Peter Jackson finally makes it to San Diego
The New Zealand-based filmmaker was something of the King of Comic-Con during the years when he was making the "Lord of the Rings" movies, which typically sent a few actors and some fresh footage to San Diego.
But Jackson himself could never quite make the trip – he was always tied up filming one of the "LOTR" films, or later working on "King Kong." He generally appeared on the giant screens in Hall H via video link, drawing huge ovations as he explained how much the convention meant to him and how much he'd really like to be there.
He finally made it in 2009 – not on behalf of "The Hobbit," but to appear alongside director Neil Blomkamp on behalf of "District 9," the low-budget sci-fi film that went on to score a Best Picture Oscar nomination.
Also read: First, 'The Hobbit,' Then 'District 9'
It wasn't exactly the way one would have envisioned Jackson's Comic-Con debut – a gold chariot pulled by Hobbits would have seemed more appropriate – but it was Peter Jackson in the flesh, and that was enough for the faithful.
And when he subsequently did a Comic-Con panel alongside James Cameron, even their talk about the industry-wide depression they were feeling couldn't dampen the enthusiasm of the fans who were in geek heaven.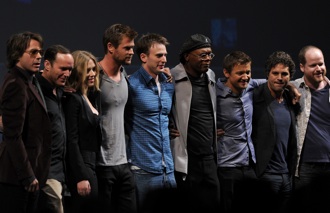 5. The Avengers show up – all of 'em
Almost a year before "The Avengers" opened to record-breaking business, Disney and Marvel brought the superhero team to Comic-Con for their first public appearance en masse. And while it wasn't a surprise that fans went nuts for Captain America and the Hulk and Hawkeye and the gang, the panel was a sensation because the studio rounded up the entire crew.
On the stage of Hall H, they had Robert Downey Jr. (Iron Man), Scarlett Johansson (Black Widow), Chris Hemsworth (Thor), Chris Evans (Captain America), Samuel L. Jackson (Nick Fury), Jeremy Renner (Hawkeye) and even Mark Ruffalo, who'd made his deal to play the Hulk hours before his Comic-Con appearance.
Director Joss Whedon also appeared, as did Clark Gregg, who plays Agent Colson.
Also read: Avengers Assembled: Mark Ruffalo as Hulk, and Thor Thunders In
By the time the next Comic-Con kicked off, that superhero posse would be approaching the $1.5 billion mark in international box-office receipts.
6. "Scott Pilgrim vs. the World" rules the world (of Comic-Con)
It might be another case of a movie that would never again find a room quite as hospitable as the one it found at Comic-Con. Based on the graphic novel about a geeky teenager (Michael Cera, right) who finds he has secret powers that he must use to defeat his girlfriend's seven evil exes, Edgar Wright's energetic and stylish action comedy was tailor made for the sneak preview it received in San Diego in 2010.
Not only did the film become the talk of the convention that year, it drew what were for the most part rave reviews. "Scott Pilgrim" is one of the most radical, fresh, what-the-heck-just-happened movies to come out of Hollywood in a long, long time," wrote TheWrap.
Also read: 'Scott Pilgrim vs. the World' Is Deeply Rad
The euphoria didn't exactly last: A month later, TheWrap wrote another story titled "5 Reasons 'Scott Pilgrim vs. the World' Tanked." But the film has a healthy 81 percent positive Rotten Tomatoes rating, and it acquired a stronger cult following on home video.
7. Two amigos, and "Children of Men"
Guillermo del Toro has long been a Comic-Con favorite, and the panels for his own projects have always been favorites at the convention. But in 2006, he made an unannounced appearance in San Diego to serve as moderator of a Q&A with fellow Mexican director Alfonso Cuaron, whose brilliant dystopian drama "Children of Men" would be released later in the year.
The film's trailer was greeted enthusiastically, but Cuaron wowed the crowd even more when he showed a lengthy battle scene and explained how it was shot in a single take.
For his part, del Toro proved to be a marvelous interviewer and raconteur, at one point telling a lengthy and uproarious story about a time the two men got lost in a foreign city and insisted on putting a night of drinking on Cuaron's room tab – in a hotel, they eventually realized, that only looked like the one where Cuaron was staying.
An added bonus: Unlike many an impressive Comic-Con presentation, in this case "Children of Men" turned out to be every bit as good as its first impression.
8. "300" x 4
Zack Snyder wasn't much of a known quantity at Comic-Con in 2006: He'd directed the remake of "Dawn of the Dead" a couple of years earlier, but much of the buzz around the panel for his upcoming film "300" came from the fact that it was drawn from a graphic novel by comic legend Frank Miller.
Miller was on hand for the presentation, as were stars Gerard Butler and David Wenham. But the real star of the show was the bloody and violent trailer, which Snyder prepared for Comic-Con and which he said had definitely not passed muster with the MPAA.
The crowd reacted with such enthusiasm – both at the action and the film's stark, graphic look – that Snyder had to replay the trailer three more times before the panel ended.
9. Han Solo comes to town…a little late
Harrison Ford is another Comic-Con icon who didn't appear for the projects that made him an icon. Long after he'd finished his run as Han Solo in the "Star Wars" movie, and two years after his last turn (to date) as Indiana Jones, the actor came to Comic-Con for "Cowboys & Aliens," which had a panel at the festival in 2010 after a month of shooting.
Ford was led to the Hall H stage in handcuffs, flanked by two security guards; the gag was meant to play off the actor's past reluctance to appear at Comic-Con, though some took it as a reference to the stabbing that had taken place in the hall earlier in the day. He received a lengthy standing ovation and told the first fan who asked a question that he'd never expected that kind of reaction when he was starting out.
"I just wanted to make a living as an actor," he said. "I didn't know about this."
Ford, and "Cowboys & Aliens," were back at Comic-Con the following year for the film's premiere – which was followed by a release that drew disappointing returns.
10. A hefty dose of "Avatar"
James Cameron doesn't do things halfway. His 2009 blockbuster "Avatar" was still five months from being released when he went to San Diego that summer, but he didn't settle for showing a trailer and a few minutes of exclusive footage.
Instead, Cameron showcased seven complete scenes, making up nearly half an hour of previously unseen 3D footage. He also brought along stars Sigourney Weaver and Zoe Saldana, and was introduced by Fox Chairman Tom Rothman.
The fanboys raved, the bloggers agreed, expectations mounted … and in a sign that not everything that wows Comic-Con fizzles when it leaves San Diego, "Avatar" went on to become the top-grossing film of all time.