French film star Daniel Auteuil came to international prominence a quarter-century ago when he played the dim-witted nephew of evil land baron Yves Montand in "Jean de Florette" and "Manon of the Spring," two films based on epic novels by Marcel Pagnol. For his directorial debut, Auteuil returns to the well, as it were, with another Pagnol adaptation, "The Well Digger's Daughter."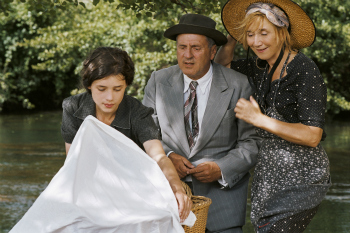 American audiences who like their French period pieces extra-French — complete with sun-dappled fields, tree-lined avenues, full-lipped young girls in sundresses and dashing young men in uniform flying World War I biplanes — will eat up this cassoulet with a spoon, but choosier audiences may find this dish tastes a little too familiar.
It's a story you've heard before: Rich boy and poor girl fall in love, rich boy gets called to war, rich mother burns the letter he left for his girlfriend, heartbroken girl discovers she's pregnant. This was probably pretty hoary stuff in 1940, when Pagnol wrote the original French film, and time has not been kind to its melodramatic excesses.
Also read: 'The Intouchables' Review: Feel-Good French Import Condescends
Still, there's no denying that Auteuil has a genuine love for the material and an enthusiasm for his first stab at filmmaking. (He's currently remaking Pagnol's "Marius"/"Fanny" /"César" trilogy.) His adoration of the wide-open spaces of Provence and of the relative simplicity of turn-of-the-century country life comes through in every frame.
Auteuil's got real skill with actors as well, summoning empathetic performances from his young lovers (played by Astrid Bergès-Frisbey and Nicolas Duvauchelle), the awful rich parents (Sabine Azéma and Jean-Pierre Darroussin, who previously played an adulterous couple in the hilarious "La bûche") and the older peasant (Kad Merad) who loves the poor girl — not to mention Auteuil's own alternately hilarious and heartbreaking acting work.
Throw in gorgeous cinematography by Jean-François Robin (almost any shot of the film would receive the approval of the French Tourism Board) and a soaring score by modern master Alexandre Desplat, and you've got an unchallenging but utterly palatable movie to take your subtitle-reading grandma to see on a Sunday afternoon.