It's been a very good year for the box office.
Worldwide box office rose 5.2 percent in 2008, to a total of $28.1 billion, fueled by foreign ticket sales -- which now comprise 65 percent of the total, an increase of 17 percent over the last five years, according to a new report by the Motion Picture Association of America.
And it's not just foreign that's fueling the business. Domestic sales hit their highest numbers in history, raking in $9.8 billion -- a 1.7 percent increase from 2007 and up 6.8 percent over five years ago, the report said. And some 1.4 billion people frequented movie theaters in the U.S. and Canada.
The report -- Theatrical Market Statistics for 2008 -- was released Tuesday morning, just prior to a speech by MPAA chairman Dan Glickman at the annual ShoWest convention in Las Vegas.
In his speech, Glickman acknowledged the crucial role foreign box office has come to play. "This truly is a global medium, and that's an important point right now," he said. "Now is not the time to build walls … Whether it's Indian films, U.K. films, French films, American films or the many others, it's important, culturally, diplomatically, [and] economically that we strive toward openness. That we share our stories around the world and that we grow together rather than apart."
But while box office was up last year and the number of movie releases rose 1.8 percent to 610 releases, film production dropped dramatically. Films produced in the U.S. dropped 20.7 percent, compared with 2007. According to the report, the drop was due to "to economic and labor issues" -- a reference to the 100-day Writers Guild of America strike that effectively shut down Hollywood.
The small boost in releases are largely thanks to non-MPAA-affiliated independent companies, possibly another result of the writers' strike. Independent films comprised 73 percent of domestic releases and MPAA-affiliated studios released 27 fewer films than in 2007.
Glickman did not refer to the production slowdown directly, but he spoke of the entertainment industry's contributions to the national economy and acknowledged below-the-line production workers and ancillary employees.
"All of us here understand what a powerful growth engine this creative industry has become -- $60 billion in annual economic activity and 1.5 million American jobs: ticket takers, concessionaires, actors, writers, set designers, costumers, make-up artists, stuntmen. Yes, we love our Toms and Wills and Brangelinas. But like any industry, the vast majority of folks in our business are middle-class workers earning a living wage."
Glickman also advocated film tax-incentive programs adopted by California, Louisiana, New York, Michigan, New Mexico and other states as a means of increasing production.
The chairman referred to film piracy only briefly, but unlike in years past, he didn't go into any detail about the MPAA's efforts to combat film piracy. The studios cut $20 million from the MPAA's budget earlier this month -- a move that is expected to reduce the organization's multi-million-dollar campaign to stifle global piracy.
Glickman instead focused on the film industry's bright immediate future. He noted that admissions are up 8 percent for the first 10 weeks of 2009 -- proof that Americans are flocking to the theaters during the recession.
"Seven bucks nationally for a couple of hours of great entertainment is proving a terrific value. Why? Great movies. Tough times. Of course, we don't wish the challenges we face today on anyone. But the fact is when the going gets tough, the tough get going to the movies for some relief," said Glickman, who noted that the box office will continue to boom thanks to upcoming tentpole films such as "Bruno," "Star Trek," "Transformers 2: Revenge of the Fallen" and "X-Men: Wolverine."
Other statistics from the MPAA report:
Not surprisingly, PG-13 rated big-budget summer tent-pole films contributed the most millions to the domestic box office. "The Dark Knight" led the pack with $531 million, followed by "Iron Man's" $318.4 million, "Indiana Jones and the Kingdom of the Crystal Skull" with $317.1 million and "Hancock" with $227.9 million. "WALL-E," "Kung-Fu Panda," "Madagascar: Escape 2 Africa," "Twilight," "Quantum of Solace," and "Dr. Seuss' Horton Hears a Who!" rounded out the Top 10.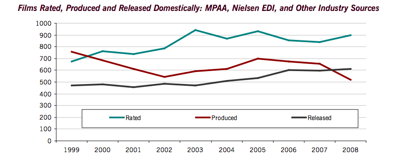 Paramount claimed six films in the Top 20 -- the most of any studio.
The number of digital screens also expanded in 2008, despite the credit crunch -- there are now 25 times the number of digital screens worldwide than there were five years ago. The number of digital screens rose 33 percent to 8,614 -- 842 of which were added in the U.S.