Has someone been joining Harold and Kumar for a little smoke?
Reports may be flying around the internet in the last 24 hours that onetime actor Kal Penn was returning to Hollywood for a third in the "H&K" stoner series, but no one has actually told the White House yet.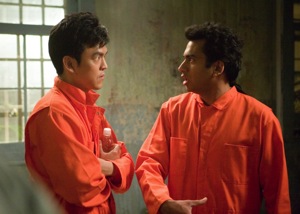 The associate director of public engagement for the Obama Administration is still firmly ensconced at 1600 Pennsylvania Avenue.
Penn "is honored to serve in this administration and has no announcements to make about his tenure here at this point," Shin Inouye, the administration's director of specialty media told TheWrap – using Penn's real name of Kalpen Suresh Modi.
And a well-placed individual within the White House also told TheWrap that news of Penn's departure from D.C. came as a surprise to them, as "no one told us he was leaving; he's still working here."
Earlier Friday, White House Press Secretary Robert Gibbs told the media that he hadn't heard about Penn leaving, according to ABC News.
Though the Hollywood Reporter said on Thursday that Mandate, the film's production company, "recently completed deals with John Cho and Kal Penn to reprise their roles," a studio insider would not confirm to TheWrap that a deal was in place. Calls to Mandate and Penn's representatives were not immediately returned.
This rumored new film is supposed to come out at the end of the year with a Christmas theme and perhaps in 3D, but the studio insider told TheWrap that no start date had yet been set.
From the very beginning, how long the actor – whose character on the TV hit "House" was killed off in April 2009 — would actually spend working in Washington was always treated like a minor State secret. Indeed, rumors began spreading almost immediately after the announcement that he would be joining the Obama administration.
Thought that he would be back sooner rather than later were heightened when, in June, TheWrap discovered that he still hadn't been given any actual duties yet for the administration. Despite that, he said that he felt it was "the greatest honor" working as the President's "point person for the Arts and the Asian community."
A month later, after he was finally put to work, he dodged questions from TheWrap about whether he would return to Hollywood in 2010 to make another "Harold & Kumar" movie or go back on TV like the time he spent on "House."
"As far as I'm concerned, I enjoyed those films, I had a lot of fun doing them," the actor said from Washington, "but we're a very particular and unique time in history and I'm incredibly honored to be here and to serve in the capacity I'm serving in and I hope that the folks who are making those films respect my decision to take a sabbatical."
(Also read: "Harold & Kumar writers to direct 'American Pie.'")