Bruce Springsteen electrified audiences at the South by Southwest music conference and festival in Austin, Texas on Thursday with a call to arms for a new generation of musicians.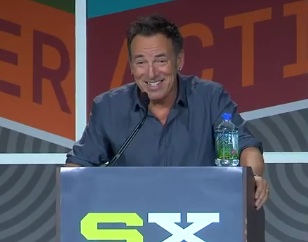 "Rumble, young musicians, rumble," The Boss told the crowd at his keynote speech.
"Open your ears, open your hearts. Don't take yourselves too seriously and take yourself as seriously as death itself," he added.
In a discursive, hour-long address, Springsteen traced his own musical influences, paying tribute to such rock greats as Johnny Cash, the Beatles and Phil Spector, while saving special praise for Elvis Presley.
Also read: Clarence Clemons, Iconic Sax Player for Bruce Springsteen, Dies at 69
The pompadoured hip-shaker gave audiences "a new way of being an American," Springsteen argued.
"It wasn't just the way Elvis looked," he added. "It was the way he moved that made people crazy, pissed off, and driven to screaming ecstasy."
This would not have been possible, Springsteen maintained without the advent of television, saying that the internet is having a similar impact on today's aspiring musicians.
Story continues after the video:
Rock remains, in many ways, a young man or woman's game, Springsteen said.
"Still popular music continues to provide its primary function as youth music, as joyous argument starter and as the subject of long, booze-filled nights of debate with Steve Van Zandt," he said.
Yet, the 62-year old Springsteen was back at it on Thursday evening, delivering a bravura performance along with the E Street Band that mixed in classic anthems such as Jimmy Cliff's "The Harder They Come" alongside songs from his latest album, "Wrecking Ball."
It was evidence that Springsteen remains, in the words of another of The Boss' musical influences, forever young.