Bruce Springsteen, Paul McCartney, and Mick Jagger all electrified fans at Madison Square Garden during Wednesday night's 12-12-12 concert for Hurricane Sandy relief, but it was Kanye West who ruled the roost on Twitter.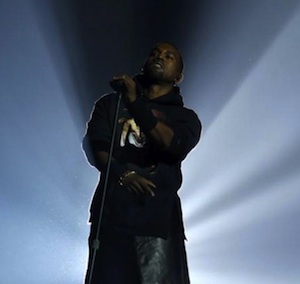 West, who took the stage wearing a leather skirt, sparked the most conversation across social media for the night, according to data from Bluefin Labs.
His performance of "Clique" generated more social comments per minute of any one moment during the concert, edging out Bill Joel by more than 5,000 comments a minute.
West was also the most discussed celebrity across Twitter and Facebook, besting McCartney, who performed with former Nirvana members Dave Grohl and Krist Novoselic.
As if West needed another ego boost following his six Grammy nominations.
As far as the entire event goes, the concert compares favorably to the Golden Globes and MTV Movie Awards but couldn't touch annual extravaganzas like the Grammy Awards or MTV's Video Music Awards.
Here's a look at how that breaks down:
2012 Grammys – 13 million comments
2012 VMAs – 12.8 million
12-12-12 Concert – 1.5 million
MTV Movie Awards – 1.5 million
Gold Globes – 1.1 million