President Obama hit Miami Beach on Tuesday to raise money for his last White House run, and Marc Anthony was in on the act.
About 2,300 paying guests, most of whom shelled out $100 per ticket, caught Obama and Anthony on stage at the Fillmore at the Jackie Gleason Theater. Proceeds from the event went to the Obama Victory Fund, a joint fund-raising committee comprised of Obama for America, the Democratic National Committee and several state Democratic parties, according to a White House pool report.
Two key concerns, education and immigration, were represented by the civilian chosen to introduce the president, 32-year-old Maytee Lopez, an American-born daughter of immigrants trying to finish her college degree while working full-time and facing daunting interest hikes on her student loans. "She is an example of what this campaign is all about," Obama said as he took the podium.
The president also thanked Anthony (pictured above), calling the salsa singer and actor "a great friend and an extraordinary person" who "sings and dances pretty good." Anthony used the platform not only to perform four songs for POTUS but also to raise support for Obama's campaign among Latino voters – a key demographic for the president both on the national level and in Florida, a crucial state in his 2008 win.
Also read: Marc Anthony Joins Obama Efforts With Concert Fund-Raiser, Video
At the core of Obama's speech was the idea that the American Dream has become a receding mirage for millions of Americans, and that reclaiming it would be the focus of his second term. On his timeline, the crisis had been underway for a decade before he took office.
"We'd gone through a decade where manufacturing was leaving our shores, and a surplus had turned to a deficit; a few folks were doing really well but more and more people were struggling to get by, no matter how hard they worked," he said, pointing to rising health care and education costs as part of the problem.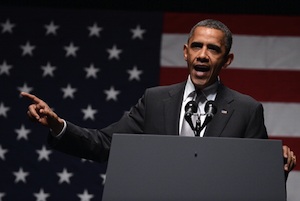 This time around, he said, the debate "is about how do we do better – how do we grow our economy faster? How do we create more good jobs? How do we pay down our debt?"
The answer has to do with breaking the "stalemate in Washington," Obama said, and rejecting the economic policies supported by his rival, Mitt Romney, and the GOP. After claiming victories from his first term – ending the war in Iraq, ending "don't ask, don't tell" in the military, health care reform – he told the appreciative crowd to make their positions known at the polls. "On every challenge we face, you get the final say," he said.
The evening's event was the last of four fund-raisers for Obama on Tuesday. Two were held earlier in Atlanta, and the third was a private dinner party for 30 guests who paid $40,000 each to join the president at the Sunset Islands home of Abigail and F.J. Pollak in Miami Beach, according to The Miami Herald.