Tony Bennett has good reason to walk on the sunny side of the street. His "Duets II" sold 179,000 copies its first week out, making him by far the oldest artist ever to earn the top spot on the Billboard album chart.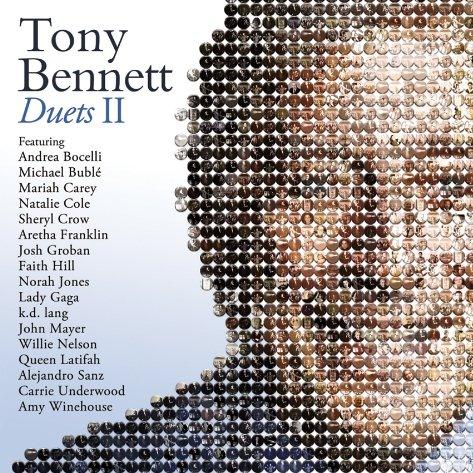 The 85-year-old Bennett's No. 1 berth breaks the seniority record previously held by Bob Dylan, whose last studio album topped the chart two years ago when he was a mere lad of 67. Pity the poor septuagenarians who thought they had a shot at Dylan's record any time soon.
Also read: Review: Lady Gaga, Amy Winehouse Trump Tony Bennett's 'Duets' Partners
Although Bennett's original 2006 "Duets" album debuted with an even higher sales figure (202,000 copies), that one had to settle for a No. 2 bow.
Some observers wondered if sales would suffer as a result of his statements on Howard Stern's program about America's responsibility for the events of 9/11. But Bennett's quick apology apparently accomplished the damage control that kept the controversy from flaring up too much outside conservative circles.
Speaking of sunny sides, ex-"Sonny With a Chance" star Demi Lovato had the week's second-biggest bow. She quit her hit Disney Channel sitcom upon entering treatment last year, but even without constant TV reminders, her loyal fans bought 96,000 copies of the 19-year-old's third album, "Unbroken," which entered at No. 4.
Christian crossover band Needtobreathe came in at No. 6 on career-best sales of 49,000, thanks largely to the visibility afforded by an opening slot on Taylor Swift's arena tour.
Lovato wasn't the only teen making chart waves. Mindless Behavior, an R&B vocal quartet of kids barely out of pubescence, made their first chart appearance at No. 7, with sales of 36,000. And the first EP from 14-year-old heartthrob Cody Simpson bowed at No. 12.
For chart comers in the vast age territory between these youngsters and Bennett, the news wasn't always so great. Gavin DeGraw entered at No. 8 (34,000 copies); the rarities-filled soundtrack to "Pearl Jam Twenty" bowed at No. 10 (27,000); Tori Amos came in at No. 24; and Mick Jagger-led supergroup SuperHeavy had a weighted-down No. 26 entry.
Among holdovers, last week's topper, Lady Antebellum's "Own the Night," dropped 64 percent to sell 125,000, good for the No. 2 spot. Some of last week's other top entries suffered far worse drops — especially the rockers. Staind went flaccid at No. 28 after debuting last week at No. 5, and the Devil Wears Prada fell from the grace of No. 10 to a second-week circle of hell at No. 68.
On the digital songs chart, the first three positions held steady for a third week in a row, as Maroon 5, Adele, and Foster the People all maintained a death grip on their spots.
"We Found Love," the first single from Rihanna's upcoming album, entered at No. 7 with 117,000 sold – a number achieved after just four days of sales. Even with a full week, she would have had a hard time matching the 233,000 downloads that kept Maroon 5's "Moves Like Jagger" on top.
The digital songs chart is starting to look like a game of monopolizing: Three artists can claim the privilege of having two songs each in the top 10.
To wit: Maroon 5 singer Adam Levine is busting moves as a featured vocalist on Gym Class Heroes' "Stereo Hearts," at No. 5. LMFAO's dance singles hold down two slots, thanks to "Sexy and I Know It" moving up to No. 6 and joining "Party Rock Anthem" (down to No. 4) in the top 10 for the first time. And proving that when it rains, it pours, celebrated umbrella-holder Rihanna has an older track, "Cheers (Drink to That)," hanging in at No. 9, in addition to her brand new tune.