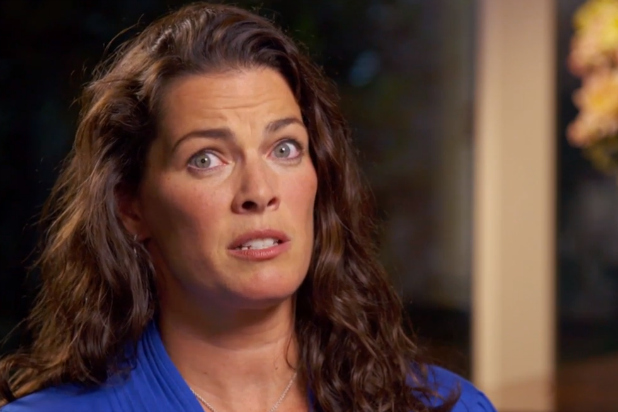 Ready for some Olympic Winter Games-themed she said, she said?
NBC Sports aired documentary "Nancy & Tonya" on Sunday evening in recognition of the 20-year anniversary of the 1994 Lillehammer Winter Games, at which Nancy Kerrigan ultimately won figure skating silver, despite having been viciously attacked by members of rival Tonya Harding's camp earlier that year.
The Kerrigan-Harding soap opera dominated the media in '94 — and for some time beyond — and has been revisited by several recent documentaries, including January's ESPN "30 for 30: The Price of Gold." The draw for NBC's version was Kerrigan's exclusive participation; Harding was on-camera for both.
Also read: Olympics: Medalists Honor Sarah Burke by Pointing to the Sky
NBC's version stayed mostly the course of the casting and story-telling, with Kerrigan playing the ice princess and Harding the witch. But every good story deserves to be told by both sides, in both the protagonist and antagonist's own words.
Here are 14 Kerrigan and Harding quotes from Sunday's premiere of "Nancy & Tonya":
Kerrigan, the mom, on what her kids know about the assault
"We don't really talk about getting attacked. They know, I mean I guess at times it's come up. But I'll answer questions, tell them anything that they want to know."
Were the two skaters friends beforehand? Depends who you ask
"No. We had been roommates and competed against each other, we weren't not friends." – Kerrigan
"Yes. We roomed together at competitions at training camps. Everyone hung out together." – Harding
See video: Jimmy Kimmel, Olympian Kate Hansen Reveal How They Pulled Off '#SochiFail' Wolf Prank
Harding on being a classic psychologist case in reference to ex-husband Jeff Gillooly
"Even though he hit me, he loved me. I mean my mom loved me, she hit me. It was just that stereotypical thing that went on where I didn't know any better."
Harding feeling "Woe is me"
"Almost every single day I threw up after the long program, because of the athletic-induced asthma I had. I'd get through a four minute program and I'd be puking."
"[Kerrigan] didn't have a parent that was beating on her in public everyday, didn't move 13 times before fifth grade. Nancy came from a stable upbringing, where I didn't."
Also read: Ex-Pussy Riot Members Say They Were 'Shoved,' 'Surrounded' in Sochi Arrest
Kerrigan on that day
"I was done with practice for the day. I got off the ice, went through the curtain and then I was hit. And then that just changed everything."
"I remember being at the hospital and I was going to try a jump and I couldn't even bear weight at all."
Harding on the same day, after pretending not to know what the date in question represented
"I had a session in the afternoon training, and went back, and I was sleeping when my choreographer came to the door and woke me up and told me what had happened."
Kerrigan on the dirty (but probably true) rumors
"I had people asking me, 'Do you think she had anything to do with it?' My reaction to that was that's ridiculous. To me, this had to have been some random act.'"
See photos: Sochi Olympics: Stray Dog, Ring Fail Bring Awkward to the Opening Ceremony
Harding on "The Bodyguard" (Shawn Eckhardt, not Kevin Costner)
"He was just a fat, complete idiot. He was never my bodyguard. Do you think that I would ever need a bodyguard? And why would I ever hire someone as stupid as that?"
On why Harding didn't turn the old gang in
"I literally knew that Jeff would try to kill me."
Kerrigan on the value of been stalked by morons
"I am so lucky that they just didn't have it together as good criminals."
Harding, who is now a landscaper, on Kerrigan now
"I have apologized so many times that it's not worth — I'm sorry — she is not worth my time anymore."
For those who haven't watched (or don't plan to watch) "Nancy & Tonya," a refresher clip of the '94 attack: