NBC entertainment chief Bob Greenblatt joked that Jay Leno is taking over his job as the network offered an upfront presentation that focused on Jimmy Fallon's takeover of "The Tonight Show" — and featured another duet between the hosts.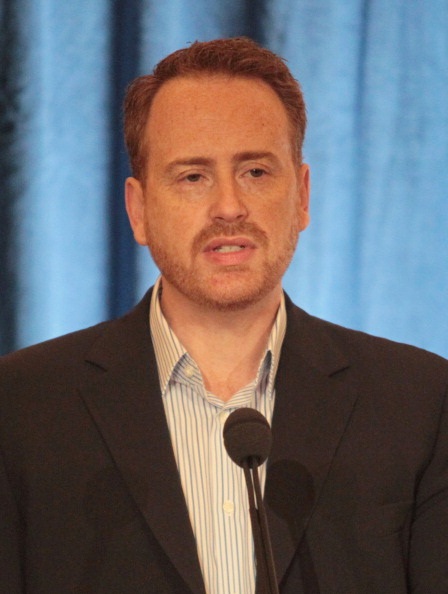 NBC unveiled its 2012-13 slate to advertisers from a Rockefeller Center set that recalled the stately sets of one of its late-night shows. Standing between two oversized halves of a peacock logo, Greenblatt and other executives promoted new series ranging from "The Michael J. Fox Show" to the James Spader drama "The Blacklist," both of which received a warm response from advertisers.
Last year's upfront presentation was full of bells, whistles and even a monkey. But this year, NBC focused on its show clips and its plans.
Greenblatt told advertisers NBC is making steady improvements, noting that it is almost tied with Fox for second place in the key 18-49 demographic. It spent years in fourth place before essentially tying ABC for third last season.
But this has not been a good season for networks — all are down in the key demographic, and all but CBS are down in total viewers.
Greenblatt said NBC has "no illusions" about the challenges ahead. The network said it would use the Winter Olympics in February to promote the "Tonight Show" transition as well as new shows. Leno will host until the Olympics begin, and Fallon will take over in the second week of the Games.
The focus was never far from late night. New "Late Night" host Seth Meyers rose to thanks advertisers for their applause. And Greenblatt took the stage with the joke, "I will actually be stepping down in 2014 to become the host of 'The Tonight Show,' and Jay Leno will be taking my job."
Leno has picked on NBC's ratings since word broke that Fallon would replace him. But Greenblatt offered an olive branch back, giving Leno "our sincerest thanks for an unparalled run."
He said he wanted to end Leno's two decades with the show while Leno was still leading in the ratings.
From there, Fallon delivered a video message to advertisers, saying they should email him and questions — and providing Greenblatt's email address. Then he began another duet with Leno like the one they performed earlier this year to address the "Tonight Show" transition reports.
To the tune of "I Dreamed a Dream," Leno sang: "NBC will be just fine/who knows? They might beat Univision." When Fallon sang that Greenblatt makes good decisions, Leno countered, "What about 'Ready for Love'?"
The presentation also included a brief introduction by "Parks and Recreation" stars Amy Poehler and Nick Offerman and music from Fallon's band, The Roots.
NBC started its presentation with Fox's show, which it ordered before most of the other shows in its 2013-14 lineup. It is one of NBC's trickiest sells for fall.
It benefits from Fox's return to television, but handles a more difficult subject than most sitcoms: Fox plays a news anchor who, like Fox, is returning to TV while battling Parkinson's.
The clips played for advertisers balanced jokes about Fox's coping mechanisms with ones about whether his character's news station is milking audiences' sympathies. They got solid laughs, a good sign for NBC — the show is anchoring its new Thursday comedy lineup.
Greenblatt's mention of "Community" returning to NBC for a fifth season also won applause. The show has spent much of its run on the brink of cancellation.