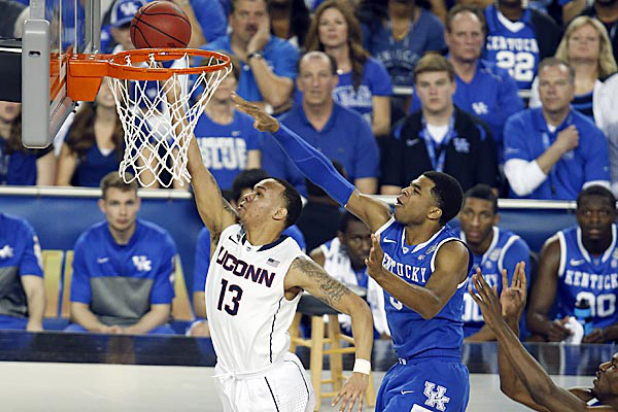 Monday night's NCAA men's basketball championship scored a big win for CBS.
CBS was first in ratings with a tentative 4.9 rating/13 share in the advertiser-coveted 18-49 demographic and first in viewers with an average of 14.6 million, according to preliminary numbers. Due to the nature of tracking live sports, numbers for CBS are approximate.
Following a rerun, the National Championship's pre-game show at 8:30 received a 2.1/6 and 6.6 million viewers. The game itself — UConn vs. Kentucky — earned a night-high 6.0/16 and 17.8 million viewers. The pre-game show and game itself were down 52 percent and 20 percent, respectively, per the early metric.
Also read: Animal Planet's 'River Monsters' Draws Highest Season Premiere Ratings in Network History
NBC was second in ratings with a 2.8/8 and in viewers with 9.7 million. "The Voice" at 8 earned a 3.4/9 and 11.8 million viewers. "American Dream Builders" at 9 received a 1.6/4 — a 129 percent jump from Sunday's original — and 5.5 million viewers.
ABC was third in ratings with a 1.8/5 and in viewers with 12.1 million. "Dancing With the Stars" earned a 2.1/6 and 13.9 viewers. A repeat.
Fox was fourth in ratings with a 1.5/4 and in viewers with 5.5 million. "Bones" at 8 got a 1.6/5 and 6.5 million viewers. At 9, "The Following" had a 1.4/4 and 4.4 million viewers.
Also read: NBCU CEO Steve Burke: It's Time for a 52-Week TV Season
Univision was fifth in ratings with a 1.2/3 and in total viewers with 2.8 million.
Telemundo was sixth in ratings with a 0.5/1 and 1.2 million viewers.
The CW was seventh in ratings with a 0.3/1 and in total viewers with 792,000. "Star-Crossed" at 8 received a 0.3/1 and 966,000 viewers. A repeat followed.