Donald Bellisario, creator of military-justice procedural dramas "JAG" and "NCIS," filed a lawsuit against CBS Studios in Los Angeles Superior Court on Thursday, demanding compensation for "NCIS: Los Angeles," court papers obtained by TheWrap reveal.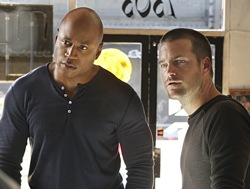 Bellisario's complaint states that he hasn't received any compensation for the series, an offshoot of his "NCIS."
According to the complaint, under his contract, Bellisario — who was fired from CBS in 2007 — was given "first opportunity" rights to "participate creatively and economically in the development" of series spawned from those he created, such as "JAG" and "NCIS." (Bellisario, who had a long-standing relationship with CBS, also created "Magnum P.I.," among other series.)
That agreement, Bellisario argues, would include "NCIS: Los Angeles" which, while he was no longer with CBS at the time of the series' 2009 launch, shares many of the same elements of "Jag" and "NCIS."
According to the complaint, "['NCIS: Los Angeles] scrupulously replicates that which has made NCIS so popular and it does so with near clone-like fidelity to Bellisario's recipe, thereby capturing the distinctive 'look and feel' of NCIS."
Belissario is seeking unspecified damages, but the suit argues that he's entitled to "a percentage of [the show's] profits as well as a certain fixed compensation."
CBS, meanwhile, is unswayed by Bellisario's argument. In a statement furnished to TheWrap, the company notes, "Don Bellisario has no rights to what he is claiming in this suit. The contract is clear, the facts are undeniable and the courts won't need Naval intelligence to conclude that the case has no merit. We continue to honor all of our obligations to Mr. Bellisario under the actual agreement."