A turbulent day of political news — capped off by ABC's interview with Newt Gingrich's ex-wife — paid off for CNN's GOP debate in South Carolina Thursday.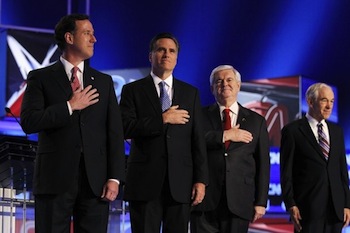 The network notched a big win over its cable news rivals for the night thanks to the debate. It drew 5.03 million total viewers and 1.72 million in the adults 25-54 demo, nearly doubling the combined totals of its rivals between 8 p.m. and 10 p.m. ET.
Also read: Fox News Debate Ratings Set Stage for CNN Clash
It failed to match Fox News' debate on Monday in terms of total viewers, but did pass the Martin Luther King Day contest in the demo.
As far as CNN's previous debates, again it came in at second in total viewers but first thus far in the demo.
CNN had a lot of news to work with for the John King-hosted fest, from ABC's controversial interview with Marianne Gingrich to the end of Texas governor Rick Perry's campaign.
Overall, CNN's debate clocks in at just tenth of the 17 contests thus far in total viewers, but fourth in the demo (and second amongst the cable news nets).
The higher ratings from the debate also boosted "Anderson Cooper 360," which ranked first at the 10 p.m. slot – a rare win over Fox News in prime time.