Nikki Finke's Hollywood insider website DeadlineHollywoodDaily.com has been sold for a stunning $14 million to Mail.com Media Corporation, a digital media company, according to a knowledgeable individual.
MMC, which announced the purchase on Tuesday, owns and operates the Mail.com portal and an email service, as well as sites like HollywoodLife and MovieLine.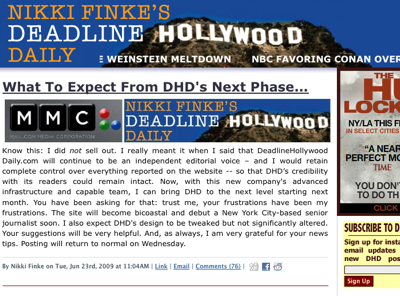 Headed by chairman and CEO Jay Penske, it will distribute Finke's content — which was previously associated with LA Weekly — exclusively. Finke will continue to write her weekly column, she told TheWrap.
"I'm delirious. I'm really happy," Finke said on Tuesday. "This was a really long stressful process where you didn't want people to go away angry, but you have to do what's right for you." (Nikki Finke grilled; see accompanying story.)
She would not comment on the purchase price. Jay Penske could not be reached.
The individual knowledgeable about the purchase price said it would be paid out over several years. Normally such deals are tied to traffic or to revenue projections. Nonetheless, it is an exceedingly high price for a relatively small website.
Recently, HuffingtonPost.com raised $25 million in new capital against a valuation of $90 million. That site has 8 to 10 million uniques per month, compared to an estimated 200,000 for DHD, according to Quantcast.
In a press release, MMC said the site will hire a New York-based journalist in the next few months to expand DHD's breadth.
"We're thrilled to be working with Nikki," Penske said in a statement. "With this acquisition and partnership now complete, DeadlineHollywoodDaily can continue to extend its reach and influence and finally have the web platform it deserves."
The sale accelerates a flurry of activity in the entertainment business news space, with the rapid decline of the traditional trade outlets, Variety and the Hollywood Reporter. Both trades have gone through successive layoffs and suffered major advertising losses in the past two years.
TheWrap.com launched in January of this year, and Moveline.com — also owned by MMC — relaunched an online presence with former Gawker writers earlier this year as well.
Finke, a newsprint journalist-turned-blogger, has been a take-no-prisoners firebrand who has dominated the Hollywood news space online in the past two years. Her frequent scoops are must-reads for industry insiders, but her methods and practices have also raised ill will and charges of favoritism in the profession.
Finke has said that she had many offers in the past, including at least two offers in the $300,000-$500,000 range, as TheWrap has reported previously.
But Finke disputed those figures at the time, and said she had three serious suitors, including a major media company, in recent months.
It was unclear what business plan would justify such a rich deal for a small site, though the majority of its readers are Hollywood insiders.
Quantcast indicates her site has 173,000 uniques per month, though it is not formally quantified.
Finke claimed to not know what her site's traffic represents, except to say that her "site-meter" shows her to have 65 million page views since the founding of the site.
Penske, 30, was formerly the co-founder of Firefly Mobile; he also co-owns a racing team with Seagate Technologies chairman Steve Luczo and runs a used bookstore, Dragon Books. He founded Mail.com in 2004 and raised $35 million in funding last October.
Finke's site was launched three years ago as the online portion of her column in the LA Weekly, which she began writing in 2002. Previously, she worked as a correspondent for the Associated Press and Newsweek, as an L.A. Times staff writer and as an editor and columnist for the New York Observer and New York Magazine.
To ensure DHD's continuation as an independent editorial voice and retain control over its credibility, Finke will take the title of General Manager, Editor in Chief and Founder.
In a March 23 posting, she said that the Reed Business Information/Variety Group had signaled interest in purchasing DHD, but later said "within a couple of days, the idea of Variety owning DHD was dead."