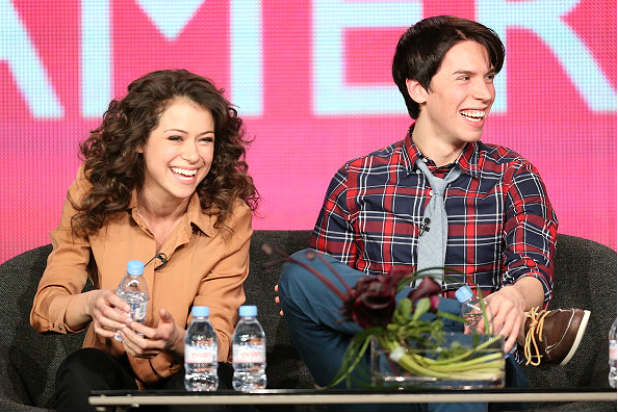 Tatiana Maslany and Jordan Gavaris, the stars of BBC America's "Orphan Black," appeared with series co-creator Graeme Manson at the Television Critics Association in Pasadena on Saturday, revealing that there will be some big shifts when the show returns for its second season.
Among the changes: Gavaris' Felix Dawkins will be coming into his own — and that things between him and Maslany's Sarah character won't quite be the same.
Also read: 2014 TV Preview: 26 Upcoming Shows to Watch This Winter & Spring (Photos)
"I think in Season 1, Felix was very much an integral cog in the mystery and the conception of the story and Sarah's journey. And I think what Season 2 helps to do is establish him outside the clones, establish him as an individual with his own identity, and as a multifaceted human, and not just a plot device or not just someone who's there to facilitate whatever Sarah's crazy idea is that day," Gavaris offered.
So does that mean that there might be some hard feelings between Felix and Sarah when the show returns? Oh, yeah.
Also read: 'Fleming' Director on the 'Quite Misogynistic' 007 Creator and His 'S&M' Marriage
"[Felix] has kind of just gone along and been that person who picks up the phone at 3 in the morning, and I think it's safe to say that the relationship with Sarah is going to come to a head," Gavaris continued. "And there's a really tough decision that's gonna be made. There are many tough decisions that are going to be made."
Manson added that the Felix/Sarah dynamic isn't the only thing that will be shifting for the second season.
"We are gonna take some risks with our premise in the second season and we are gonna push, technically, what we've done in the first season," Manson noted. "And our actors are really pushing the limits as well."
See video: AMC's 'Turn' First Look Trailer Reveals 'Complicated' Revolutionary War Story
Felix shouldn't feel too bad about giving Sarah the cold shoulder in the second season — during the panel, Maslany, who plays multiple women on the series, admitted that she's had difficulty cozying up to some of her characters as well.
"The one who scared me the most was Alison, when I was doing the auditions and sort of approaching the characters for the first time. Because for some reason I  wasn't willing to admit that she was so much a part of me," Maslany recalled. "She's kind of a scary thing to admit to being. She was a hard one to dig into or find the sympathy and empathy for initially, and now I love her. I found Rachel to be really daunting as well, because of her entitlement and her wealth and her quiet power. It terrified me."
Not that playing multiple characters hasn't had its benefits. Maslany noted that Sarah, in particular, has provided her with a fresh perspective in her life — even when she's not playing multiple clones.
"I think I've learned a lot from Sarah, from her strength. She's just such a survivor and so gutsy in going about getting what she wants and surviving. I've learned a lot from her in that way," Maslany said. "She comes up in life when I need her, I guess. Which seems really arty, but it's true, Because you're revealing something about yourself in an exaggerated, more fleshed out way. I think it awakens something in you that maybe you didn't know you had."