Oscar buzz is alive and well at TIFF, and indeed, the films thus far have been consistently strong, with not unwarranted Oscar buzz. Here are three that especially are worth the praise.
Steve Pond has already gone on the record as predicting that "The King's Speech" is a good bet for an Academy Best Picture nomination. After seeing this mesmerizing work from Emmy Award winner ("John Adams") director Tom Hooper, I am inclined to agree with him. Further, I suspect Colin Firth will be this year's Best Actor winner for his superb performance as King George VI, who suffered a speech impediment for much of his early life, finally seeking help from Lionel Logue shortly before he became king.
Logue, portrayed by Geoffrey Rush, understood that impediments are usually rooted in emotional issues, but he found the monarch reluctant to let him into his personal life. Hooper creates a film brimming with energy and urgency, plunging his audience into the years leading up to Great Britain's declaration of war against Germany and Hitler.
Firth truly is a revelation in the role, his eyes brimming with frustration and shame as tries to cobble together when he has to speak in public from memory rather than a prepared speech. And his growing sense of shame endears the character to the audience, as we realize that his royal birth, his childhood, was the cause of his pain and emotional scarring, thanks to a bully of a father, an abusive nanny and relentlessly teasing brothers.
But what gives more depth to the film is the story of Logue, who also was damaged by his past – specifically, by the First World War, which forever took away his innocence Rush brings a lovely energy to the character, who is a tad daffy, but cares deeply for his patients and for the young George.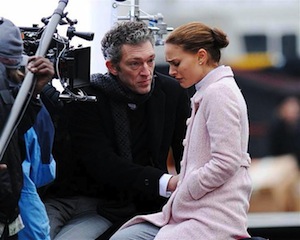 Tom Hooper demonstrated his skill in historical drama with the superb "John Adams", which collected 13 Emmys. He seems equally at home with this picture and the time period. In what could have been a dry and frankly dull story, he has filled the film with a percolating energy, and allowed his actors to take front and center.
***
The last time Darren Aronofsky was at TIFF was in 2008 for "The Wrestler," which landed Mickey Rourke in the Oscar race for Best Actor, along with changing the course of his career. I suspect Natalie Portman, the star of his new film "Black Swan," will end up a Best Actress nominee. Portman, long considered a gifted actress, finally has a role that seizes upon her substantial talents as an actress, thanks to a director willing to push her to the limit.
Aronosky is a gifted director, and each of his new works is greeted with high anticipation and genuine excitement. The press audience began lining up for the screening more than an hour before the start time, buoyed by strong word out of Venice and the building buzz surrounding the picture.
They weren't disappointed. Portman is excellent in this thriller set in the cutthroat world of ballet, where young woman leaves behind their childhood in search of a career in the spotlight. It's a ruthless world of swollen and sore ankles, bloody toes, and pressure from early childhood – and ambition is a necessity. If you are not prepared to go for it, there are 100 girls behind you who will. Portman has rarely been tested like this, and she rises to the occasion, giving us an emotionally damaged young woman who has dedicated her life to ballet, pushed hard by an overbearing mother, herself a failed dancer.
Then there's the artistic director of the company, Thomas (Vincent Cassel), who awards Portman with the lead in "Swan Lake," in which she will play a dual role of the Swan Queen and the evil Black Swan. However he is concerned she may not have the stuff to portray the darker character — which means the mind games are going to begin. And of course there is someone waiting in the wings.
While one expects good things from Portman, I cannot say that I expected the same from "That 70's Show" co-star Mila Kunis, who has slowly been evolving as an actress. She is Lily, the dark angel of the piece, who is more than ready to play the role of the rival ballerina with a dark side.
Aronofsky has always been a master of creating the atmosphere for the characters to exist within, be it "Requieum for a Dream's" drug haven, "The Fountain's" strange futuristic world or the world of pro wrestling and strip clubs. He does it again with the world of dance, giving us a glimpse behind the curtain, plunging us into a dark world with even darker activities. And in doing so, he's , created one of the most intensely exciting films of the year.
***
David Schwimmer spent a long time on television as Ross on "Friends," which can be difficult when one is trying to be accepted as a major film director. While on the show, did anyone ever believe he would become a formidable filmmaker? Well, "Trust" is as dark a film as one can get, and he handles it beautifully, creating an intimate family drama in which a family goes through every parent's nightmare in this wired age.
Annie (Liana LIberato) is given a new laptop for her 14th birthday and at once connects with a 15-year-old boy, who she later learns is 20, then 25 – but who it turns out is much older than that.
He suggests they meet, and when they do he turns out to be in his mid-thirties — and despite being afraid, knowing it is all very wrong, she gets into a car and goes to a hotel with him. There, he asks her to get into the underwear he has bought her, and then he slowly sexually assaults her – though she doesn't see it as that; she believes they are in love and they have just had sex.
When a friend reports it to the principal, who calls the police and then the parents and then the FBI, Annie's world spints into a sudden nightmare, but still she does not believe it was rape. As events spiral more and more out of control, she is forced to discover realities she is not ready to deal with.
Schwimmer directs his actors with the assuredness of a long-time veteran, without one false step. His film is alarming in its intensity and realism, frightening in what it is saying, terrifying in its realism — a cautionary tale with a moment over the end credits that will chill you to your very soul.
Clive Owen is excellent as a father who believes he failed to protect his child; Catherine Keener is equally good as a mother who needs to nurture and heal her child, but has no idea how. But the revelation is Liberato, just astounding as Annie, who gets into a world she is simply not prepared to inhabit.
Dealing with an issue that is all too close to home for many, the film will be a tough one to market. I noticed many shifting in their seats uncomfortably during the rape, and sighing at Annie's repeated statements that it was not rape but love. Like Catherine Hardwicke's searing "Thirteen," trust assaults the audience with some powerful truths, and when they involve our children such truths are often very difficult to accept.