It's not the size of their films, it's what they do with them.
The Academy Awards' short film categories can be a first stop on the way to a brilliant career: in recent years, directors Martin McDonagh and Andrea Arnold have won for their short films before going on to acclaim for the features "In Bruges" and "Fish Tank," respectively.
This year's nominees are no doubt looking ahead as well -- and a couple of them are getting an early start. Two of the films, "The Confession" and "God of Love," qualified for the Oscars by winning Student Academy Awards back in May, which puts them in line to be only the fourth film to win both a Student Oscar and the big prize.
This is the second in TheWrap's look at the shorts categories, focusing on a group of Live-Action Shorts nominees in which almost every film relies on a twist that turns it darker, or funnier, or more satisfying. On Friday, Shorts International and Magnolia Pictures are opening a special program of these five films open in theaters around the country; separate programs of the animated and documentary nominees are also opening.
Also read: Oscar's Animated Shorts: Kids' Books vs. 3D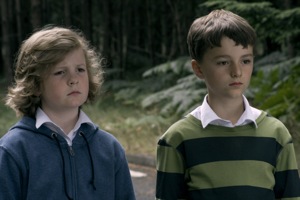 "The Confession"
Tanel Toom
Clip here.
When this film screened at the Student Oscars, it impressed the crowd mightily: the Estonian-born Toom's directorial assurance, the performances of its child actors and the film's turn from comedy into tragedy made it stand out in a solid program. Alongside the other nominees in this category, though, his story of a pair of Catholic boys preparing for their first confessions isn't as fresh or startling; in particular, an event that takes place late in the film seems like overkill, adding an unnecessary exclamation point to a tale that had already turned dark.
Still, Toom handles both the comedic and dramatic elements of the film stylishly, and he certainly coaxes a winning performance out of Lewis Howlett as a young boy who thinks he can't be a real Catholic unless he's got sins that need to be absolved.
"The Crush"
Michael Creagh
Clip here.
The tale of a lovelorn, eight-year-old Irish boy who falls for his teacher and challenges her boorish fiancé to a duel, "The Crush" is typical of many of the nominees in this category in recent years. It's European in origin, it touches on serious subjects with a bit of humor, and it has a twist that gives it a satisfying kick at the end. It also benefits from an engaging young lead actor in Oran Creagh.
But the shorts that fit the mold and fall into that middle ground between drama and outright comedy are usually the category's also-rans. "The Crush" is an enjoyable story deftly told, but I can't see it having the emotional punch to win out over its more serious competitors, or enough laughs to land the voters looking for outright comedy.
"God of Love"
Luke Matheny
Trailer here.
The second of the nominees to qualify by winning a Student Academy Award, writer/director/star Luke Matheny's "God of Love" is a clever, stylish, lighthearted look at love that stands out from the field for its black-and-white cinematography, easygoing feel and humor. The tale of a lovelorn nightclub performer whose act involves crooning standards and throwing darts simultaneously, it's by far the lightest and funniest nominee, with a leading man whose geeky charm has some predicting a big future.
To me, the precursor here may be Ari Sandel's "West Bank Story" from 2006. It too was the breeziest nominee, and in some ways the slickest – and it beat four more substantial dramatic films to take home the Oscar. If none of the more dramatic films in this year's race hit home with viewers, Matheny – the only American contender in the category – could take a similar path to the Kodak stage.
"Na Wewe"
Ivan Goldschmidt
Clip here.
Set in Burundi during a civil war marked by brutal ethnic violence, Belgian director Goldschmidt's short starts out as the darkest and most ambitious of the nominees. The film follows a busload of citizens waylaid by Hutu rebels intent on killing all the Tutsis onboard; much of it involves a tense standoff between armed rebels and terrified civilians, which Goldschmidt turns into an urgent and dramatic look at identity and race.
The film's title means "you, too" in the Kirundi language – and the phrase turns out to be a pun central to the pivot point that comes near the end of the film, when a rock 'n' roll song leads to a case of mistaken identity and makes the potentially tragic turn slightly comic.
It's possible that lightening the tone also hurts the film's chances of winning, but "Na Wewe" feels like a real contender to me.
"Wish 143"
Ian Barnes and Samantha Waite
Clip here.
In some ways this understated film is the most touching and emotional entry, following a cancer-stricken teenage boy whose wish (delivered to a Make-a-Wish Foundation-type representative) is to lose his virginity. The air of impending mortality hangs over this gentle, wry tale from BBC TV director Barnes, which in the end has little to do with sex and everything to do with the human need to find connection.
In recent years this particular award has often gone to the brashest nominee, which would seemingly rule out a film this quiet and bittersweet. But aided by touching performances from a cast that includes Samuel Peter Holland as the boy and Jodie Whitaker as an angel of sorts, "Wish 143" may be too lovely and affecting to resist. I count it as one of the favorites.
Next up: the documentary shorts.