It was a very good morning for Meryl Streep, George Clooney and the teams behind "Hugo" and "The Artist" after the Academy Awards nominations were announced Tuesday.
This year's crop of Oscar nominees reacted with humility, glee and gratitude to hearing their names called out in the wee hours of the morning, dispensing said glee and gratitude through prepared statements and interviews.
Having a rougher start to the week were Michael Fassbender, Albert Brooks and other Oscar hopefuls, who found themselves in the snubbed corner.
Brooks mined the disappointment for humor, tweeting: "And to the Academy: "You don't like me. You really don't like me."
Also read: The Complete List of Oscar Nominees
Here's a look at how some of this year's nominees responded to the big news.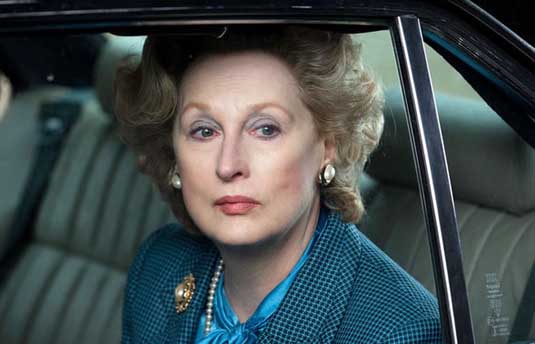 Meryl Streep ("The Iron Lady"), Best Actress nominee
"I am honored to be in company with such beautiful artists, and touched deeply by my fellow actors for their generosity in giving me this acknowledgment."
Brad Pitt ("Moneyball," "Tree of Life"), Best Actor and Best Picture nominee
"This is an extraordinary honor. I am dizzy with joy… and caffeine. Considering both films, 'Moneyball' and 'The Tree of Life,' nearly didn't make it to the screen, this is especially sweet. And I'd like to thank all the artisans and craftsmen who gave their best to each film. I am especially over the moon for Jonah (and the other 'Moneyballers' acknowledged today), Terry Malick and the tribute this is to Billy Beane and the Oakland A's organization. My congratulations to all the nominees…pancakes for everyone."
Glenn Close ("Albert Nobbs"), Best Actress nominee
"I am thrilled for Janet, I am thrilled for our incomparable hair and makeup team. It might be my sixth but it feels like my first. Bravo team Nobbs."
Demian Bichir ("A Better Life"), Best Actor nominee (interview)
"I'm in Mexico City, and I got sick last night and went to bed really wrecked. I couldn't sleep, and I felt like I was hallucinating all night. My girlfriend called me from Los Angeles to tell me the news, and I thought it was part of the fever I had. But it was real.
"The Indie Spirits Awards and SAG nominations were exciting, and as this got closer I started to take a look at bloggers who were saying that my name could be in there. But you never realize how emotional it can be until it happens. One of my first calls was to Chris [Weitz]. I told him what I've been telling everyone: None of this could have happened without his passion and his trust. And I just hope this means people will go to iTunes and Netflix to see our film."
Alexander Payne ("The Descendants"), Best Director nominee
"There's no denying that Oscar nominations for one's film are exciting, if only for the joy they give to everyone who worked so hard on the film. I'm particularly happy for the recognition of my long-time editor Kevin Tent. He really deserves it."
Also read: Albert Brooks Responds to Oscar Snub: 'I Was Robbed'
Viola Davis ("The Help"), Best Actress nominee
"It's an honor to be nominated a second time, it is a personal accomplishment and triumph for women and women of color. I'm so glad the film has been recognized, it was a labor of love from the moment it was conceived and it is rewarding to see the impact it is having."
Jonah Hill ("Moneyball"), Best Supporting Actor nominee (interview)
"I wasn't thinking about any of this stuff, but then I started hearing from people: 'Are you nervous?' 'Are you excited?' 'Are you going to be nominated?' And that's when I started to think about it, and I couldn't sleep last night.
"Awards are not something I was thinking about when I made the movie. When you're known as a comedic actor, people know you that way for the rest of your life, because it's easier for them. There have only been a few big actors, like Tom Hanks, who've moved beyond that. So to have that happen on my second dramatic movie is great. But so, so, so surreal."
Bérénice Bejo ("The Artist"), Best Supporting Actress nominee
"I'm overjoyed and filled with happiness. I can't believe that a year ago I was learning how to tap dance and today I am nominated for an Academy Award. It was a thrill to work on a project as ambitious as 'The Artist' and I am happy to share this moment with our visionary director, Michel Hazanavicius."
Michel Hazanavicius ("The Artist"), Best Director nominee
"I am so honored for this nomination. Filming 'The Artist' in Los Angeles was a dream come true, and to receive this recognition today is far beyond what I ever imagined. I couldn't have done this film without the incredible cast of actors and outstanding crew whose heart and souls were poured into this project."
Gary Oldman ("Tinker Tailor Soldier Spy"), Best Actor nominee
"This afternoon in Berlin I learned that I was nominated for an Academy Award in the category of Best Actor. You may have heard this before, but it has never been truer than it is for me today; it is extremely humbling, gratifying, and delightful to have your work recognized by the Academy, and to join the celebrated ranks of previous nominees and colleagues. Amazing."
Scott Rudin (producer "The Girl with the Dragon Tattoo," "Moneyball," and "Extremely Loud and Incredibly Close"), Best Picture nominee
"What a great morning! I'm completely thrilled for all of our colleagues on 'Extremely Loud,' 'Moneyball,' and 'The Girl With the Dragon Tattoo.' This recognition of our work is extraordinarily rewarding for all of us."
Christopher Plummer ("Beginners"), Best Supporting Actor nominee
"It's a shot in the arm for a young kid of 82 to receive an Academy Award nomination this morning. My gratitude to writer/director Michael Mills, the Academy, and to everyone involved with 'Beginners.'"
Thomas Langman (producer, "The Artist), Best Picture nominee
"I am very humbled by this morning's nominations. This must be how my father felt back in 1965 when he received his first Oscar nomination. 'The Artist' was a labor of love from writer/director Michel Hazanavicius to pay homage to Hollywood, and to see all the love that the Academy has given it this morning is overwhelming."
Michelle Williams ("My Week With Marilyn"), Best Actress nominee
"I am so grateful to be acknowledged by the Academy for my work, which was made possible by the support of our director Simon Curtis and the camaraderie of a terrific ensemble of actors – a special congratulations to Kenneth Branagh – and the fearless Harvey Weinstein. This role has been the challenge and privilege of a lifetime. I would like to think that the recognition our film has received by the Academy is a testament to Marilyn's legacy."
Kenneth Branagh ("My Week With Marilyn"), Best Supporting Actor nominee
"It was a rare honour to play Sir Laurence Olivier. To be recognised by the Academy for doing so is overwhelming. I'm absolutely thrilled."
John Logan (screenwriter, "Hugo"), Best Adapted Screenplay nominee
"I was actually working on a 'Skyfall' scene that films in London tomorrow, so had to run from my computer to watch the nominations and then right back to 007. I'm enormously honored to have heard my name read alongside those other talented writers. It's a head-spinning company. 'Hugo' has been one of the great joys of my writing life and I'm beyond proud the movie has been so recognized."
Max von Sydow ("Extremely Loud & Incredibly Close"), Best Supporting Actor nominee
"My sincere thanks to my colleagues at the Academy. It is wonderful. I don¹t know what to say I am dumbfounded."
(See handwritten note below)
Jim Rash and Nat Faxon (screenwriters, "The Descendants"), Best Adapted Screenplay nominee
"First of all, thank you to the Academy. This has been an incredible journey. We have long admired Alexander Payne, so the experience of working alongside him has been a reward in and of itself. We couldn't be more proud of The Descendants and everyone, from cast to crew, who made it what it is. Also a special thank you to Kaui Hart Hemmings. This nomination wouldn't exist without her beautiful novel."
Peter Straughan (screenwriter, "Tinker Tailor Soldier Spy"), Best Adapted Screenplay nominee
"I'm stunned and thrilled to hear about the nomination. I wish more than anything in the world that my wife Bridget O'Connor – who did the lion's share of the adaptation – could be here to enjoy this moment. She would be so happy and so proud. I'm going to go and meet my daughter now and tell her how clever her mother was!"
Bret McKenzie (songwriter, "The Muppets"), Best Original Song nominee
"I'm blown away by the nomination and truly honored to be recognized by the Academy. I still can't even believe I got to work with Kermit the Frog."
Bill Pohlad (producer, "The Tree of Life"), Best Picture nominee (interview)
"You say, 'Oh, we're not into awards, that's not why we did this movie.' But you can't help but notice things, and you start looking around and saying, 'Why didn't we get nominated for that?' After so many weeks of the ups and downs of awards season, I thought, we've been out of the conversation the last few weeks, it's not going to happen.
"So I was totally expecting not to get in. But then I read things that said if there were more nominees we could get it. And when I saw the size of the first screen [behind Jennifer Lawrence and Tom Sherak as nominations were being announced], I thought, that looks like there might be room for a lot of movies up there.
"I talked to Terry [Malick] right off, and he was very happy. The whole group is excited about this."
Dede Gardner (producer, "The Tree of Life"), Best Picture nominee
"We are all incredibly grateful to the Academy for this recognition and in particular for the recognition given to Terry. Often times movies live in a very small bubble for a long time before they reach the world. This is especially true about 'The Tree of Life' and so makes today all the more gratifying."
Kathleen Kennedy (producer, "War Horse"), Best Picture nominee
"We are thrilled for the nominations 'War Horse' has received ad and most of all thankful to have been working under the leadership of Steven Spielberg whose moral clarity, vision and sensitive handling of the Great War might serve in some small way to raise awareness of war's pointlessness."
Steven Spielberg (director, "War Horse," and principal of DreamWorks, which released Best Picture nominees "War Horse" and "The Help"
"I am thrilled with our multiple nominations for 'The Help' and 'War Horse.' It is the first time that I have experienced two Best Picture nominations in the same year. One is a high honor. Two is humbling but very exciting. It is a tribute to all those who joined with Stacey Snider and our DreamWorks Studios team to develop and make these two films with stories that we passionately felt we had to make."
Letty Aronson (producer, "Midnight in Paris"), best picture nominee (interview)
"It's always such a surprise to me when we get nominated for anything. But this movie began to feel like something special to me in the course of making it, when it really came to life and you started to see Woody's vision of it.
"I haven't gotten to speak to Woody yet, because I've done nothing but talk on the phone to people since the announcement."
Michael Barker (co-president, Sony Pictures Classics, which received eight nominations) (interview)
"'Midnight in Paris' is our fifth Best Picture nomination, so let's toast the fact that Woody Allen is 75 years old and still has more to say and is at one of the peaks of his career. And let's also recognize that the Academy really did see a lot of things, like the art direction of "Midnight in Paris.' In the past, that nomination would have gone to a bigger movie, but they noticed it.
"It's really gratifying to have three of the five Foreign-Language Film nominations, but the important thing is that those three films ["A Separation," "In Darkness" and "Footnote"] are three of the very best films Sony Classics has ever released."
Asghar Farhadi (director and screenwriter, "A Separation"), Best Original Screenplay nominee and director of Best Foreign-language Film nominee (inteview)
"I had some hopes for Best Foreign Film. But for Best Original Screenplay, I had much less. The important thing is not the number of awards, it's that the film can now find a greater public. And I have a message for the audience: Forget about anything you have heard or read about my film when you watch it."
Joseph Cedar (director, "Footnote"), director of Best Foreign-Language Film nominee (interview)
"It was a great experience when I was at the Oscars before [with foreign-language nominee "Beaufort"], but when you go to the Oscars for the first time, you always wonder if it's th elast time you will ever be there. This means it won't just be a once-in-a-lifetime experience.
"Our intentions behind the film don't take into consideration any of the marketing side of it. It's a film that deals with something that's almost impossible to sell [Talmud scholars], but that was a sense of freedom in our work, because we didn't have to show anybody how marketable it was."
Agnieszka Holland (director, "In Darkness"), director of Best Foreign-Language Film nominee (interview)
"When you do a film which costs so much effort, and is so physchologically and physically difficult, and such an important story to tell, you hope you will get some help from the heavens so the movie can even exist. I know when I do a good film and when I do a bad film, but I also know how often a good film dies without help. And this film needed help.
"The first big help was Michael Barker from Sony Classics. And now the Oscar nomination is another big help."
Philippe Falardeau (director, "Monsieur Lazhar"), director of Best Foreign-Language film nominee (interview)
"I'm at Sundance, and we have been on an emotional rollercoaster ride. I tried not to talk about the nomination or think about it, but everybody around me wanted to talk about it. I rented a condo with my producers, and we got up at six in the morning. And they were so nervous — they also produced 'Incendies,' which was nominated, so i said, 'You've been through this before, I thought you were supposed to be calm.'
We were sitting there, with my producer in his pajamas. And we ate Lucky Charms cereal, because that was what they did last year. And when they said, 'Canada,' we screamed so loud that we didn't even hear the name of the next nominee.
"Yes, on the day of the Oscars, I will want to win. But if i had to put money on it, I'd bet on 'A Separation.'"
Danfung Dennis (director, "Hell and Back Again"), Best Documentary Feature nominee (interview)
"I'm tremendously honored. I've been working in Afghanistan for a number of years, trying to get out the story of the people who serve over there, but then come back and can't get the help they deserve. So this feels quite surreal. I just hope the awareness that it creates is able to get the movie out there."
Dan Lindsay and T.J. Martin (directors, "Undefeated"), Best Documentary Feature nominees (interview)
Lindsay: "I went to bed last night, and at the last second I thought, I'll put my ringer on, just in case. It was one of the best wakeup calls I've ever gotten."
Martin: "I think everyone wants to be recognized for their work, but on this kind of platform? No way. You can't expect that."
Lindsay: "One of the hardest things about this film is convincing people that it's a worthy film to see. On paper, it seems like something you've seen before. But when it was picked up by the Weinstein Company, that was the first thing — people thought, why did they go for a high school football movie? And maybe the nomination will help people realize that it's more than that."
Joe Berlinger (director, "Paradise Lost 3: Purgatory"), Best Documentary Feature nominee (interview)
"It's the first time I've ever been nominated, or even shortlisted, in 20 years in the business. And I thought about our screening at the New York Film Festival, which happened right after the West Memphis Three were released from prison. They were there, and they got a 10-minute standing ovation. It was the highlight of my career, making these movies that had helped free three men from prison, one from death row. And my wife turned to me and said, 'Remember this moment. This is your Oscar.'
"For me and for this film, the boost of the nomination will be political. I still think the West Memphis Three need to be fully exonerated, and this attention will allow us to continue to agitate for the state of Arkansas to exonerate them and find the real killer.
"And from a career standpoint, there's no higher honor than that little golden boy."