It's a full-time job, but an unpaid one. It requires being the face of the Academy of Motion Picture Arts and Sciences, which also means making yourself the most obvious target for everyone from haters of the Oscar show to disgruntled voters.
Yet on July 31, a new person will step into that line of fire to become 32nd president of the Academy.
Also read: Bill Condon, Lisa Cholodenko, Michael Mann Join Academy Board of Governors
It could be the first second-generation leader in the Academy's history, or only the third woman in 85 years, or the first African-American.
Tom Sherak (above), who has served as president for the last three years, loses his spot on the AMPAS Board of Governors this month because of Academy rules that allow governors a maximum of three consecutive three-year terms. And since the Academy president must be a member of the board, he's not eligible for reelection when the governors meet and vote.
Recent board elections, the results of which were announced on Tuesday, decided exactly who will choose the president: 35 men and eight women, most in their 50s or 60s. (Of those who aren't, the majority are on the high side of 70 rather than the low side of 50.)
The workings of the board are largely secretive, and none of the presumed candidates would talk about the upcoming election or admit that they were interested in the job. But according to individuals both on and off the board, several governors have been mentioned as possible dark-horse candidates — and one has been actively campaigning.
"I think there are a lot of good choices," Sherak told TheWrap. "But I really have no idea who's going to be nominated, or what's going to happen on the 31st."
At this point, producer Hawk Koch (right) appears to be the favorite. Writer-director Phil Alden Robinson would have substantial support if he were to indicate that he wants the job. Producer Gale Anne Hurd, Summit executive Rob Friedman, animator Bill Kroyer and publicity exec Cheryl Boone Isaacs are viable candidates. And surprises are always possible, including a couple of intriguing choices who were just elected to the board.
Also read: Cheryl Boone Isaacs To Produce 2012 Governors Awards
In the last 25 years, the job has gone to governors from the Executives Branch twice and the Public Relations, Writers, Directors and Actors Branches once each. All six presidents have been white men, at an average age of 67 when they first assumed office; Bob Rehme was the youngest at 57 the first time he took the job, Frank Pierson the oldest at 76.
This year, the clear frontrunner is 66-year-old producer and longtime governor Koch, who is currently serving as first vice president of the Academy.
Koch declined to comment to TheWrap on whether he would be interested in the job, but other governors say he has made no secret of his desire to become president. (He was also said to be interested when Sid Ganis' term came to an end in 2009.)
"Hawk has really campaigned for it," said one member of the board who, like all of those contacted by TheWrap, did not want to be identified. "He wants it badly."
Also read: Academy, Disney Media Distribution Extend Distribution Agreement for Oscars
Koch would be the first second-generation AMPAS president. His father, Howard W. Koch, served as president of the Academy from 1977 to 1979, and produced a then-record eight Oscar shows. (Hawk Koch used the name Howard W. Koch Jr. in his screen credits until the late '90s, when he switched to Hawk.)
One potential problem with Koch's candidacy is the same AMPAS rule that has forced Sherak out of office. The producer is going into his ninth consecutive year on the board, which means he will not be eligible for reelection next year, thus can serve only a single one-year term as president.
That, however, would hardly be unprecedented — 10 previous presidents served terms of that length or shorter. (In three cases, death or resignation ended the terms prematurely.)
Koch is also the current co-president of the Producers Guild, which causes some within the Academy to wonder if he'd be able to devote the time required without stepping down at the PGA. (Koch shares that job with Mark Gordon.)
A number of governors used the same phrase to describe the AMPAS presidency: "It's a full-time job." The last two presidents, Ganis and Sherak, have taken a particularly active role at the organization: "Tom basically made it his day job and really broke his back for the Academy," said a governor. "We've had some past presidents who have tried to do it while working at other jobs, and that is very difficult."
And other possibilities definitely exist. Some members have tried to recruit Ganis, to return to the job he held from 2005 until 2009. (Academy rules limit the president to four consecutive terms but allow him or her to return.)
Ganis, though, told TheWrap that he had no interest in reclaiming the presidency and would continue to work "behind the scenes" at the Academy.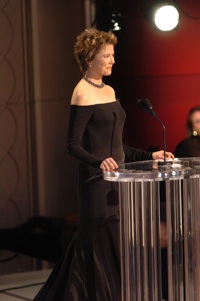 As for other candidates, one governor admits, "There are those of us who'd love to see [Actors Branch governors] Tom Hanks or Annette Bening do it, which would be very much in the tradition of the early years."
Actor Douglas Fairbanks was the Academy's first president, in 1927; in subsequent years the job went to a handful of actors, including Bette Davis (who served for two months in 1941 before resigning), Gregory Peck ('67-'70) and Karl Malden ('89-'92).
Also read: Matthew McConaughey, Jessica Chastain, Terrence Malick Get Academy Invites
But Bening (who is currently serving as the board secretary, and who is said to be a strong supporter of Academy CEO Dawn Hudson) and Hanks would find it difficult to meet the job's heavy workload without seriously curtailing their acting work — and both of them, said the governor, have indicated to the board that they're not ready to do so at this point.
Bening (left) would only be the third woman to serve as Academy president, following Davis' two-month stint and Fay Kanin's four terms in the early 1980s. Two other clear candidates come from the board's eight women: producer Hurd, a second-year governor whose outside workload might get in the way, and public relations executive Boone Isaacs, who would be the Academy's first African-American president.
"They both make perfect sense," says one member who follows board politics closely and finds the choice of a woman — perhaps even an African-American woman — a good fit for an administration trying to make a push for increasing diversity in the Academy.
Boone Isaacs is slated to produce the Governors Awards, one of AMPAS's marquee events, on Dec. 1.
Other candidates include writer Phil Alden Robinson (right), who produced last year's Governors Awards and is active within the Academy as board vice president and chairs both the Awards Rules Committee and the International Outreach Committee.
According to one board member, though, Robinson has indicated he doesn't want the job. He has been nominated in the past, only to withdraw his name from consideration.
Another possibility recently floated in the New York Times: Short Films and Feature Animation Branch governor Kroyer, a well-liked insider who has less visibility outside the board than the typical president, but who represents an increasingly crucial area and could be seen as an advocate for the branches that are often underrepresented among Academy officials.
(Another governor from that branch, John Lasseter, would be an obvious candidate if his job running Pixar and Disney animation didn't keep him far too busy.)
Friedman, who is from the public relations branch and currently serves as co-chairman and CEO of Summit Entertainment, rounded out the field of those who were considered potential candidates before the recent elections.
Those elections, meanwhile, brought a couple of other intriguing candidates into office: producer Kathleen Kennedy and former Disney executive Dick Cook. Kennedy has been active within the Academy for years, but might well be far too busy in her day job at LucasFilm; Cook is taking Sherak's seat on the board and is extremely well-liked in Hollywood, though he's a complete newcomer to the AMPAS board.
While those are the most obvious candidates, surprises are always possible. Several of those who were in the room when Sherak was chosen as the successor to Ganis in August 2009, for example, say they went into that meeting with no sense as to who would be elected to the office's one-year term.
Sherak told TheWrap that seven members were nominated at that meeting — and not only did he not think would be in the running, he had nominated another governor and was initially determined to decline the honor.
"The governor who nominated me made a very humbling speech about why I should be president, and I was about to raise my hand to withdraw," he said. "But an older member who I really respected seconded my nomination, and when they asked him why he said, 'Because Tom makes me laugh.' At that point I couldn't withdraw."
This year's election will begin with nominations and seconds, then the first of several rounds of secret voting. Typically, said Sherak, the candidates with the fewest votes will withdraw their names from contention after each round – and when the field is narrowed enough that one candidate receives more than 50 percent of the vote, a winner is declared.
"The only sure thing," concluded Sherak, "is that on July 31, at about 7:15 p.m., white smoke will come out of the chimney of the Academy."