Read TheWrap's Complete Oscars 2011 Coverage
The nerds couldn't overthrow the royals at the 83rd Annual Academy Awards.
In an awards show that was more a coronation than a competition, "The King's Speech" was named Best Picture over "The Social Network."
In the end, it seemed, the depiction of Facebook's formation was too cold a tale to pull off an Oscar coup against the inspirational story of a speech impaired king who finds his voice to lead a nation.
Read also: The Full List of Oscar Winners
"The King's Speech" went on to win four of the evening's top prizes including Best Director for Tom Hooper and Best Actor for Colin Firth.
"The Social Network" won three awards, but its highest honor was a Best Adapted Screenplay statue for Aaron Sorkin.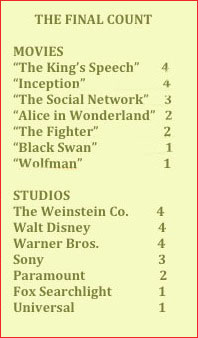 In all, despite having a pair of youthful and aesthetically gifted co-hosts in Anne Hathaway and James Franco, this year's telecast was chronically short on surprises.
The biggest shock was not the spectacle of Franco dressed up as Marilyn Monroe, but an inadvertent F-bomb dropped by Melissa Leo while she was accepting Best Supporting Actress for "The Fighter."
See also: Fashion, Film & Fun on Oscar's Red Carpet (slideshow)
Firth's win was wholly expected, as was Natalie Portman's victory in the Best Actress category for her role as a demented ballerina in "Black Swan."
"I have a feeling my career's just peaked," Firth joked.
The English star went on to praise his fellow nominees, screenwriter David Seidler and director Tom Hooper. He also expressed his gratitude to Tom Ford — the fashion designer and film director who guided Firth to his first nomination last year for "A Single Man."
Like Firth, Portman had ample practice delivering acceptance speeches this awards season, having already picked up a Golden Globe and a Screen Actors Guild prize.
In addition to her director Darren Aronofsky, Portman thanked: "Everyone who has ever hired me."
Closing with a shout out to "My family, my friends and my love."
The supporting acting Oscars were monopolized by "The Fighter."
Heavily favored Christian Bale picked up an award for his performance as a drug addicted former boxer in "The Fighter."
Accepting his statue, Bale poked fun at co-star Leo, who tested the censors when accepting her own Oscar earlier in the evening.
"Melissa, I'm not going to drop the F-bomb like she did, I've done that plenty before," Bale said.
The Welsh actor went on to thank director David O. Russell and the real life inspiration for his role Dicky Eklund, before forgetting his wife's name.
Leo had dominated earlier awards shows, making her obscenity more surprising than her victory for her role as a tough-talking, big haired mother.
"I'm just shaking in my boots here," Leo said, before putting the telecast's tape delay to good use by shouting the offending word to express her delight.
At about the half-way mark in the three hour plus broadcast there had been some mutterings that a "King's Speech" triumph was not a foregone conclusion. An Oscar win for "Social Network" for Best Film Editing briefly had the blogosphere speculating that the Academy might make an unconventional choice.
It was not to be, and "The Social Network"s' only big top-tier honor was for Sorkin's urbane script.
"I wrote this movie, but David Fincher made this movie and he did it with an ungodly artfulness," Sorkin said.
"The King's Speech" picked up its own writing prize, with Seidler winning Best Adapted Screenplay.
"I accept on behalf of all the stutterers through out the world. We have a voice thanks to you the Academy," Seidler said.
A victory for "Inside Job" over "Exit Through the Gift Shop" in the Best Documentary category deprived the show of what might have been a moment of excitement. Many had hoped that elusive graffiti star Banksy would use the Oscars to cause artistic mayhem.
As expected, "Toy Story 3" beat out competition from "How to Train Your Dragon" and "The Illusionist" to pick up Best Animated Feature.
In technical categories, "Inception" showed great strength, picking up four Oscars for cinematography and sound, among others.
Earlier in the evening, Hathaway and Franco kicked off the show with a comedic film that saw the actors spliced into clips from Best Picture nominees such as "Inception" and "The Social Network."
The two youthful hosts were tapped in an effort by the Academy to bring in younger viewers.
"You look very appealing to the younger demographic as well," Hathaway joked with her co-star at the start of the show.
In the five minute film that started the telecast, last year's host Alec Baldwin appeared to give the pair advice, but was "incepted" before he could share his wisdom.
The two co-hosts also sparred with an onscreen Mark Zuckerberg and Micky Ward, and meet Jeff Bridges' Rooster Cogburn in a snow streaked forest.
After that spirited curtain raising, it was on to a long-winded telecast with nary a shock to savor.