Here is the complete list of films submitted to and approved by the Academy in the Best Foreign-Language Film category.
When possible, I have included links to trailers or film clips, although in many cases those videos are not subtitled in English.
I have also included very brief reviews of the entries I've seen.
Volunteers from all branches of Academy will rank each film, their top six choices will make the shortlist. A hand-picked executive committee will then look at the voters' choices and add three of its own selections to the shortlist; a second-round committee will view the nine semifinalists and choose five nominees.
Albania: "Amnesty"
Director: Bujar Alimani
The original Albanian entry, "The Forgiveness of Blood," was disqualified by the Academy because too much of its creative team, including American director Joshua Marston, came from outside the country. Albania immediately submitted a substitute: "Amnesty," which one blogger describes as "an arty drama with lots of sex but little dialogue." Its director, Alimani, had written a formal letter of complaint about the initial selection.
Trailer (French subtitles)
Argentina: "Aballay"
Director: Fernando Spiner
Agentina, which won the Oscar two years ago for "The Secret in Their Eyes," has opted for a violent Western about a young boy who grows up to seek revenge on the gauchos who murdered his family. The film is reportedly both brutal and elliptical, focused on a stark landscape and a grim and amoral society ruled by force. It is based on a short story written by Antonio di Benedetto while in prison.
Trailer (no subtitles)
Austria: "Breathing"
Director: Karl Markovics
The debut feature from Markovics was named the best European film in the Directors' Fortnight competition at this year's Cannes Film Festival, where the jury called it "a dark but positive story that is full of life, sparked by excellent performances." The film deals with a young man, newly released from prison, who works in the morgue in Vienna and is searching for his mother.
My take: A wonderfully quiet, composed and meticulous look at isolation, tentative connection and the various shades in between. It gets under your skin, though it may get lost amid its more aggressive and showier competition.
Trailer (no subtitles)
Belgium: "Bullhead"
Director: Michael R. Roskam
A 2011 selection of the Berlin International Film Festival, this crime drama starring Matthias Schoenaerts follows a cattle farmer who becomes involved with an underworld trafficker in growth hormone. Assassination, intrigue and revenge ensue.
My take: It's not film noir, it's farm noir. Visceral, tough, intermittently funny and occasionally affecting, with a style that seems to be as pumped full of steroids and hormones as its charactrs, both human and bovine.
Trailer (no English subtitles)
Bosnia and Herzegovina: "Belvedere"
Director: Ahmed Imamovic
The action takes place in a refugee camp 15 years after the Srebrenica massacre of thousands of Muslim men and boys. The main character, played by Sadzida Setic, is a woman who hasn't stopped searching for the remains of her husband and son, even as she continues to care for other family members who are more obsessed with getting on reality television shows.
Trailer (no subtitles)
Brazil: "Elite Squad: The Enemy Within"
Director: Jose Padilha
Set in a world of corrupt police, crooked politicians, paramilitary groups and slums rife with drug-dealing, the film has set box-office records in its homeland, and for the most part drawn positive reviews. But as an action movie and a sequel to a film not likely to have been seen by many voters, it may have a tough go of it with the Academy.
My take: A persuasive piece of action filmmaking, though the incessant narration from its central character forces a single point-of-view on everything we see, and becomes overbearing when it spells out the film's political message.
Trailer (subtitled)
Bulgaria: "Tilt"
Director: Viktor Chouchkov Jr.
A commercial success in Bulgaria, Chouchkov's drama centers on a group of friends who dream of opening their own bar; the film turns into a risky, "Romeo and Juliet"-style romance, set against the backdrop of political and social changes sweeping Eastern Europe in the late 1980s.
My take: The young lovers have a spark, and the setting gives the story a relatively fresh spin, but the fim remains more serviceable than exceptional. With its gang of skateboarders and its hip-hop/indie-rock soundtrack, it's unlikely to prove appealing enough to Oscar voters to make the shortlist.
Trailer (no subtitles)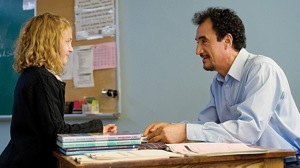 Canada: "Monsieur Lazhar"
Director: Philippe Falardeau
Named Best Canadian Feature in the audience awards at the Toronto Film Festival, the film deals with an Algerian refugee who becomes an elementary school teacher to a class whose previous teacher had committed suicide.
My take: Subtle, understated and free of the usual classroom-drama cliches. Not as powerful as the 2008 nominee "The Class," but is getting strong buzz.
Trailer (no subtitles)
Chile: "Violeta Went to Heaven"
Director: Andres Wood
Wood has created a personal, biographical look at Violeta Parra, a Chilean folksinger, artist and activist who the director has compared to the country's Edith Piaf or Bob Dylan. Francisca Gavilan plays the iconic Chilean performer, who wrote the oft-recorded song "Gracias a la Vida" before committing suicide at the age of 49.
My take: Provocative but scattershot, with a central figure who earns the audience's respect but seldom has its sympathy, "Violeta" is a difficult film about a difficult person.
Trailer (no subtitles)
China: "The Flowers of War"
Director: Zhang Yimou
China has chosen an entry that's guaranteed to be high-profile both because of the man behind the camera, "Raise the Red Lantern" and "Hero" director Zhang Yimou, and because of its star, recent Oscar winner Christian Bale. The film deals with the 1937 occupation of Nanking by the Japanese army, with Bale as an American who takes refuge in a cathedral with a group of schoolgirls and courtesans.
My take: Heartbreaking and unsettling, if openly manipulative. Doesn't pack the overwhelming punch of 2009's "City of Life and Death," which told a similar story but was not submitted to the Academy.
Colombia: "The Colors of the Mountain"
Director: Carlos Cesar Arbelaez
Previously a documentary filmmaker, Arbelaez makes his narrative feature debut with a drama set in the highlands of Colombia, where indigenous locals live in a picturesque setting but are constantly asked to choose sides between the paramilitary troops and guerilla rebels who are fighting in their vicinity.
My take: Viewing conflict through the eyes of children is not the freshest conceit, but Arbelaez manages to make his story affecting, despite a static shooting style and acting that ranges from understated to amateurish.
Trailer (subtitled)
Croatia: "72 Days"
Director: Danilo Serbedzija
The director's father, noted Croatian actor Rade Serbedzija, stars in this black comedy about a rural family who lives off a deceased grandfather's U.S. military pension, and spends much of the time feuding with their neighbors and with each other. The film won two acting awards, as well as the audience award, at last year's Pula Film Festival in Croatia.
My take: Another Eastern European film featuring characters who face dark situations by drinking a lot, this film starts out as a black comedy but turns into an unpleasant slog.
Trailer (no subtitles)
Cuba: "Habanastation"
Director: Ian Padron
The first feature from 35-year-old director Padron, "Habanastation" uses the story of a couple of kids in Havana – one of them rich, the other poor – to showcase the glaring inequalities that were supposed to have been eradicated 50 years ago. Nick Miroff in the GlobalPost explains the film's box-office success in its home country: "It wins over audiences and pushes boundaries by mocking the shortcomings and empty sloganeering of the state, while ultimately affirming the socialist values of Castro's revolution."
My take: The subject is intriguing, but the execution places it more on the level of an after-school special, where the emphasis on teachable lessons is more important than the amateurish production values.
Trailer (no subtitles)
Czech Republic: "Alois Nebel"
Director: Tomas Lunak
A black-and-white film that combines live action with animation through the use of rotoscoping, "Alois Nebel" is based on a cult comic-book trilogy about a railway dispatcher in a small mountain town who suffers from hallucinations in which the present mixes with the dark history of post-World War II Czechoslovakia. Director Lunak is making his feature film debut after a career in advertisements, shorts and music videos.
My take: Certainly not an obvious choice for the votes in this category, but Lunak's richly atmospheric film summons up a haunted landscape that is bold, ambitious and beautifully drawn.
Trailer (subtitled)
Denmark: "Superclasico"
Director: Ole Christian Madsen
Romantic comedies aren't the usual fare in this category, and they're not the usual fare for veteran Danish director Madsen ("Kira's Reason — A Love Story," "Flame & Citron"). Anders Berthelsen plays a Copenhagen wine merchant who travels to Argentina in an attempt to win back his ex-wife (Paprika Steen), who has left him for a famous soccer player.
My take: A comedy of misadventure — twisted, dark and silly, with a sweet ending that stands out amidst the generally downbeat competition. Played well at its Academy screening and has some high-placed supporters.
Trailer (subtitled)
Dominican Republic: "Love Child"
Director: Leticia Tonos
Tonos is one of an unusually large number of female directors with films in contention this year. Her drama follows a teenage girl who tracks down the father she's never known after her single mother is killed in an accident.
Trailer (with subtitles)
Egypt: "Lust"
Director: Khaled El Hagar
Director Khaled El Hagar stirred up controversy in Egypt with his previous film, "Stolen Kisses," which came under fire for what some saw as "gratuitous kisses." His follow-up may not escape the moral police either, dealing as it does with a woman and her daughters living in an alley in Alexandria – and examining, the filmmaker says, the sexual repression in that environment. The drama won the Golden Pyramid award for the best film in the international competition at last December's Cairo International Film Festival.
Estonia: "Letters to Angel"
Director: Sulev Keedus
A veteran of the war in Afghanistan, and a convert to Islam, finds himself caught between cultures when he returns to his home town and searches for his long-lost daughter. Keedus, a screenwriter making his feature directing debut, has said that he first thought of making a film on the subject 30 years ago, when he was drafted into the army after college.
Trailer (subtitled)
Finland: "Le Havre"
Director: Aki Kaurismaki
The new film from acclaimed international auteur Kaurismaki, which has been playing to raves on the festival circuit, deals with an elderly shoe shiner who becomes friends with a teenage illegal immigrant. The film blends drama with deadpan comedy and melodrama reminiscent of French films from the '60s and '70s.
My take: A wry and stylized blend of comedy and drama; the themes are serious but the treatment is light, as a virtuoso director pleasurably riffs on a setting and a style. Kaurismaki's track record and the film's critical acclaim could carry weight with voters or with the executive committee.
Trailer (subtitled)
France: "Declaration of War"
Director: Valerie Donzelli
Valerie Donzelli both directed "Declaration of War" and starred in it as half of a young couple who are fighting to save their young son, who's been diagnosed with a brain tumor. What gives the film extra resonance is that Donzelli and her leading man Jeremie Elkaim are essentially telling their own story: partners off the screen, they are parents of a boy whose battle against a tumor inspired the film.
My take: Donzelli takes a distinctly un-Hollywood tack toward the story, backing away from the details of the cancer and treatment to focus on its impact on the parents' relationship. Remarkably, given the subject matter, the director manages to keep a certain lightness in tone, which has made the film play very well to Academy voters.
Trailer (no subtitles)
Georgia: "Chantrapas"
Director: Otar Iosseliani
The story of a filmmaker torn between state censorship (in his homeland of Georgia) and box-office pressures (in France, where he goes expecting freedom), Iosseliani's partly autobiographical satire has drawn mixed reviews in its limited showings. It did, however, win a Special Jury Award at the Mar del Plata Film Festival in Argentina.
Trailer (subtitled)
Germany: "Pina"
Director: Wim Wenders
Documentaries are usually a tough sell to the Oscar foreign-language committee, but Wenders has become one of Germany's best-known filmmakers over a 40-plus-year career that includes "Wings of Desire," "Paris, Texas" and the Oscar doc nominee "Buena Vista Social Club." His documentary about the late dancer and choreographer Pina Bausch, a longtime friend, mixes 3D footage of Bausch's dancers with talking-head testimonials to the dance icon.
My take: Beautiful and brilliant. Wenders makes remarkable use of 3D to vividly create the space in which Bausch's startling work takes place, and fully captures the strangeness and emotional impact of the dances.
English trailer
Greece: "Attenberg"
Director: Anthin Rachel Tsangari

Last year Greece got the Oscar race's strangest and most controversial nomination with "Dogtooth," and the country appears to have gone back to the same well with a film produced by "Dogtooth" director Yorgos Lanthimos and directed by "Dogtooth" producer Tsangari. Guy Lodge calls it "'Dogtooth'-lite: in addition to common themes of sexual discover and youth alienation, the films share a similar brooding, deadpan humor."
My take: Maintains the same tone of deadpan comic absurdity as "Dogtooth," and manages to be fascinating and annoying in equal measure. Was not liked by voters, and the chance that the executive committee will save a defiantly weird Greek film for the second year in a row is almost nonexistent.
Trailer (subtitled)
Hong Kong: "A Simple Life"
Director: Ann Hui
It's no doubt unfair to call "A Simple Life" the Hong Kong version of "The Help" – but like that hit film, Ann Hui's drama focuses on the bond between a family and a lifelong domestic employee who has essentially raised her employers' child. Lead actress Deanie Ip won the Best-Actress award at the recent Venice Film Festival, while Hong Kong star Andy Lau plays the grown man who must come to the aid of the woman who raised him.
My take: Hui gives the film a gentle, elegiac tone, telling her story in simple strokes and letting it gradually accumulate real power. She takes a small slice of life and makes it feel deep and profound.
Trailer (subtitled)
Hungary: "The Turin Horse"
Director: Bela Tarr
Inspired by an incident from the life of Nietzsche (who does not appear in the film), "The Turin Horse" is a slow, measured examination of the daily life of the driver of a horse-drawn transom cab. Shot in long, uninterrupted takes, the two-and-a-half-hour film might be one of the most critically-admired of the foreign-language submissions, but its bleakness and spare, measured pace make it the kind of austere acquired taste not often appreciated by Academy voters.
My take: A stark and stunning black-and-white examination of fragility, mortality and what Tarr calls "the heaviness of human existence." Will almost certainly require a save from the executive committee, but it'll be a real injustice if it doesn't get one.
Trailer (no dialogue)
Iceland: "Volcano"
Director: Runar Runarsson
Set in Reykjavik, the film follows a longtime school superintendent who retires to a life in which he has seemingly uneasy relationships with his wife and his two grown children. When calamity strikes, though, the man gradually finds a new purpose in life. Runarsson was nominated for "The Last Farm," a live-action short from 2005.
My take: A little movie about big issues, "Volcano" is a touching character study told in small strokes, with a wonderful central performance from Theodor Juliusson.
Trailer (subtitled)
India: "Abu, Son of Adam"
Director: Salim Ahamed
First-time director Ahamed's family drama focuses on an aging, struggling Muslim perfume salesman whose goal is to make the Hajj pilgrimage. At India's National Film Awards in 2010, the Malayalam-language drama won four awards, including Best Film and Best Actor for Salim Kumar.
Trailer (no subtitles)
Indonesia: "Under the Protection of Ka'Bah"
Director: Hanny Saputra
Billed as the biggest film ever made in Indonesia, this love story is set in the 1920s and deals with the romance between a rich girl and a poor boy whose mother works for her family. Judging by the trailer, it's big and grand and sweeping.
Trailer (no subtitles)
Iran: "A Separation"
Director: Asghar Farhadi
Sony Classics acquired U.S. rights to this drama, which deals with a middle-class man who's forced to find help in caring for his Alzheimer's-afflicted father after his wife leaves him. The film won the top award, the Golden Bear, at February's Berlin International Film Festival, as well as separate honors for its male and female ensemble casts.
My take: A tough but compelling drama that touches on tradition, justice and male-female relationships in modern Iran. If the voters don't go for it (reaction was reportedly mixed at its official screening, though several voters told me they loved it), the executive committee probably will.
Trailer (subtitled)
Ireland: "As If I Am Not There"
Director: Juanita Wilson
Though made by Irish filmmakers, the film is set in Bosnia and is primarily in the Serbo-Croatian language. Based on a book by Croatian journalist Slavenka Drakulic, it deals with a Sarajevo woman who is imprisoned during the war and repeated raped by soldiers.
My take: The grim and harrowing story is overshadowed by the brutality of an extended gang rape and its degrading aftermath, and serious questions about survival and complicity are undercut by a melodramatic score and a coda that feels too cursory.
Trailer (no dialogue)
Israel: "Footnote"
Director: Joseph Cedar
"Footnote," which played extremely well both in Cannes and in Toronto, deals with the rivalry between a father and son, both of whom are Talmud professors in Jerusalem. The film won the Ophir, Israel's version of the Oscar, as well as the Palme d'Or for screenwriting at Cannes; director Cedar's "Beaufort" won an Oscar nomination in this category in 2007.
My take: Polished and funny (and very Jewish), the film is an unlikely crowd-pleaser of sorts, with Cedar mining his material for all sorts of both comic and dramatic angst. Reportedly played well to the Academy.
Trailer (subtitled)
Italy: "Terraferma"
Director: Emanuele Crialese
Italy may have won more Foreign-Language Oscars than any other country, but the country has been on a cold streak lately — and its recent failure to be nominated for the critical favorite "Gommorah" and the crowd-pleasing "The First Beautiful Thing" were no doubt perplexing. This year's entry deals with a common theme in the category, immigratioin, as an Italian fishing family rescues a group of shipwrecked illegal immigrants from North Africa.
My take: The dilemma between the law of the sea and the law of the land is nicely drawn, but the film slips into sappiness — and a brief, strange and jarring musical number in the middle of the movie doesn't help.
Trailer (no subtitles)
Japan: "Postcard"
Director: Kaneto Shindo
The film deals with World War II from the Japanese point of view, through the eyes of a young wife whose husband is killed in the fighting, and the comrade who was one of only six survivors in a unit of 100 men. It is a personal story for Kaneto Shindo, who will turn 100 less than two months after next year's Oscar ceremony, and who has said this film is his last.
My take: At times austere and at times hysterical, "Postcard" can be a measured, subtle character study, but it also gets jarring and cartoonish; just as the film takes its times with the deliberate rituals that dominate its first half, it eventually settles into screaming matches and hysteria and stays there.
News feature (includes clips, no subtitles)
Kazakhstan: "Returning to the 'A'"
Director: Egor Mikhalkov-Konchalovsky
At the moment, this appears to be the mystery film among the submissions; I've been unable to find any information about it, except for the fact that it's a war movie and its director is the son of noted Russian filmmaker Andrei Konchalovsky.
Lebanon: "Where Do We Go Now?"
Director: Nadine Labaki
Set in a remote Lebanese village, the film centers on a group of women who use a variety of ruses schemes (including hiring Ukranian strippers) to distract their men from the religious tensions that threaten to disrupt the village's cordial relationships between its Christians and Muslims. In a category where the vast majority of nominees are serious dramas, submitting a comedy-and-music-spiked look at Middle East tension might be a dangerous strategy – but the film beat far higher-profile entries to win the People's Choice Award at the Toronto Film Festival.
My take: The film swings from palpable grief to humor and music, and at times it risks trivializing the situation with comic improbabilities. But in a way, that's Labaki's point: that these tensions are so deep that they can only really be overcome in improbable fiction.
Trailer (subtitled)
Lithuania: "Back to Your Arms"
Director: Kristijonas Vildziunas
Lithuania's is yet another entry with its roots in World War II – in this case, it deals with a father and daughter who are separated in that war and who try to reunite in Berlin 17 years later, just as the wall is going up. The drama was named best film and Vildziunas won the best director award at the Lithuanian film and TV industry's Silver Crane Awards, where "Back to Your Arms" took home eight awards overall.
My take: "Back in Your Arms" makes its audience work hard to sort through tangled loyalties, dark secrets and the state-fostered air of paranoia that infects every character. If it doesn't convey this landscape as brilliantly as the Oscar-winning "The Lives of Others" did, that's an impossibly high bar; on its own, the film is an effective mood piece from the Cold War.
Trailer (no English subtitles)
Macedonia: "Punk Is Not Dead"
Director: Vladimir Blazevski
This black comedy about a punk band reuniting after nearly two decades apart was filmed in a deliberately rough, verite style. The film is described on its official website as existing "somewhere in the limbo space between road movie and drama," and also as an attempt to examine the increasingly strong nationalistic elements in Macedonia.
Trailer (no subtitles)
Mexico: "Miss Bala"
Director: Gerardo Naranjo
One of the most critically-acclaimed films in competition is this tense action drama about an aspiring beauty queen caught in a war between Mexican drug cartels. Violent and uninterested in Hollywood-style happy endings, the film consistently won raves at Cannes, in Toronto and at the Tokyo International Film Festival, where it won awards for Naranjo and actress Stephanie Sigman.
My take: A taut, virtuosic action thriller, grim and resolutely unglamorous in its depiction of a brutal underworld and a society wracked with corruption. May be a tough sell to conservative voters, but will likely appeal to the more adventurous ones.
Trailer (subtitled)
Morocco: "Omar Killed Me"
Director: Roschdy Zem

The true story of Moroccan immigrant imprisoned for murder near Cannes, "Omar Killed Me" examines a penal system in which French police and prosecutors were eager to pin the crime on a convenient target. Director Zem is currently receiving raves for the limited stateside release of "Point Blank."
Trailer (no subtitles)
Netherlands: "Sonny Boy"
Director: Maria Peters
The film was written and directed by Peters, and adapted from a bestselling book by Annejet van der Zijl, which was based on a true story. Set in the 1920s, it deals with a mother of four who falls in love with a much younger man from Surinam.
My take: It's two films in one: an affecting drama about forbidden love, and then a harrowing chronicle of Nazi occupation and concentration camps. The split focus makes the movie a schizophrenic and ultimately wearying experience.
Trailer (no subtitles)
New Zealand: "The Orator"
Director: Tsui Tamasese
New Zealand may have been well-represented at the Oscars in the past ("Lord of the Rings," anyone?), but the country never competed in this category before submitting this drama, which deals with a small man fighting for respect in a traditional Samoan community. Tamasese's debut film, said judges who awarded the film a special prize at the Venice Film Festival, "expands the border of cinema with this mystical tale of brave individuals negotiating the politics of community in the Samoan countryside."
English trailer (subtitled)
Norway: "Happy, Happy"
Director: Anne Sewitsky
The story of a young married schoolteacher whose relentless optimism is challenged when a seemingly perfect family moves in next door, Sewitsky's gentle comedy won the World Cinema Jury Prize at this year's Sundance Film Festival.
My take: Sporadically amusing and occasionally troubling, but never as biting or as sharp as it wants to be. Feels awfully lightweight to make the cut.
Trailer (subtitled)
Peru: "October"
Director: Daniel and Diego Vega
An entry in the Un Certain Regard section of Cannes in 2010, "October" centers on a tough moneylender who's unexpectedly forced to care for a baby that most likely resulted from his liason with a prostitute. "The film is precision deadpan in the vein of Bresson, Kaurismaki and Jarmusch," said the Filmfest DC catalog.
Trailer (subtitled)
The Philippines: "The Woman in the Septic Tank"
Director: Marlon Rivera
Like last year's Icelandic submission "Mamma Gogo," the central character is a filmmaker (or in this case, three filmmakers) desperate to make an Oscar-winning movie. Full of wicked caricatures and fantasy sequences, the film satirizes and showcases, in the words of Oggs Cruz, "what's depressingly wrong in the current state of Philippine filmmaking in the most hilarious of ways."
Trailer (largely in English)
Poland: "In Darkness"
Director: Agnieszka Holland

Director Holland has been Oscar-nominated for "Olivier, Olivier," and her film has already been picked up by Sony Classics, the company with an impressive record of picking winners and nominees in this category. Based on the true story of a Polish criminal who helped hide Jewish refugees in the sewers during World War II, the film is strong and powerful, and has to be considered a frontrunner.
My take: One of the surest bets to make the shortlist in the entire field. Terribly somber, hard to endure in points, large in scale and slowly paced, the film builds a palpable sense of claustrophobia and desperation over its lengthy running time.
Portugal: "Jose and Pilar"
Director: Miguel Goncalves Mendes
Portugal is the second recent country to submit a documentary: in this case, a film about novelist Jose Saramago and his wife, and the pressures and demands that come with his success. One of Saramago's best-known works is "Blindness," which was made into a movie by director Fernando Meirelles and actor Gael Garcia Bernal, both of whom also appear in this film.
My take: Saramago is an intriguing and important figure, but one who isn't fully served by this film. Mendes spends so much time focusing on promotional chores that Saramago doesn't want to do that he makes the writer's life look as if it is a chore to live, and in the process makes his deliberately-paced chronicle something of a chore to watch.
Trailer (subtitled)
Romania: "Morgen"
Director: Marian Crisan

Reportedly less grim than the Romanian fare that has been controversially overlooked by the Academy in recent years, "Morgen" looks at the friendship between a Romanian-Hungarian security guard and an illegal immigrant.
Trailer (subtitled)
Russia: "Burnt by the Sun 2: Citadel"
Director: Nikita Mikalhkov
The expensive action film about the Nazi invasion of the Soviet Union was a commercial and critical flop when it opened in Russia in May, but it's the second part of a sequel to the 1994 film "Burnt by the Sun," which actually won the Oscar in this category. The head of Russia's Oscar selection committee, filmmaker Vladimir Menshov, didn't agree with the selection and is calling for Mikalhov to take his film out of the race.
Serbia: "Montevideo: Taste of a Dream"
Director: Dragan Bjelogrlic
A box-office hit in its homeland, "Montevideo, Taste of a Dream" deals with the Yugoslavian soccer team's participation in the 1930 World Cup tournament in Montevideo, Uruguay. It is loosely based on a novel, "Montevideo, Bog te video," by sports journalist Vladimir Stankovic.
English trailer
Singapore: "Tatsumi"
Director: Eric Khoo
A rare animated entry in this category, "Tatsumi" is based on an 800-page graphic memoir by the pioneering Japanese manga artist Yoshihiro Tatsumi. It intersperses scenes from Tatsumi's career with dramatizations of several of his short stories, which director Khoo has said he found "dark and beautiful."
My take: An audacious blend of different approaches, "Tatsumi" is an intriguing, dramatic and at times disorienting mixture of styles and stories; it's a chronicle of postwar Japan in comic form, probably not a crossover hit but certainly a treat for fans of Tatsumi and his form.
Trailer (subtitled)
Slovak Republic: "Gypsy"
Director: Martin Sulik
Martin Sulik's "Gypsy" centers on a gypsy boy who tries to change his life after the death of his father, and finds himself struggling against his community's traditions and prejudices. The film was shot in real gypsy communities in Slovakia with a cast of non-actors.
My take: The sense of futility and poverty is palpable, though Sulik does leaven the despair with a few badly needed comic moments (some involving ostriches). In the end, "Gypsy" tells a tough, unpleasant story with some grace.
Trailer (no subtitles)
South Africa: "Beauty"
Director: Oliver Hermanus
A high-profile entry in the category, "Beauty" was the first Afrikaans film to be shown at Cannes, where it won the Queer Palm award as the fest's best gay-themed film. Hermanus's drama deals with a middle-aged family man who develops an unexpected attraction to an old friend's 23-year-old son; its reportedly explicit scenes of sexuality may test the foreign-language committee's open-mindedness.
My take: Hermanus' unsettling drama is a seamless and stylish piece of filmmaking, and an evocative, sad and disturbing portrait of delusion and self-loathing. Shooting an intimate story from a distance, Hermanus has crafted a tough, unflinching and provocative film.
Trailer (subtitled)
South Korea: "The Front Line"
Director: Jang Jun
Korean director Jang Hun's third film is set during a ceasefire in the Korean War in 1951, and deals with a South Korean lieutenant whose investigation into the killing of a commander uncovers odd circumstances along the war's eastern front.
My take: At its best, the epic war film draws unexpected connections between combatants in a seemingly endless war. But as the war drags on, so does the movie — and we get the point, which has been made in countless other war films over the years, long before "The Front Line" draws to a close.
Trailer (no subtitles)
Spain: "Black Bread"
Director: Agusti Villaronga
Pedro Almodovar's "The Skin I Live In" has a higher profile and a U.S. distribution deal via Sony Classics, but Villaronga's tale set in the aftermath of the Spanish Civil War is the year's most critically-lauded film in Spain. A ghost story of sorts that has been compared to a more mainstream "Pan's Labyrinth," it was nominated for 14 awards at the Goyas, Spain's version of the Oscars, and won nine, including Best Film and Best Director.
My take: You could call it "Pan's Labyrinth" without the extensive magical elements – and, for that matter, without the magic of Guillermo del Toro's film. The hint of the supernatural hovers over the film, but it fades as Villaronga's narrative becomes melodramatic and plodding.
Trailer (subtitled)
Sweden: "Beyond"
Director: Pernilla August
Noomi Rapace, the star of the original "Girl With the Dragon Tattoo" films, plays a young woman growing up in a household of abuse and alcoholism in the 1970s. The action begins when Rapace's character learns that her mother is dying, and relies heavily on flashbacks to those ugly times. The first-time director is a veteran actress known for her stage work and for Ingmar Bergman films like "Fanny and Alexander."
My take: August's stunning directorial debut has its share of lyrical moments, but in its final stretch the film circles down into a pit of despair from which it is hard for either the characters or the viewers to recover. Rapace delivers a wrenching performance.
English trailer
Switzerland: "Summer Games"
Director: Rolando Colla
Some of the summer games played by the kids who serve as central characters in this story are reportedly sadistic and unpleasant – but the film has also won praise for refusing to romanticize childhood. Using a languid, relaxed pace, Colla follows a group of youngsters on a summer holiday in Tuscany, grappling with first love, parent-child relationships and abuse, among other issues.
My take: Slow paced and undeniably creepy at times, it's an intriguing character study that skirts melodrama. If viewers can make it through the casual brutality and unsettling role-playing, there's a lovely emotional note near the end.
Trailer (subtitled)
Taiwan: "The Warriors of the Rainbow: Seediq Bale"
Director: Wei Te-Sheng
The lavish and action-packed historical drama was a big hit in its home country. It deals with the aboriginal Taiwanese Seediq people, who were subject to cultural restrictions and forced labor during the Japanese rule in Taiwan in the early 1900s; the film focuses on their attempts to fight back in the 1930 Wushe Incident.
My take: At a combined running time of more than four-and-a-half hours, the two films that together tell the story are a true marathon — but they're also a powerful and visceral cinematic experience, an old-school action epic that remains consistently involving through 276 minutes of battles and beheadings.
Trailer (subtitled)
Thailand: "Kon Khon"
Director: Sarunyu Wongkrachang
Thailand's 2010 submission, "Uncle Boonmee Who Can Recall His Past Lives," was a hit with critics but a dud with the Academy's foreign-language committees. "Kon Khon" appears far less experimental – coming from a veteran actor-turned-director, it deals with the Thai masked dance drama called khon, and with a group of orphans being brought up in a classical dance school devoted to the traditional art.
Trailer (no subtitles)
Turkey: "Once Upon a Time in Anatolia"
Director: Nuri Bilge Ceylan
This film has already made the festival rounds to some acclaim, screening at Toronto, the New York Film Festival and Cannes, where it shared the Grand Prize with "The Kid With a Bike." Based on a true story, the film follows a day-long investigation into a murder on the Anatolian steppes. Time Out London called it "a mysterious and demanding work," with a two-and-a-half-hour running time and an unhurried pace in which the murder investigation frequently stops for long conversations about the minutae of daily life.
My take: Long, slow and immersive, the film moves at a deliberate pace that may test the patience of less adventurous Oscar voters. It's a film of remarkable images and snail's-pace action, requiring viewers to surrender to its gritty languor and rewarding those who can do so.
Trailer (no dialogue)
United Kingdom: "Patagonia"
Director: Marc Evans
The UK doesn't always have a foreign-language film to submit, but this drama divides its time between Wales and Argentina, with dialogue in Welsh and Spanish. The film deals with a Welsh couple who travel to the Patagonia region in southern Argentina, long a favored destination for Welsh emigrants. Stars include Matthew Rhys ("Brothers and Sisters") and the singer Duffy.
My take: Evans seamlessly interweaves two stories, and manages to build momentum even as the narrative jumps from one country to another. "Patagonia" is lyrical and a little mystical, a low-key gem that draws connections between different sides of the world.
Trailer (subtitled)
Uruguay: "The Silent House"
Director: Gustavo Hernandez
A horror film might seem like a longshot to attract the attention of the foreign-language committee, but "The Silent House" is striking enough to have already served as the basis for an American remake, "Silent House," starring Elizabeth Olsen. The film, which takes place as a woman tries to escape from a house in which she's hearing unexplained noises, was reputedly shot in a single, uninterrupted 78-minute take (though you can see spots where edits could have occurred), for a budget of $6,000.
My take: Blending "The Blair Witch Project" with every haunted-house movie you've ever seen, Hernandez uses his defiantly low-tech aesthetic to create a horror film that becomes oppressive and claustrophobic, though always seriously creepy.
Trailer (subtitled)
Venezuela: "Rumble of the Stones"

Director: Alejandro Bellame Palacios

Palacios' film deals with a woman in Caracas trying to rebuild a life for herself, her mother and her two sons in the wake of floods that destroyed their home.
My take: Though it effectively conveys a dead-end existence in the Venezuelan slums, the movie is doomed by a crucial plot twist so transparent that you spend half the movie in a state of dread waiting for it to happen. After that, the film descends into such hysterical melodrama that the final healing notes seem false.
Trailer (no subtitles)
Vietnam: "The Prince and the Pagoda"
Director: Luu Trong Ninh
Vietnam's entry goes back more than 1,000 years to depict the life of King Ly Thai To, the ruler who moved the capital to what is now Hanoi (and was then called Thang Long, or Rising Dragon). The lavish film was reportedly shot in only two-and-a-half months and edited in one month, in order to be ready for Hanoi's 1,000th anniversary.
Trailer (no subtitles)