Steve Martin adjusted his jokes. Gil Cates and the Academy depopulated the red carpet. Will Smith and Angelina Jolie pulled out, but Halle Berry and Susan Sarandon showed up. A musical won Best Picture, Michael Moore mouthed off, Harvey Weinstein stirred up controversy, and the final award was announced before midnight on the East Coast for only the second time in 20 years.
The Oscars of 10 years ago was a rough, troubled production, a pretty good Oscar show undertaken even as rumors swirled that it was going to be postponed or canceled. No Academy Awards since then has faced quite so many obstacles, and only one has drawn such low ratings.
Also read: The Oscars Endgame: An Expensive Way to Make a Last Impression
The show was produced by Cates, his 11th Oscars; directed by Louis J. Horvitz, his seventh; and hosted by Steve Martin, his second. Before the war came along, their priority was speed: Academy president Frank Pierson promised a three-and-a-half hour show when he announced the nominations, and Cates threw down the gauntlet at the nominees luncheon when he told the assembled honorees, "If you pull out a list…the orchestra is going to play you off … If you start naming names, you can thank five people — but when you mention the sixth, you're done."
Harvey Weinstein's Miramax, meanwhile, was in its glory, with more nominations than most of the major studios combined, including Best Picture noms for "Chicago" and "Gangs of New York." Weinstein annoyed "Chicago" director Rob Marshall by unashamedly stumping for "Gangs" director Martin Scorsese, to whom Weinstein was determined to deliver his first Best Director trophy. When a questionable ad praising Scorsese was revealed to have been written by a Miramax-affiliated publicist but attributed to former AMPAS president Robert Wise, competitors were boiling mad — but the Academy opted not to sanction Miramax. (The folks behind "Moulin Rouge" had done something similar the previous year and had gone unpunished.)
Also nominated: Eminem's "Lose Yourself," the first rap song ever recognized in the category. Although U2 and Paul Simon agreed to perform their own songs on the show, Eminem delayed his decision for weeks before opting not to appear. Cates bizarrely recruited actor Patrick Stewart, who came to a Hollywood recording studio, recited the song (quite capably, according to those who heard it), then decided it wasn't for him. In the end, the song went unperformed, which didn't stop it from winning.
As all of this was going on, the Oscar crew anxiously watched the news as President George W. Bush made threatening noises toward Iraq (above). "I think we're going to war," Cates said a couple of weeks before the March 23 show. "I only hope — and I know this sounds awful — I hope it either starts Monday the 17th, or March 24th. If it starts anytime between the 20th and the 23rd, we are fucked."
In fact, it started officially on March 20, the Thursday of Oscar week. The Academy's contract with ABC obligated the network to televise the ceremony, but nobody thought it would be a good idea to force the network's hand during wartime — so all week, AMPAS and Cates pondered their options. They didn't want to call the show off, and a delay was problematic: To hang onto the Kodak Theatre for another week, they'd have to buy out the run of a "Scooby-Doo" musical slated to take over the space.
In order to help nervous celebrities feel more at ease about appearing, Cates and the Academy did away with the traditional bleachers full of screaming fans along the red carpet; to avoid making the stars answer awkward questions about the propriety of appearing during wartime, they nixed the red-carpet press as well. They thought about replacing the red carpet with a brown carpet and even had one brought up from San Diego — but without fans or press to see the color, the traditional red was deemed acceptable.
Also read: Oscars Rewind: Ben Affleck's First Academy Awards
Steve Martin, meanwhile, calmly tweaked his material to fit the times. He told Cates at one meeting, "I have a joke: 'Saddam, if you're watching, I hope your communications are knocked out just before Best Picture.'"
"Let's see what happens before we use that one," said Cates with a frown. "He could be dead by then." 
"If he's dead," promised Martin, "I'll cut it."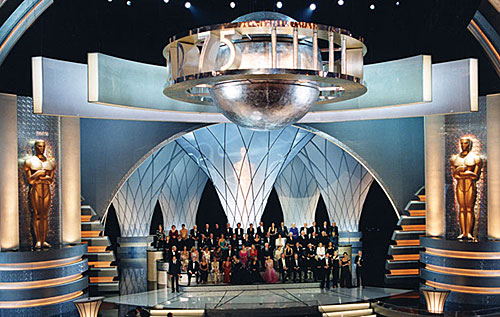 Because it was an anniversary year, the producers had planned to assemble a group of past Oscar winners to celebrate the milestone. Sixty-three agreed to come, but the number shrunk to 59 by the weekend of the show. Still, Olivia DeHavilland flew in from France, Luise Rainer from London, Brenda Fricker from Ireland, Celeste Holm from Hong Kong and Teresa Wright from New York. "The last couple of days have been horrible," said talent executive Danette Herman as the past winners showed up for rehearsal. "But this reminds me why we love the movies, why we do this show."
As Sunday neared, ABC's news division demanded four minutes of time during the broadcast to update viewers on the war, and ABC president Alex Wallau asked that a phone be installed at his seat so that he could call things off in case of an emergency. At dress rehearsal, performers were asked to appear not just in costume but also in full makeup — "so that we have it in case something happens," stage manager Garry Hood told them.
The show itself began with a couple of technical snafus. First, a huge globe that hung over the audience, 14 feet in diameter and encircled with a slowly rotating "75th ANNUAL ACADEMY AWARDS" logo, abruptly halted after five days of spinning. There was no way to fix it during the show, so footage of the spinning globe taken during rehearsals was inserted from time to time.
Then, during Martin's well-received monologue, a crew member stationed in the rafters high above the stage brushed up against a railing, knocking off a small two-way radio clipped to his belt. The radio fell to the back of the stage and noisily broke into pieces, one of which shot toward Martin. The host stopped, his punchline lost in the clatter. "Well, there's a lesson for you," he said. "It's not a good idea to throw a cellphone in the middle of a joke."
Also read: Oscars Rewind: Memories of Barbra Streisand's Many Encounters With Academy Awards
At 6:10, 40 minutes after the show began, ABC News cut away for a two-minute newsbreak during which Peter Jennings said that U.S. forces were less than 100 miles from Baghdad but were experiencing heavy resistance and that 15 U.S. soldiers were believed to have been killed. "Back to the Oscars," he concluded. An hour after that first newsbreak, ABC took a second. This one was less than one minute long and repetitive: 100 miles, heavy resistance, 15 dead. "The war grinds on," intoned Jennings.
Back at the Kodak, Catherine Zeta-Jones ("Chicago") and Chris Cooper ("Adaptation") took the supporting actress and actor awards, but the biggest fuss came when Michael Moore won the documentary award for "Bowling for Columbine." "We like non-fiction," he said with a nod that encompassed the other doc nominees who had come to the stage with him, "and we live in fictitious times.
We live in a time when we have fictitious election results that elect a fictitious president." Some audience members cheered, while a smattering of boos started to come from the back of the theater. "We have a man sending us to war for fictitious reasons!" Moore shouted, as the boos grew to about the same volume as the cheers. "We are against the war, Mr. Bush! Shame on you, Mr. Bush!"
From the back of the stage, some crew members began shouting at Moore. "That's bullshit!" yelled one. "Get him off!" shouted another.
The show's writer, Bruce Vilanch, who'd been standing in the wings stage right, looked at the angry stagehands and made an immediate beeline for the other side of the stage, where the writers huddled with Martin. A few minutes later, the host returned to the stage with a new line: "It was so sweet backstage, you should see it," he said. "The Teamsters are helping Michael Moore into the trunk of his limo." (In fact, Moore had been greeted when he left the stage not by angry stagehands but by presenter Diane Lane. "That was very inspirational," she told him. "Thank you.")
Also read: What Does Seth MacFarlane's Twitter Account Tell Us About How He'll Host the Oscars?
As the show went on, Adrien Brody (left) won the Best Actor award for "The Pianist," laid a heated kiss on presenter Halle Berry and then offered a benediction: "Whether you believe in God or Allah, may he watch over you, and let's pray for a peaceful and swift resolution." Nicole Kidman won the Best Actress award for "The Hours" and searched for her own words: "Why do you come to the Academy Awards when the world is in such turmoil? Because art is important and because you believe in what you do and you want to honor that."
The 75th Oscars ended just before midnight on the East Coast, with the absent Roman Polanski winning Best Director for "The Pianist" and "Chicago" taking Best Picture. Afterwards, lighting designer Robert Dickinson approached Cates.
"Congratulations," he said. "I was proud to be here, and I think it was great live television."