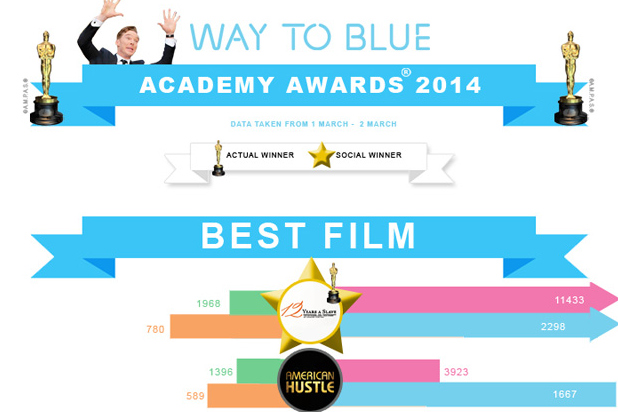 How much difference a day makes in the social media era.
Oscar winners — and even a few losers — saw their Twitter stock skyrocket over the course of an eventful weekend, according to global communications agency Way To Blue, which culled the social media website's data into an infographic (below).
Also read: Oscars: '12 Years a Slave' Screenplay Rift Between Steve McQueen, John Ridley Boils Over
On Saturday, Way To Blue measured Twitter buzz in the week leading up to the Oscars to predict the big six categories, with tweeters missing on just Best Supporting Actress — with the majority of the buzz heading Jennifer Lawrence's way. But now, everyone knows Lupita Nyong'o. The "12 Years a Slave" actress saw a huge increase in buzz — the largest from Saturday to Sunday — by 23,485 tweets, following her own win. Best Supporting Actor Jared Leto's buzz jumped up 18,573 mentions.
Also read: Oscars: Ellen DeGeneres, Jared Leto Post the Top 5 Most-Liked Instagrams (Exclusive)
Best Actor is another story. Although Matthew McConaughey won and had an increase of 7,519 mentions (from 1,263 pre to 8,782 post), Leonardo DiCaprio scored a higher volume of buzz post event, with his 10,898 mentions giving the "Wolf of Wall Street" star an uptick of 9,841 mentions.
See Photos: Leonardo DiCaprio's Oscar Loss Inspires #PoorLeo Memes
Check out the infographic: