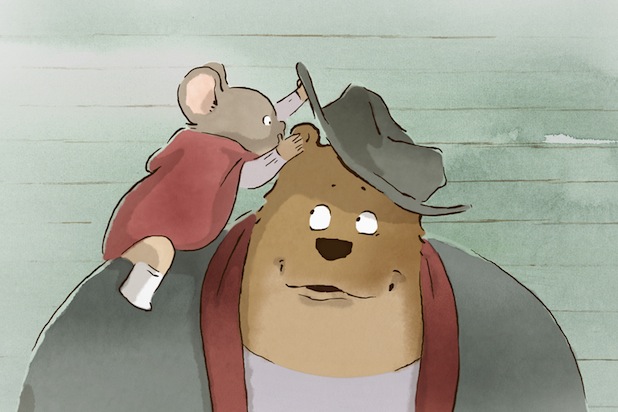 A version of this story appeared in OscarWrap: Director/Best Picture/Screenplay/Animation.
Big U.S.-based studios like Pixar and DreamWorks Animation may dominate the animation world at the box office, but the Oscars have a tradition of nominating smaller European films — including, in the last three years, a trio distributed by GKIDS: "The Secret of Kells," "A Cat in Paris" and "Chico & Rita." This year's strongest contender, also from that company, is "Ernest & Celestine," the charming hand-drawn tale of a bear and a mouse whose unlikely friendship upends their separate societies.
Produced by "The Triplets of Belleville's" Didier Brunner, directed by Benjamin Renner, Stephane Aubier and Vincent Patar and adapted from the late Gabrielle Vincent's children's books by novelist Daniel Pennac, the film screened in the Directors Fortnight section at Cannes and is being redubbed for U.S. release by a cast that includes Forest Whitaker, Paul Giamatti, Lauren Bacall, William H. Macy, Jeffrey Wright and Mackenzie Foy.
Also read: Buying Pixar Didn't Kill Disney Animation — It Saved It
As a first-time director just out of film school, did you feel overwhelmed?
BENJAMIN RENNER: Yes. At first I was just supposed to do animation on the film, and that was more than enough. I did some storyboards and worked with the artistic team, but the producer couldn't find a director, so one year later he told me, "Maybe you can direct the film." I really thought he was crazy. I said, "What? No. I can't do that." But I loved the books, and I couldn't resist the opportunity.
What was the appeal for you?
The books were full of emotions that you're not used to seeing in children's books. And she's drawing with very few lines, minimalistic style. That's exactly what I wanted to do after film school. I saw the opportunity for the type of animation that we never really did before in a long feature film.
Did you ever feel overwhelmed after taking on the director's role?
Honestly, I felt that until the last moment. In the very beginning, doing the storyboards, each night I was ready to write an email to my producer saying, "I am quitting, I can't do it, it is too much, too big." But at the same time I couldn't let the film go.
During her lifetime, Gabrielle Vincent did not want her books turned into movies.
Yeah, she was against that. The producer, he wanted to make this film for 20 years, and he called her several times, and she was always refusing.
When I started working on the film I didn't know that, but at some point I heard that she was against it, so I started asking her friends and family why. I understand that she was really concerned that we would take her fame just to make money, and her drawings would be changed, and Ernest would be skateboarding, and stuff like that. And that was not the point for us. When I was a kid, I thought that Walt Disney created "The Jungle Book" and Peter Pan and Winnie the Pooh. When I discovered the real Winnie the Pooh, I was blown away. So the goal of this film is to put a spotlight on the books.
Also read: 'The Wind Rises' Review: Miyazaki's Soaring Celebration of Man's Dreams of Flight
The hand-drawn, minimal animation style is a big departure from the CG animation we're used to seeing from American companies.
I think it depends on the budget. In France we can't really raise so much money. We can't really make a film that costs 80 million Euros. The average is 6 million Euros in France, and "Ernest & Celestine" was quite lucky because we had 9 million Euros. That's quite a lot, but I don't think it's enough to make a film that will look like a Pixar movie. And with hand-drawn animation, even if you have a low budget, you can do epic film with drawings. You just have to take a piece of paper, and you can draw anything you want.
What inspired you to go into animation?
Since I was a kid, I was always drawing, drawing, drawing. I always tell my stories by drawing graphic novels. I went to art school, and I didn't think I was going to do animation, because I had no skills in animation. I was just going graphic novels. But in art school I started to do some animation, and it went really well. I really felt a connection with that.
There was also this French film I kept watching called "The King and the Bird," which was a big source of inspiration for me as a kid. And when I was 18 I discovered all the Miyazaki and Studio Ghibli movies, and that really blew me away. The film that really changed my way of thinking about movies was "Spirited Away."
And now you're in the Oscar race, competing against Miyazaki's last film, "The Wind Rises."
I don't feel worthy, racing with Miyazaki.
Were you involved with the English-language dub of your film?
Not really. I watched the recording sessions on Skype. And the casting was so impressive. Forest Whitaker as Ernest. Mackenzie Forrest plays Celestine — she's 12 years old, really nice girl and really funny.
When I read the whole casting, I said "Whoa, they accepted? Really?" Paul Giamatti, who is one of my favorite actors ever, is the rat judge. I thought, Don't do that, Paul — he's ugly, and you're great. Lauren Bacall is the old rat lady. Once again I was,  Oh my God, you cannot do that. Jeffrey Wright, William H. Macy … For me, it was too much, but I was really glad they liked the film and liked working on it.
There are lots of books to draw from — will there be more Ernest & Celestine movies?
I don't think so. As I said, there are the books. If we start making more films, Ernest and Celestine might become like "Ernest and Celestine from the movies." So we don't want to make a sequel. I don't think I would be fair to the family, to Gabrielle.
We are thinking more of doing something with a similar technique, like with these watercolor effects and stuff like that. But we don't want to do the same thing over and over.