With only six nominations per acting category and scores of names being submitted for consideration — a whopping 1,249 this year, to be exact — the harsh mathematics of Emmy season will ensure that at least a few worthy performers will be disappointed when the nominations are revealed on July 14.
But until Melissa McCarthy and Joshua Jackson read off the final slate of Emmy candidates, there's always hope, even for actors flying under the radar. With ballots due in to Ernst & Young on Friday at 5 p.m. PT, we're making our final-hour plea for eight TV dark horses — one per major acting category — who we'd love to see get some Emmy action.
NATHAN FILLION
Category: Outstanding Lead Actor in a Drama Series
Series (Character): "Castle" (Richard Castle)
Lead actors in series best described as dramedies have always been at a distinct disadvantage in Emmy's drama category. But Fillion's nuanced yet often hilarious turn as mystery novelist Richard Castle is reminiscent of the "Moonlighting"-era Bruce Willis — who, incidentally, was the most recent dramedy lead actor to win an Emmy in the category.
KATE DEL CASTILLO
Category: Outstanding Lead Actress in a Drama Series
Series (Character): "La Reina del Sur" (Teresa Mendoza)
Telemundo launched its first-ever Emmy campaign after the finale of the telenovela "La Reina Del Sur" became the most-watched program in the network's 19-year history. In 63 audacious hour-long episodes spanning roughly 13 years of plot action, Del Castillo mesmerized viewers as her defiant character, Teresa Mendoza, navigated the tricky path up the drug-trafficking career ladder.
DAVID CROSS
Category: Outstanding Lead Actor in a Comedy Series
Series (Character): "The Increasingly Poor Decisions of Todd Margaret" (Todd Margaret)
Yes, this is the category of shoo-ins Alec Baldwin, Jim Parsons and Steve Carell. But the absence of frequently nominated leads Tony Shalhoub and Larry David opens the door for a few upstarts. Joel McHale (NBC's "Community") and Louis C.K. (FX's "Louie") should fill two spots. But if you want to think waaaay outside the box, try the solid effort put in by Cross on his cultish IFC series as an American chump sent to England to market a questionable energy drink named Thunder Muscle.
MELISSA MCCARTHY
Category: Outstanding Lead Actress in a Drama Series
Series (Character): "Mike & Molly" (Molly Flynn)
The best thing about "Bridesmaids"? Any scene in which McCarthy appears as Megan, the weird, blunt sister of the groom. Her gonzo performance in the hit Kristen Wiig hit comedy should lead to increased interest in her CBS sitcom — which, despite a cloying premise about two goofballs who meet in an Overeaters Anonymous group, showcases McCarthy's surprising physical comedy on a weekly basis.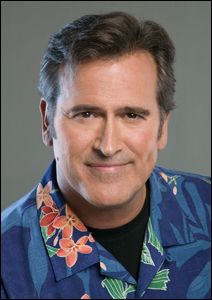 BRUCE CAMPBELL
Category: Outstanding Supporting Actor in a Drama Series
Series (Character): "Burn Notice" (Sam Axe)
With his huge arsenal of B movies and a supporting role on USA Network's popular spy series "Burn Notice" as hard-swilling former Navy S.E.A.L. Sam Axe, Campbell has attracted the same kind of cult following usually generated by household names like Shatner, Duchovny and Auberjonois. While the Outstanding Supporting Actor in a Drama Series category is stacked with a ridiculous 216 submissions, it's finally time for the Academy to recognize the scene-stealing charms of an actor that many have described as the hardest-working, best-looking Detroit-born thespian ever to command a loyal fan base by replacing his own hand with a chainsaw.
GRACE ZABRISKIE
Category: Outstanding Supporting Actress in a Drama Series
Series (Character): "Big Love" (Lois Henrickson)
Twenty years after her breakout role as jittery Sarah Palmer in "Twin Peaks," Zabriskie is still humming along as the go-to actress for frequently exasperated no-nonsense mother figures whose disapproving stares carry an underlying hint of menace. Zabriskie's aging "Big Love" character, Lois Henrickson, bowed out of the series in memorable fashion — a bookend to a poignant scene earlier in the season that shows her range.
STEVE LITTLE
Category: Outstanding Supporting Actor in a Comedy Series
Series (Character): "Eastbound & Down" (Stevie Janowski)
We'll call it: comedy supporting actor category is the most compelling race of the year. All the expected names are there: Neil Patrick Harris, Chris Colfer, Eric Stonestreet and Jon Cryer, among many others. But how about Ted Danson from "Bored to Death"? Aziz Ansari from "Parks and Recreation"? Ed O'Neill from "Modern Family"? Even with all that talent in the category, we were the most consistently entertained by Little's comparatively obscure (and obscene) Stevie Janowski, Kenny Powers' sycophantic sidekick on HBO's "Eastbound and Down." It's impossible to upstage Danny McBride — yet Little has done just that in nearly every one of their scenes for two seasons now.
ALISON BRIE
Category: Outstanding Supporting Actress in a Comedy
Series (Character): "Community" (Annie Edison)
Emerging from the throng of supporting characters to leave a distinct impression is no easy task on an ensemble sitcom like "Community," yet many of the show's players seem to have little trouble doing so. But Brie, as wide-eyed overachiever Annie Edison, has pushed her way to the front of the pack — and all without having to quit moonlighting as Trudy Campbell on "Mad Men."
AND LAST BUT NOT LEAST…
ROBERT O'DONNELL
Category: Outstanding Supporting Actor in a Comedy
Series (Character): "Eagleheart" (Dan)
IMDB tells us that O'Donnell played a character named Dan in just a single episode of Chris Elliott's parodic Adult Swim action series "Eagleheart," and yet there he is listed among all the heavy-hitters in the highly competitive Outstanding Supporting Actor in a Comedy category. If you always bet on the long shot at the race track, here's your man.