Last year, through a series of happy coincidences, I received an invite to a film festival held on the west coast of Ireland, the Dingle Film Festival, a relative newcomer to the Irish film festival lineup.
I accepted without a moment's hesitation, and I have just returned from my second visit to Dingle or, as it is presented on every other road sign, "An Daingean" (many signs are in Gaelic, adding to the mystery/adventure of driving in the Emerald Isle).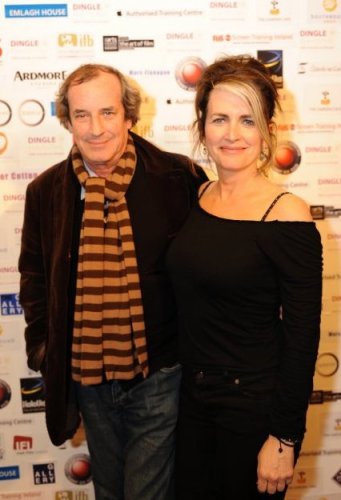 Dingle, which lies on the southwest coast of Ireland in County Kerry, lays some claim to celluloid history, this being the village and coastline where David Lean and his crew of actors and technicians held sway for more than a year, 1969-70, shooting "Ryan's Daughter," a sweeping historical drama. (Did Lean ever do anything else?)
The tragic love story was set in Ireland during the country's struggle for independence from England. Sarah Miles and John Mills turned in exceptional performances when the film finally made it to movie screens, for Mr. Lean waited months for a storm to churn the seas to his cinematic liking.
Four years ago, an enterprising young man, Maurice Galway, created the Dingle Film Festival and linked up with the family of Gregory Peck, whose ancestry was from the area.
Every year, besides screening premieres of feature films and documentaries, conducting panels and hosting art shows — opening night featured "Perrier's Bounty" with an appearance from one of its principals, rising Irish star Cillian Murphy — the festival chooses an individual to be the recipient of the Gregory Peck Award.
Previous winners include actor Gabriel Byrne, writer-director Jim Sheridan and this year's recipient, British director Stephen Frears ("The Queen," "Dangerous Liaisons," "The Snapper," "The Grifters," etc.).
National Geographic has proclaimed Dingle and its peninsula "one of the most beautiful spots on the earth," and few would object to that finding. The population sits at under 1,000 and, after two visits there, I can safely say I've met half the town.
As an example, I misplaced my sunglasses at a screening at the main tent, the Phoenix Cinema. Upon discovering this, I spoke with Francis O' Sullivan, whose family runs the Phoenix, a single-screen theater that has been in existence since the 1930s. I reported my errant sunglasses and told him I may have lost them at a screening earlier and that I would check in with him later.
Two hours later, a stranger approached me on the main drag, next to Foxy John's, a hardware store/pub — "I'll have a claw hammer and a pint of Guinness" — and this fellow asked me if I had found my sunglasses. "No," I said. "Not to worry, we're all on the lookout for them, Mr. Flanagan."
An hour later, they were nestled on the bridge of my nose.
It has been reported to me, on more than one occasion, that the Irish are the most avid filmgoers in the world.
Now, it's hard to believe that a tidy island in the middle of the Atlantic could have more moviegoers than say, India, where they make a movie in Bollywood every four days and their population dwarfs Ireland's by about a billion people (Ireland, 4.5 million). But in a hardware store pub, surrounded by lethal tools, I'm loath to argue.
The culture of Ireland is steeped in storytelling and storytellers, with more Pulitzer Prizes in writing than just about any other land . Did you know "Dracula" was written by an Irish guy? (Bram Stoker — look it up.)
During my first visitation at the Dingle film festivities, I presided over a workshop on writing comedy for the screen (I have been doing that for television since the 1980s).
This time around, I was on a panel discussing the future of film in Ireland. My fellow panelists included a director, a film critic, a fellow who runs Ardmore Studios (where they film "The Tudors") and a woman from the Irish Film Board.
My contribution was fairly straightforward, "As to the future of Irish film, I say you do more. Thank you."
A few years ago, Ireland had a go-go economy nicknamed "the Celtic Tiger." Well, like many world markets, they have taken that short trip to the economic crapper.
But after hundreds of years of economic and personal repression, this latest setback hardly appears on the Irish Misery Richter Scale.
For a congenitally cheery population that loves its stories and its movies ("filums" as they say there), the Dingle Film Festival provides a respite from the current economic doomsday headlines.
Like David Lean, they simply wait for the weather to clear — no matter how long it takes.