Three of the major Hollywood guilds have now chimed in, and as the smoke clears from the Producers Guild and Writers Guild – and, before that, from the Screen Actors Guild – Ben Affleck has reason to be happy.
The makers of some of the year's best independent films? Maybe not so much.
Affleck's "The Town" was one of the major beneficiaries of Tuesday's PGA and WGA Awards nominations, picking up nods for the top award from both guilds.
"Rabbit Hole," "Blue Valentine" and "Winter's Bone," on the other hand, were shut out by the producers and writers, though you can't blame the latter two movies for not being nominated in a competition (the WGA Awards) for which they weren't even eligible.
It's tricky, reading too much into the PGA and WGA nominations. The producers have a long-demonstrated fondness for big, commercially-successful films: This, after all, is a body of voters who nominated both "Harry Potter and the Sorcerer's Stone" and "Shrek" for its top award in a year when they only had five nominations. (The Academy opted for "Gosford Park" and "In the Bedroom" instead.)
And the Writers Guild restricts its entries to films written by guild members or produced under guild guidelines, which rules out a good number of films, many of them independently-made or foreign.
So it's hardly a level playing field for small movies. That said, we can draw a few conclusions, and single out a few winners and losers, from the guilds.
Winners: "The Social Network," "The King's Speech," "Black Swan," "The Fighter," "The Kids Are All Right," "Toy Story 3," "True Grit," "Inception." Whenever there's an opportunity to be nominated, they are.
Winner: "127 Hours." Some pundits wondered if voters would be turned off by the talk of faintings during its most graphic scene, but WGA and PGA voters embraced it nonetheless. Its spot in the Academy's 10 is looking stronger.
And if it does make it – and the list of eight from the previous paragraph does so as well – that only leaves one more slot for Oscar. "The Town" certainly has momentum, but "Winter's Bone" is exactly the kind of film that could slip into the Academy's lineup.
In trouble: "Rabbit Hole," "Blue Valentine," "Shutter Island," "Another Year." These films garnered raves and once seemed to be potential Best Picture nominees, but they've suffered from a lack of guild support. Still, Nicole Kidman is a strong contender for "Rabbit Hole," which at least means that the Academy's big actors branch will watch her film.
Nice try: "Secretariat," "How to Train Your Dragon," "Alice in Wonderland"… All spent time and money trying to persuade voters and pundits that they had a real shot at crashing the Best Picture race. None of those pipe dreams appear to have panned out.
Winners: Nicole Holofcener for "Please Give," John Requa and Glenn Ficarra for "I Love You Phillip Morris." Of course they're longshots for Oscar nods, but a WGA nomination can draw a few extra eyes during the last two weeks of Oscar voting. Writer-director Holofcener in particular has a real shot for her well-received April release, which may have faded from memory before the WGA chimed in.
Losers: extra producers. The PGA typically limits production credits to three per film, though in certain instances they'll allow a fourth. And its decisions carry significant weight: the Academy, which also has a rule restricting Best Picture nominees to three producers, generally defers to the PGA in the determination of producer credits.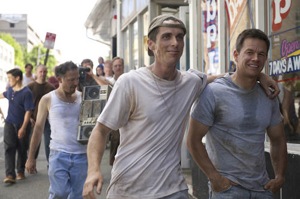 But if you look at this year's top PGA nominees, the producers listed for half the nominated films don't include some who are credited onscreen and in "for your consideration" ads. That's bad news for eight producers.
The most dramatic case came on "The Fighter," which has six credited producers: David Hoberman, Todd Lieberman, Ryan Kavanaugh, Mark Wahlberg, Dorothy Aufiero and Paul Tamasy. The PGA nomination lists only three: Hoberman, Lieberman and Wahlberg.
The guild also trimmed the list of "The Kids Are All Right" producers from six to three (leaving off Jordan Horowitz, Daniela Taplin Lundberg and Philippe Hellmann), and didn't include John Smithson's name among the "127 Hours" nominees or Arnold W. Messer's among the "Black Swan" ones.
Winners: Dana Brunetti, Ceán Chaffin, Michael De Luca and Scott Rudin. That Facebook movie from David Fincher got a rare dispensation from the PGA: the guild accepted all four credited producers for "The Social Network," meaning are all likely to receive Oscar nominations as well.
All of these winners and losers, by the way, are subject to change next Monday, when the Directors Guild announces its nominees and the punditry begins anew.