The excitement surrounding our recent exhaustive oral history of the bit "Community" character Magnitude validated what we've been saying for months: that the Greendale student is the first sitcom denizen who deserves cult status simply for uttering the phrase "Pop! Pop!" in a highly quotable way.
We have to believe that this widespread Magnitude love also extends to Luke Youngblood, the actor who plays him on "Community." And so, in honor of the character's triumphant return to the NBC show in Thursday's paintball-themed season finale, we asked the 21-year-old to pony up tidbits about the man behind the catchphrase.
Also read: 'Pop! Pop!': The Oral History of Magnitude, the Party Machine of 'Community'
The big reveal (well, other than that he played Quidditch commentator Lee Jordan in the first two "Harry Potter" films)? Youngblood speaks with an English accent in real life. Now that's acting!
Whoa—you're British?
Yes, I am, which comes as a shock to quite a few people, which is nice. I'm from London.
Would you be willing to say "Pop! Pop!" in your English accent?
All right, I'll give you a little pop-pop. It doesn't quite have the same effect. I'm just warning you. But in English, here we go … Pop! Pop!
Oh, wow.
Do you see what I mean? It's kind of not the same.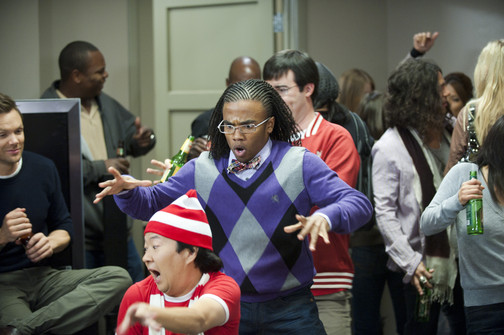 No. Do you find the outpouring of love for Magnitude as hilarious as we do?
I think it's even more than hilarious — it's insane. When I talk to my little sisters on the phone, they don't say hello anymore. They answer the phone with "Pop! Pop!" — which is insanity.
So, "Harry Potter." How did that happen?
I had just finished [a London theater production of] The Lion King at the time when I auditioned. I thought it was going to be a TV show. Like, I hadn't really known too much about the books. One of my friends had to tell me about it. And then I thought, "Maybe I should read the book, seeing as I'm auditioning for this part." And then I was hooked. It's one of the best experiences of my life. I got to be part of a phenomenon.
And you'll appear in the final "Harry Potter" film in July, right?
Well, we'll have to wait and see about that. They're still in editing stages.
Oh, you might get cut out. But you did film a scene?
Yeah. We'll see what happens. Because I know, like with the first one, there was a lot more that all of us had done. I think the first edit of this movie was four-and-a-half hours long. And then they thought, "Maybe that's a bit too long"!
Lee Jordan is obviously part of a monster book and film franchise, but would you say that Magnitude is your biggest role to date?
It definitely is my biggest role in terms of the fan base. Going into it, I really didn't know it was going to blow up as it's done.
Are you anything like Magnitude?
A lot of my friends and family who know me are like, "Luke, I don't see a character on TV, I see you." And embarrassingly enough, I kind of am that guy at the party who will get up and dance first.
Magnitude totally dies in the "Community" finale, doesn't he?
Uh-huh, and it sucks. But how do you know about that scene if you weren't there?
Youngblood appears on the season finale of 'Community,' airing Thursday at 8 p.m. ET on NBC.