EXCLUSIVE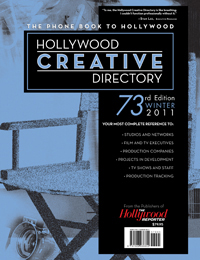 Prometheus Global Media, the parent company of The Hollywood Reporter, has sold the Hollywood Creative Directory.
The Directory long served as the phone book for Hollywood, listing comprehensive contact information for "entertainment professionals from the film, television and music industries."
A Prometheus spokesperson gave the following comment: "We've sold our online database, as it was not core to the HCD business. But we continue to publish the directory this year and are considering transitioning it to an online-only resource soon."
TheWrap got a tip on Wednesday that the HDC had laid off its remaining staff — which is believed to have consisted of four individuals — and when a reporter called its offices on Thursday, a recorded message said:
"The Hollywood Creative Directory is no longer a part of Prometheus Global Media, so messages left here will not be returned."
So it has sold its online database, but is looking to turn the print directory into an online-only resource? If that appears unclear, that is because it is.
The HDC was long known for its listing books, which eventually expanded to include ones devoted specifically to music, representation and distribution. It was known for its colored pages — used to discourage photocopying.
The Internet brought a new challenge the directory, as organizations could list all their information online and charge far less given the lower operating costs.
That led the HDC to start an online database, which it has now closed.
This is the latest in a string of bad news for the Hollywood trade and its parent company.
There are a growing number of reports that Prometheus has decided to end Michael Wolff's tenure as editorial director of Adweek. Rumors of Wolff's imminent departure gathered steam this month, though he has categorically denied them. On Thursday morning, Gawker reported that the editor is out; TheWrap has heard similar reports from two individuals.
Wolff has not responded to a request for comment on the matter; nor has Prometheus.
Wolff took over the publication last October and ushered in a major redesign. However, Prometheus has apparently been happy for some time due to poor ad sales and Wolff's alienating the core Madison Ave. set.
Also troubling for PMG, Penske Media Corporation, parent company of rival Deadline Hollywood, sued THR earlier this month for copyright infringement.
And then there are the reports of financial troubles both at THR and at Prometheus. THR has denied those rumors, citing increased ad sales, but even former CEO Richard Beckman told TheWrap in July that those sales had not yet reached the level he hoped for when he took over.