Kevin Bacon's new "The Following" grew slightly from its series premiere last week, taking the top ratings spot on Monday night. The serial-killer drama ticked up 3 percent from last week's premiere with a 3.3/8 and drew the night's largest audience with 10 million total viewers, according to preliminary numbers.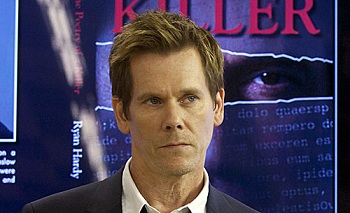 Its performance, at 9 p.m., helped push Fox to an overall win for the night. The network drew first place in the advertiser-preferred 18-49 demographic with a 2.9 rating/8 share and in total viewers with 9.6 million.
"Bones" at 8 p.m. jumped 11 percent from last week for a 2.6/7, hitting a season high, and had 9.2 million total viewers.
ABC drew second place in ratings and total viewers with a 2.1/6 and 7.2 million. "The Bachelor" at 8 drew even with last week for a 2.5/7 and had 7.9 million total viewers. A "Castle" repeat followed at 10.
NBC took third in ratings and fourth in total viewers with a 1.9/5 and 5.3 million. "The Biggest Loser" at 8 posted a 2.3/6 — a modest dip from last week — and drew 6.1 million total viewers, while "Deception" at 10 was flat with last week for a 1.3/3 and had 3.8 million total viewers.
CBS, airing repeats throughout the night, came in fourth in ratings and third in total viewers with a 1.7/4 and 6.8 million.
At The CW — which averaged a 0.4/1 and 1.1 million total viewers for the night — the new "Sex and the City" prequel "The Carrie Diaries" at 8 was even in ratings compared to last week with a 0.5/2 and grew 15 percent in total viewers for 1.5 million. "90210" the following hour had a 0.3/1 and 764,000 million total viewers.